You're welcome, Dallas.
D Magazine
has fixed one of the few food deficiencies in town. In 2010, in our first-ever ranking of barbecue joints, we discovered that the city was a barbecue desert. The best Dallas joint was actually in Forest Hill, which is somewhere southeast of  Fort Worth. (We think.) The second-best spot was in Red Oak. The highest-ranked restaurant with a Dallas address? Smokey John's Bar-B-Que and Home Cooking. It was No. 9. Only five of the 16 places we recognized were in Dallas.
That's unacceptable.
As often happens, we were a little ahead of the curve. We're forward thinkers. Daniel Vaughn, the guy we hired to compile our barbecue list in 2010, was a humble blogger, a part-time writer who made his living as an architect. In 2013,
Texas Monthly
hired him as its barbecue editor. Pecan Lodge was just getting on its feet in Shed 2 at the Dallas Farmers Market, not yet a destination for meat lovers from all over the Southwest. Lockhart Smokehouse was a year away from opening its doors in Bishop Arts.
A couple of months ago, we again set out on an expedition to find the best barbecue in Dallas, to see if the meat discussion we'd started six years ago had generated any smoke. This time, we discovered more than 16 contenders just in our first week of eating—and they were all in Dallas. As we continued to eat, narrowing the list to 20 became a challenge.
Many of the new barbecue joints and restaurants have added modern touches, such as craft beer and fancy versions of coleslaw, but the focus remains on smoked meats. Most embrace the traditional low-and-slow cooking method used by the old-timers.
We also learned the Dallas palate has grown more sophisticated. Diners' knowledge of what it takes to achieve barbecue greatness has deepened. Before ordering, they glance behind the counter and check out the type of smoker being used. They shun the volume-driven shortcut cooking done in gas-fired models and respect the qualities of the labor-intensive offset pit, where a wood-burning fire must be tended with love to maintain a consistent temperature. It's all about the quality of the smoke.
Before they bite, they examine smoke rings, pinch the bark, and claim they can taste the difference between mesquite-, oak-, hickory-, and pecan-smoked meats. They happily stand in long lines and treat pitmasters like rock stars. They snap pictures and upload them to Facebook, Twitter, and Instagram and tag them #DallasBBQ. The future is here, people, and it is perfectly smoked.
We're here to help.
#1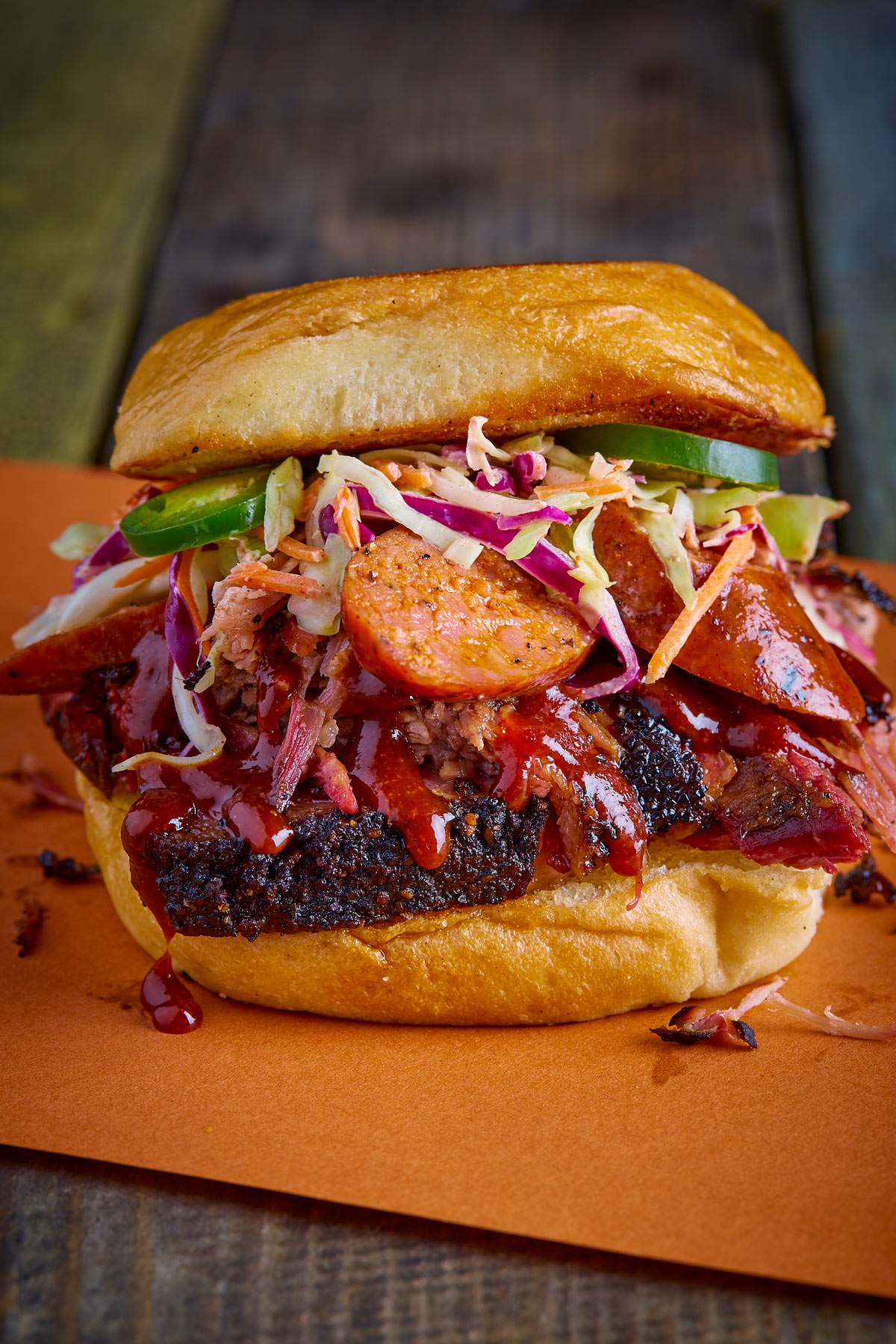 Our search for the best barbecue in Dallas began with a meal at Pecan Lodge. Since owners Diane and Justin Fourton opened their first counter-service stand at the Dallas Farmers Market in 2010, Pecan Lodge has dominated the Dallas barbecue scene. We figured this was the place all contenders had to beat for bragging rights. Some came close. But the champ has retained the title.
Moist brisket served in several other places fared better, but no other restaurant ticked off as many boxes as Pecan Lodge. Pitmaster Justin's dedication to the low-and-slow method of cooking meat over mesquite is borderline insane. His four off-set smokers are manned 24/7 to keep temperatures consistent. That dedication is what draws reverent meat lovers to wait in lines at the full-service restaurant the Fourtons opened two years ago in Deep Ellum.
Pecan Lodge's excellence extends beyond the meat. They do it all, and they do it the best. The Fourtons honor generations of their respective family recipes. Instead of turning out trendy sides, they stick close to the food their grandparents cooked. Aunt Polly's banana pudding is by far the finest in Dallas. Mac and cheese (made with real cheese) gets some heat from fresh green chiles. Everything is made on-site.
Eating a hunk of the brisket—with its magenta smoke ring and crisp, almost caramelized bark—is a primal experience. Do not insult it by poking it with a fork. The delicate meat is meant to be pinched between three fingers and popped into your mouth. Two types of sausage are made on the premises, and the at-least-one-pound beef rib is a carnivore's dream. Add to the mix an outdoor patio with live music, a curated wine list, and local craft beers, and you have what has become the quintessential Dallas barbecue experience.
#2
If a wide variety of meat is what you crave, this is your Mecca. Brisket (fatty and lean), shoulder clod, dry-rubbed and slightly sweet spare ribs, pork chops, and Kreuz Original sausage are always available. But pay attention to the rotating daily specials, which include wonderful spicy wings and lightly smoked salmon. Here you have control over the cut of your meat choices. Just ask the nice man with the knife for an inch-thick slice of fatty brisket with extra bark, and watch him work. Want to taste the lean brisket before you place your order? Ask for a sample. If it's too dry, pick the shoulder clod; the higher fat content ensures a softer chew. All of your meat is placed on a giant square of butcher paper and passed to the cashier. They offer forks and sauce, but we never touched either. Coleslaw lovers get two choices: one is tangy with a swift kick; the other is spiked with jalapeños and blue cheese. Beans are cooked with chopped brisket, onions, and jalapeños, and they smoke the potatoes before they toss them into potato salad. Get in line early enough to snag a few deviled eggs. They are stuffed with the smoked meat of the day.
#3
No, this is not a dating site for desperate singles. It's a mighty fine barbecue restaurant that's so irresistible it just rolled out a second location in Trophy Club in June. Owner Andy Sedino spent 10 years tending the expansion of the Rudy's BBQ chain before leaving the corporate world in 2012 to start catering. In late 2014, he opened a permanent spot in Grapevine. Word spread quickly, and soon the lines stretched around the side of the building. Sedino opens early (6 am), serving a full menu of breakfast tacos. On weekends, he extends his long list of fine oak- and hickory-smoked meats to include prime rib, peppered tenderloin, and pork chops. We found the best brisket in our search: a 6-inch strip of moist brisket capped with a quarter-inch of translucent fat and a crispy bark. The meat melted in our mouths. We also discovered a marvelous jalapeño sausage checkered with thick cubes of cheddar cheese. Ribs appeared with smoky meat clinging firmly to the bone; after a gentle tug from our teeth, the slightly spicy meat pulled clean away. The prime rib and tenderloin were also outstanding, but we can't say the same for the side dishes or desserts. Here it's all about the meat.
#4
Everything is personal at The Slow Bone. The banter in the ordering line. The guitars and motorcycle that hang from the ceiling and walls, creating a kitschy home vibe. The meat, too, shows a personal touch. If ordered moist, the brisket is luxurious with rendered fat; if lean, it's still pull-apart tender. Either way, it has a thick crust and deep flavor from hickory smoke and a coffee rub. Rib meat falls off the bone, the dark, chewy crust feisty with cumin. You get bright citrus bursts from the loosely packed cilantro sausage. Even turkey manages to be moist. And sides have serious charisma. A vegetable plate could make a vegetarian (almost) as happy: creamy horseradish potato salad with chunky red-skinned potatoes and green onions, pea salad we could down by the pint, and possibly the
best Brussels sprouts and cauliflower gratin you'll ever eat
. Desserts, such as the decadent cornbread pudding, are worth every calorie. As for the famous fried chicken, it's brined in water imbued with smoke from Miss Jessie, the smoker that kisses the meats. In other words, it's anointed with holy water.
#5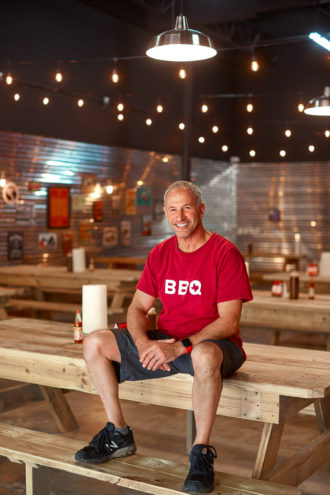 It's a classic boy-meets-grill story. Todd David had a real job for 30 years. During that time, he charmed his friends, family, and employees with his grilling talents. They encouraged him to turn pro. David sold his business and started a catering company with his wife, Misty, out of a tiny warehouse near Midway and Alpha. He decided to open to the public just one day a week in 2013 and two days a week a year later, but as the lines formed and word spread, he began taking pre-​orders to ease the squeeze. Now David has annexed the empty space next door and added seating for 100. The loyalists we shared a table with swore his brisket with a cracked black peppercorn bark is the best in town. We found joy in cheesy jalapeño grits, beans baked with pulled pork, and thick, moist beef and spare ribs. Try a slice of brisket, but don't leave without tasting the beef short rib; one is enough for four hungry people to share. The heavily smoked strings of meat, which resemble the texture of a tender pot roast, cling to the bone and challenge you to a delightful tug of war.
#6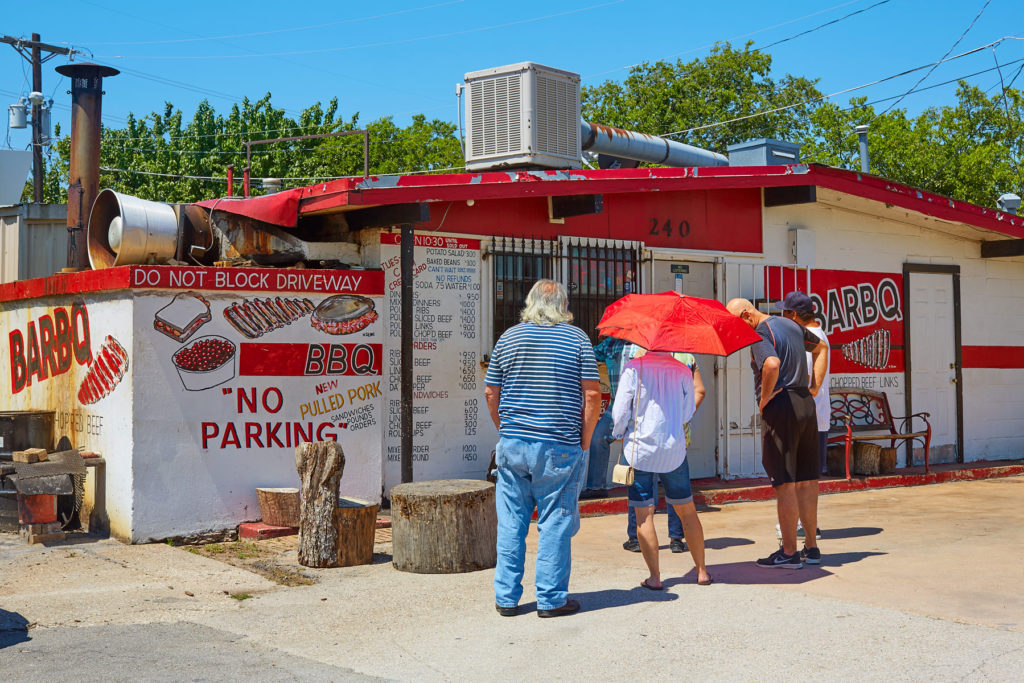 Pay attention to the signage painted on the front of this concrete-block shack. The most important one reads, "Don't order if you can't wait. No refunds." This takeout-only place is not for sissies. They open at 10:30 am, but the line forms early, moves slowly, and there is no shade. Once you place your order, you must wait again—sometimes up to 30 minutes. But if you're patient and don't mind a little spilled barbecue on your car seat, you will be rewarded with moist, silken brisket with a rosy red smoke ring. If you don't want it smothered in sauce, make sure you order it dry; the sauce softens the crisp char. Most of the regulars order chopped brisket sandwiches. If this is your go-to barbecue item, this is the place to buy the best. And the ribs! The pecan wood-smoked ribs, cut into small pieces, are simply stupendous. Owner Travis Mayes uses a dry rub with a gentle kick that lingers in your mouth for hours.
#7
This Craftsman-style house with its black leather bar stools and chill, jazzy atmosphere may seem an unnatural setting for barbecue. But this is exactly where pitmaster Matt Dallman brings us a taste of home—his Kansas City home, that is. The "modern" side of the menu features cheffy plates, but "traditional" comes on trays, not plates—or, if you get it to go, wrapped in butcher paper and twine. You see the Kansas City style most in the ribs, coated in a slightly sweet glaze with a meaty reward underneath. Brisket, thick-cut and luxuriously fatty, has a dark, peppery crust and deep flavor from a mix of woods—maple, hickory, oak. There's tender pulled pork, a first-rate spicy pepper sausage, jalapeño-cheese grits, and pit beans that play well against a simple apple cider slaw. The house sauce is sweet, tomato-heavy, and spiced with cumin; if ever there were a place for sauce, this is it. But it's the burnt ends, peppery and practically candied, that should be illegal. Kansas City's original claim to fame, they're melt-in-your-mouth morsels of meaty delirium.
#8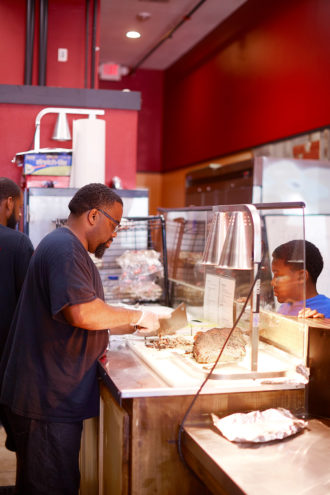 What a pleasure to swing open the glass doors of this tiny joint in DeSoto to find five guys behind the counter shouting hello. It was high noon on a Friday. Everyone waiting for an order was a regular, and they all knew each other—probably from the days they spent waiting beside owner Kendon Greene's portable smoker that he used to sell from in a shopping center parking lot. After losing their spot for not following the rules, Kendon and his wife, Davetta, purchased a mobile kitchen before investing in a brick-and-mortar space just across the street. Now they've got a shiny steel commercial rotisserie smoker that turns out exquisitely moist and lean brisket, the bark scented with a rub of cumin, curry powder, pepper, Kosher salt, and turmeric. It's a powerful combination. The young man who took our order was eager to please. He pulled out a hunk of pork, sliced off a half-pound, and chopped it before our eyes. The grin on his face showed us he was pretty proud of his chopping skills. The result was the best pulled pork we came across during our research.
#9
This ambitious business is the textbook example of the new wave of barbecue restaurants. Perched in a prime position in old downtown Garland, Intrinsic is a hip brick-walled brewery filled with communal picnic tables and a barbecue kitchen at the back. The smell of oak-wood smoke and the sound of live music drift for blocks. Once inside, it's a bit confusing. The bar and the food area are both self-service; just know that if you order at the bar, you can eventually add food to your tab and pay as you leave. The night we visited, they offered six house brews on tap, with another nine guest beers and a refreshingly light Honey Basil Hefeweizen. (Brewmaster Cary Hodson is also a beekeeper.) The quality of the barbecue surprised us. Brisket was top-notch. The bark was thin, but the meat was moist and appropriately fatty. The pork on the St. Louis ribs pulled easily from the bone. The kitchen offers inspired takes on such items as nachos with house-made queso, brisket tacos, crazy-good chicken wings, pork flatbread, and hummus. Side dishes also veer to the left of traditional offerings. We sampled a kale salad, State Fair-worthy corn nuggets, and a terrific cream corn spiked with jalapeños. They make their own ice cream, but we chose to sip a Tree House Brown Ale for dessert. It just seemed like the right thing to do.
#10
We visited Lakewood Smokehouse and its sibling restaurant, 3 Stacks Smoke & Tap House in Frisco, and found them equally satisfying. Yes, Lakewood Smokehouse serves barbecue in a bar-like setting, so you don't have the pleasure of watching your meat being sliced. But you get complimentary yeast rolls while you wait. The burnt ends are obscene 2-inch cubes of fatty meat with a decadent bark. The moist brisket has a more reasonable line of fat resting beneath a well-seasoned, crunchy black bark. We held it up to the light and could see the lines of rendered fat weaving through the rosy-pink meat. The giant beef short rib was a thing of beauty; the charred (in a good way) meat flakes off the bone and melts in your mouth. Sides ranged from a lifeless mac and cheese to a stellar cheesy corn bake and the best potato salad we tasted.
#11
Brisket was top-notch. The bark was thin, but the meat was moist and appropriately fatty.
Is it a sin that we love the subtle smokiness of the salmon that comes in a taco? That we also love the smoked beef tenderloin, perfectly rosy, that's generously piled onto a brioche bun with cheese and caramelized onions? That we're happy when the moist brisket, with its completely respectable mahogany smoke ring, gets piled onto a sandwich with a roasted poblano pepper and cheddar? At this new-school smoked-meat establishment, the star isn't the three-meat plate. The modest Lake Highlands storefront has only five stools and a counter at the window, and it's a bit fast-casual in decor. The earnest young business started by three former classmates is barely a year old. But when they say smoked meats, they're serious. Not just ribs and brisket but duck breast, filet mignon, New York strip, rack of lamb. (You can also get the meats in Cryovac pouches to reheat at home.) The poblano-cheese sausage is a standout, with cheese that oozes in pockets. Smoked chicken salad, featuring big chunks of meat, pecans, grilled onions, and apples, comes topped with arugula on ciabatta. And neighbors, note that they'll take your donated oak and pecan wood.
#12
Dwight Harvey, a South Dallas native, and his wife, Rose, decided to open a barbecue joint in 2008 as a way to stay busy after retirement. The offshoot of what was their side catering business attracts a lunchtime crowd of Cedars workers and cops from police headquarters down the street, who sit two, three, four to a table. There's an egalitarian vibe to this place, where construction workers make a quick lunch of a couple of brisket tacos. Rose is behind much of the menu, and the couple's son-in-law serves as pitmaster. Detractors will say that the pulled pork, tender and well-seasoned, is still only pulled pork; that the baby back ribs, a little sticky with sweet sauce and chili spices, are unorthodox. Yes. And? The brisket is moist, with a dark crust and good, strong smoky flavor. We love their deep-fried corn, plunged in the fryer to order, the crispy kernels sprinkled with chile salt and lime, and charro beans in a soupy broth with lots of fresh cilantro and smoky flavor from barbecue trimmings. And Rose's pecan pie is silky as you please.
#13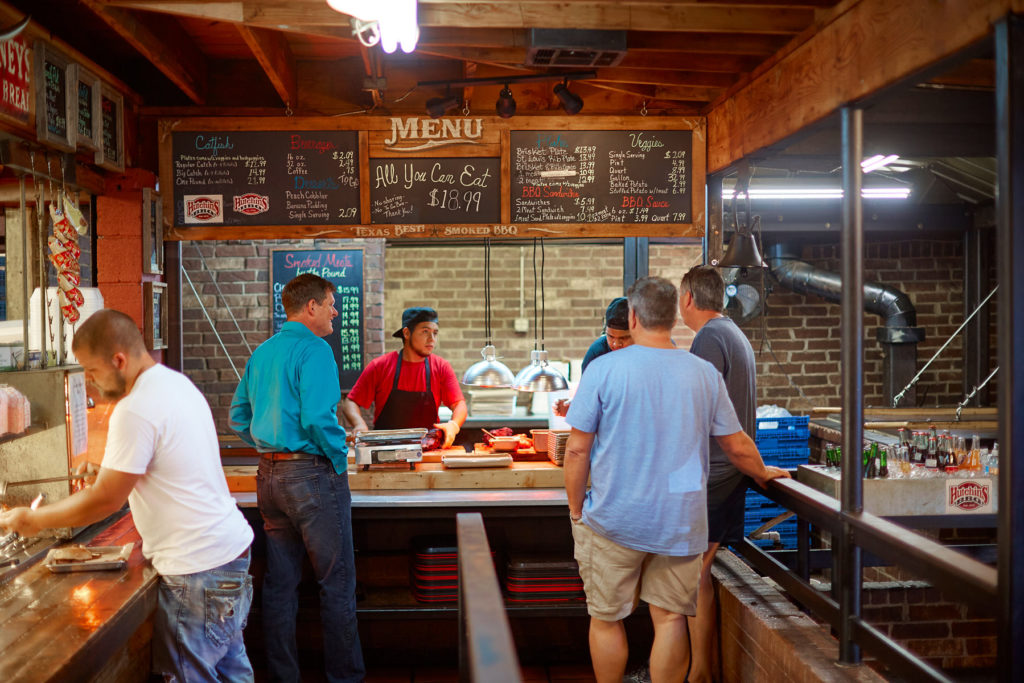 There are those who will argue that Hutchins BBQ should be higher on the list, but we did not taste the same level of love so many people feel for this place opened in 1978 by McKinney native Roy Hutchins. We stood in line and chatted with loyalists, including one thirtysomething man who admitted eating there twice a week for his whole life. As we waited, wafts of pecan wood and smoke whetted our appetites. This is the place to hit if you have a big one and you're on a budget. The all-you-can-eat option is only $18.99; one person at our table consumed seven varieties of meat. A faint pink smoke ring adorned the moist brisket, which could have benefited from having another quarter-inch of fat trimmed before it was cooked. The extra fat soaked up most of the smoky flavor meant for the meat. The lean brisket was an odd orange color, perhaps from too much pepper. But pulled pork, smoked ham, and house-made sausage shone. The pinto beans, chock-full of brisket, and a refreshing side of broccoli slaw were the standout sides. We'd go back for two things: the extraordinary sweet-glazed pork ribs and the Texas Twinkie, a slow-smoked jalapeño stuffed with cream cheese and brisket, wrapped in bacon, and mopped with a sweet glaze.
#14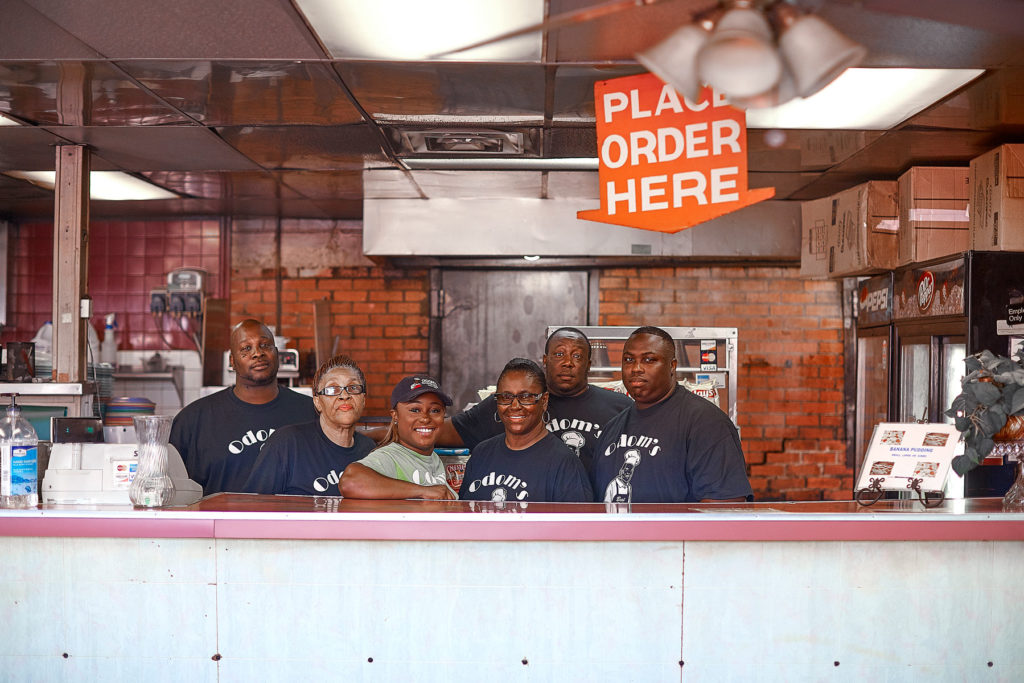 This casual family-owned restaurant has direct ties to the legendary Hardeman's barbecue restaurant that opened in the late 1940s. As the Hardeman's mini-chain empire expanded to several locations, the West Dallas spot opened in the late '60s. In 1990, the Hardeman family sold the restaurant to their in-laws, the Odoms, who are still kicking out luscious, smoke-kissed, fall-off-the-bone-tender ribs. Order a meat platter, and they'll pile a green cafeteria tray with mounds of moist brisket laced with a mild hint of mesquite smoke. If you don't like your brisket slathered with sauce, order it dry. Otherwise they'll douse it with a sweet and tangy sauce. Skip the bright yellow potato salad scooped in the shape of a blob of ice cream and hope they haven't run out of collard greens. Don't let the bars on the windows or the "No Guns" sign out front deter you. Inside you'll find some of the friendliest barbecue folks in Dallas.
#15
Join the Uptown lunchtime crowd and throw your tie (or silk scarf) over your shoulder before you dig in. Here, working lunch means a plate of onion rings and an enormous chopped beef sandwich. Family memorabilia abounds in the big brick-walled dining room with a distinctive Central Texas vibe: swimming medals, swim-meet photos, and a vintage bottle opener collection with stories behind every one. Owner Marshall Prichard will come and jiggle the jukebox so you can listen to the Vaughan brothers' wild riffs (or, bizarrely, Paula Abdul). Ribs, so fatty they're almost custardy, leave a puddle of grease on the plate. Skip the sausage. You're here for the brisket—or, better yet, the borracho brisket, marinated in red wine, garlic, and herbs before being smoked. Then, as you move down the line, stick to the green theme. We loaded up on zucchini casserole with Parmesan cheese and cornbread crumbs, crispy okra, and a chopped salad of avocado, tomato, and romaine. Stop at the condiment bar for the green tomato chow chow. You eat all this with fluffy white bread at big round tables with green and white oilcloth, or at the weathered counter. Save room for the pies made from family recipes, or the
lemon bars like sunshine
.
#16
Owner and longtime pitmaster Clarence Cohens honors his hometown by serving the best Memphis-style ribs in Dallas. His secret? The special blend of herbs and spices in his family's rub recipe, which you can buy at the restaurant. Like the ribs, his brisket is cooked low and slow over a combination of hickory, pecan, mesquite, oak, and (sometimes) fruit woods. Tender bites of pork pull easily from the bone. On our visit, we favored the ribs over the brisket, which showed no visible smoke ring or crunchy bark. The meat tasted better than it looked, though. Moist and full of smoky flavor, it jiggled appropriately as we pulled it apart. Cohens features unusual smoked meats such as Cornish hen, pork loin, and bologna, and he grills a delicious boudin sausage. He also manages to infuse chicken leg quarters with smoky goodness without sucking out all of the moisture. The beans, slow-baked with smoked brisket, are the standout from the short list of sides. A slice of white or wheat bread comes in handy when it is time to sop up the remaining sauce. Both the interior and exterior have been updated; you can't miss the freshly painted, bright-red building with a caricature of Cohens, crowned as a barbecue king with a mop of sauce in one hand and a gleaming fork in the other.
#17
The family-owned business recently celebrated 10 years of feeding hungry guests chopped and sliced smoked meats. This year, with the addition of a fourth location, in The Colony, Hard Eight works its way into mini-chain status. Expect to wait in a line that snakes and coils until patient patrons reach their prize: a bounty of smoked meats still on the pit—albeit not the one they were cooked in. The brick pit is only for show. Don't wear your best clothes; the smoke from burning mesquite wood billows around hungry customers as they pick and choose their meat. Hard-core loyalists swear the pork chops, ribs, sausage, ham, brisket, prime rib, sirloin, whole chickens, and turkey breast are the best in Dallas. We don't quite see it that way, but the super-charged atmosphere does add excitement to the experience. Which is probably why so many Dallasites take out-of-town visitors to see the barbecue extravaganza. Uneducated eyes won't note the lack of a smoke ring on the brisket. Pork ribs fared better; they were tender and seasoned with just enough spice. The sides are better than average. You'll find hand-cut fries, onion rings, and grilled whole corn cobs.
#18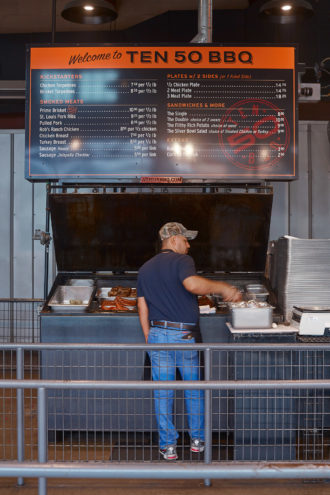 Ten50 is a kitschy 10,000-square-foot mess hall for barbecue lovers, big and brash, the anti-joint barbecue restaurant. The vibe is Disney-esque, and securing a plate of food is a wild ride. Like they're waiting for a Pirates of the Caribbean ride, customers are corralled by metal dividers until they get a turn to order at the outdoor pit. While they wait, they are entertained by pitmasters and helpers running to and fro carrying large trays of meat from the smokers to the meat carvers. Thick smoke clouds blur your vision. Children get cranky. It doesn't help that you can view customers who have completed the ride basking in the air-conditioned dining room, noshing ribs and sipping craft beers. The quality of the hickory- and oak-smoked meats, particularly moist brisket and pulled pork, exceeded our expectations. Unlike many joints, Ten50 has a fryer, and the thinnish onion rings are worth a shout-out. As is the half chicken, an order we wouldn't recommend at too many places, because smoking tends to suck all of the moisture out of the bird. House-made pickles and delicious desserts such as banana pudding (the second-best we found) make this place worth a visit.
#19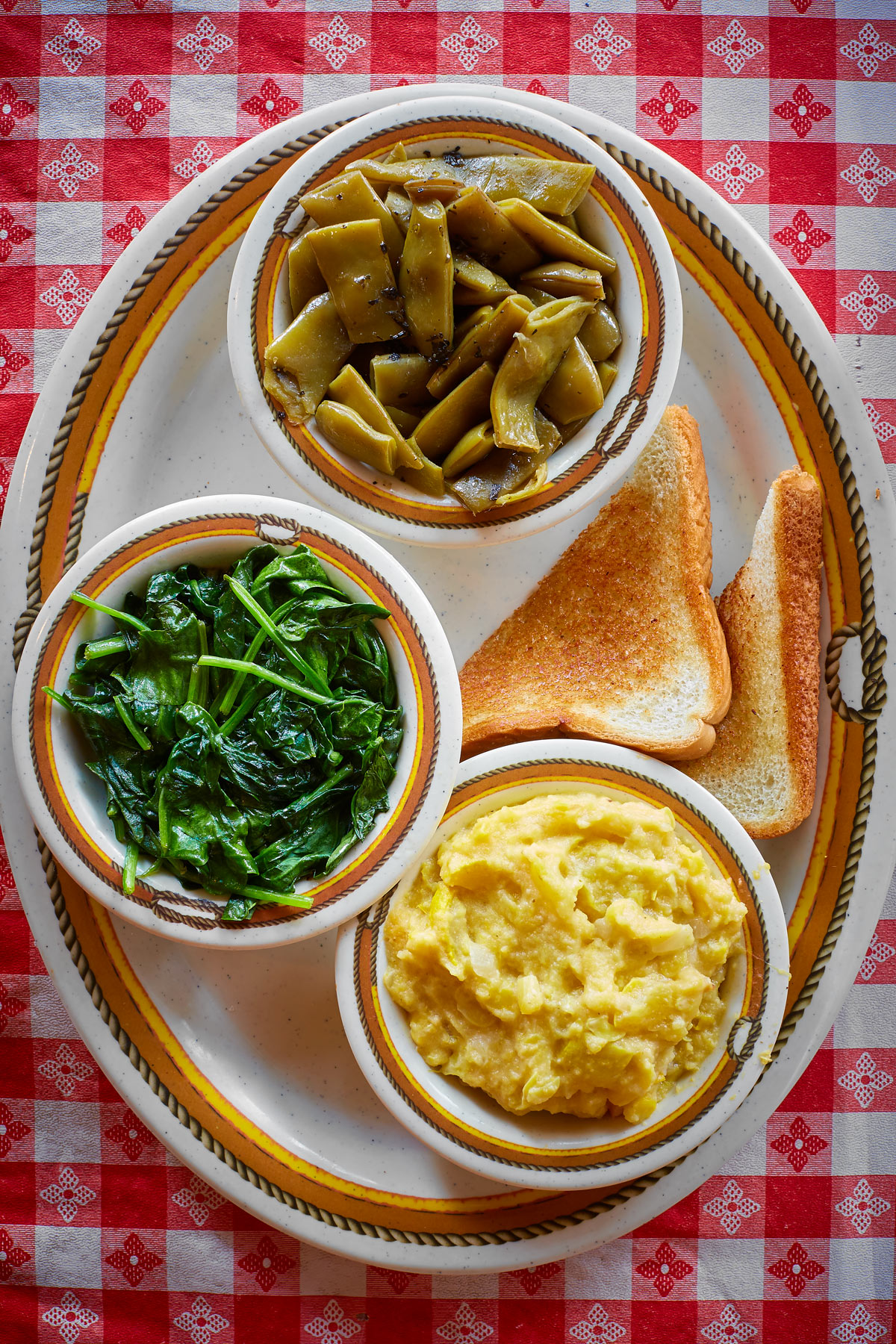 We are fond of this 27-year-old restaurant in Snider Plaza for many reasons. We love the long list of side dishes that includes hoppin' John, fried okra, fresh steamed broccoli, spinach, old-fashioned buttermilk-dipped onion rings, and cheesy squash casserole. Unusual offerings such as the brisket quesadillas served with a barbecue salsa, brisket chili Frito pie, and smoked chicken soup are great alternatives to the traditional three-meat platter. If you go the traditional route, skip the brisket. You won't find thick slices of heavily charred meat. Instead, the kitchen turns out impossibly thin slices of lean and moist brisket, both of which pale in comparison to the other contenders. Peggy Sue, however, does ribs right. The smoked meat that clings to the baby back ribs tugs nicely from the bone. A hickory glaze complements the smoky flavor. Meat from the long, slender spare ribs falls from the bone; in some places this denotes overcooking, but that's not the case here. It falls from the bone because you are tearing at the meat faster than a jackal.
#20
Al Plaskoff has owned and operated Big Al's Smokehouse BBQ since 1973. While at one point there were five locations of the no-frills barbecue restaurant, the only one that remains is located just southeast of Lemmon Avenue, on Inwood Road. The interior is quintessentially barbecue, with red-painted walls covered in kitsch and memorabilia and clunky wooden tables sprawling across the dining room's concrete floors. There was no line when we visited, rather a steady flow of men and women dressed in business wear circulating in and out of the restaurant with to-go orders. We found the brisket palatable. The thin rim of fat covered by a black charcoal-y bark was soft but flavorful. The heavily marbled meat was tender enough to easily part with a finger tug. The pork ribs are smoky, slightly sweet, and tender. But the traditional choice of devoted customers is the chopped beef sandwich, with a mound of fatty brisket piled on a soft bun. Topped off, of course, with a hello from Al, who, after 40 years, is still in his restaurant just about every day.
Get the SideDish Newsletter
Dallas' hottest dining news, recipes, and reviews served up fresh to your inbox each week.