Great news, everybody. The white-hot Dallas-area real estate market is even hotter than ever. Again! 
Pick your data point, and you'll see proof. Prices? Dallas is beating most of the country there. In the first month of this year, the Dallas area ranked No. 3 nationally for home price gains, trailing only Denver and San Francisco, but easily besting Houston and New York, according to CoreLogic. And real estate tracking firm Zillow Group says prices in the Dallas area will continue to climb in 2016, increasing 5.5 percent. 
That gain will be on top of the 14.2 percent price spike across the Dallas area last year. Several communities saw even bigger gains than that—up 22 percent in The Colony, 23 percent in Richardson, and 29 percent in southeast Dallas. 
How about construction? That's hot, too. Hammering on nearly 30,000 new homes is expected to start here this year. That will make Dallas the No. 1 area in the country for single-family home construction, beating out longtime leader Houston. (Who doesn't like beating Houston?)
And what about the economic fundamentals that drive the housing market? Those data points are hot, too. Dallas' unemployment rate is less than 4 percent, a level many economists consider "full employment." The area has been adding about 100,000 jobs annually. And more employers are headed this way. In Plano, Toyota North America is building a 2-million-square-foot campus on a 100-acre site while Liberty Mutual Insurance and JPMorgan Chase are coming to the $3 billion Legacy West development. In Richardson, State Farm and Raytheon are setting up in the $1.5 billion CityLine development. In Westlake, Charles Schwab Corporation is building a campus. In Southlake, TD Ameritrade is doing the same. 
Taken together, that all suggests 2016 will be another record year for Dallas real estate. This very magazine declared 2015 to be "The Hottest Dallas Real Estate Market Ever!" But 2016 will require more exclamation marks. 
Now, there are some caveats. The growth in this area's housing market has been so fast and so furious that it threatens to fundamentally change the market. Developers are struggling to keep pace with the surging demand. Buyers are struggling to afford the higher new prices that come when surging demand meets lack of supply. Cities are battling to keep their character amid the pressure to add more residents more quickly and to develop new, denser forms of housing. Or, as Jim Gaines, chief economist at the Texas A&M Real Estate Center, puts it, "Dallas is bumping into the physical and fiscal limits of expansion." 
From Midlothian in the south to Celina in the north, from Weatherford in the west to Terrell in the east, developers will start building nearly 30,000 new single-family homes this year, if current trends hold. In such an expansive area, there are more than enough vacant plots of land on which to put those homes. 
So maybe it seems weird for Jim Gaines to say that we're bumping up against the physical limits of expansion. But he's not talking about land that can be developed. He's talking about land that's ready for development—land served by sewer and gas lines. Land that's connected by roads to surrounding communities. Land that's ready for developers to buy and start digging up and building on. That kind of land is in surprisingly short supply, the way Gaines and his team of experts see things. 
North Texas cities can make more plots ready for developers if they want to, of course. But do they? Does rural Celina want to be the next Frisco? Does lakeside Rockwall want to become like the increasingly dense and commercial Plano? For that matter, do Plano and Frisco want to become even denser to answer the currently surging demand for affordable housing in the Dallas area? 
"There are a lot of long-term issues that have to be addressed," Gaines says. "Right now, the pace of growth is far outstretching the infrastructure. In Dallas and all of the surrounding communities—Frisco, Plano, McKinney, everywhere—the public sector really can't keep pace. There may not be enough schools or hospitals or water and sewer lines or, hell, even jails. And while development will eventually increase the tax base, there's a lag in that as new residents move in and new services are needed. That's why you're seeing more impact fees, development fees, and planning fees charged by cities. They're trying to make up the difference."
That's also increasing the costs of development of new homes. And those costs are being passed on to the buyer. Many new homes being built in the area will be priced at $400,000 and above. That's well above the current $210,000 median price of a home in this area, according to the National Association of
Realtors. (And, oh, by the way, that median price is $67,000 higher today than it was just five years ago.) Experts fret that too many of the new homes about to come to market are priced above what many middle-class Dallasites can afford.
In Frisco, dirt will turn this summer at Brinkmann Ranch, a 3,500-acre parcel in the center of that suburban city. Shaddock Development will start work on 270 homes there this year, with another 230 to follow. But they won't come cheap. Homes will start at $400,000. 
Metrostudy, a housing market analysis firm, says a third of all newly built houses in the Dallas area will be priced at more than $400,000. The company says most new builds will be priced from $250,000 to $400,000, but one of the fastest-growing categories is new homes priced at $750,000 and above. Construction starts on homes in that price range are up 30 percent since 2015. Buyers may be balking at that. Homes priced above the area median are slower to sell than those at or below the median, says Paige Shipp, regional director of Metrostudy. 
"Developers are now bringing new supply to the market, but we're not meeting the actual demand," Shipp says. "We're overpriced for what the demand is. And we're now starting to see pushback from buyers. Prices have gone up so quickly and have gone up so high that many buyers are not able to afford the product that's coming to market today."
That pushback is happening with buyers of existing homes, too. Jeff Duffey, a broker whose firm, Jeff Duffey & Associates, handles both existing and new home sales in Dallas, says the seller's market we've all heard so much about lately is actually anything but. "Sellers think they're setting the bar right now," Duffey says. "But in reality, the buyers are setting the bar on price. Buyers today may have looked at 20 homes and lost out on five offers. They're educated. They know what they should be paying in any given neighborhood. So they're pushing back against the sellers who think they can put any ridiculous price tag on their house." 
That's not to suggest sellers can't still get record-high prices. But it does indicate that a top of the market could now be in sight. Some even think that price declines are inevitable, given the underlying economic fundamentals of the market. Put another way: the homes for sale here are rising in price faster than incomes are rising. Fitch Ratings, a credit analysis firm, says that in the 42 consecutive months Dallas-area home prices have increased, income growth has failed to keep pace. In fact, it's not even close. Over the past two years, as prices have surged by double digits, incomes here have grown just 3.3 percent. Fitch says the current market is actually overpriced by 10 to 15 percent. Arch Mortgage Insurance puts that number even higher, estimating Dallas homes to be 24 percent overvalued. It also puts Dallas in the top five for markets at risk of price declines. Houston, Austin, and San Antonio are among the others.
Some other numbers can also tell the tale. In 2010, the median income in Dallas was $58,025, and median home prices were $141,000. Today, median home price is $210,000, according to the National Association of Realtors. Median income is $61,600. 
Get out your scratch pad and you can do the math. It means that homes here now fetch a 3.4 times multiple to income. And even though a real estate price boom is sweeping much of the country, Dallas' run-up in prices has made the multiple here higher than in some comparable cities. We're now a less affordable market than Atlanta, Minneapolis, Oklahoma City, and Kansas City, among others.
Prices, supply, density. fees. These are the problems that come with growth. They are, to be sure, good problems to have. But they're still problems.  
Even so, there's hardly a crisis brewing. Zillow Group and the Texas A&M Real Estate Center and just about every other pencil-chewing number cruncher in the real estate business say your home will probably be worth more at the end of this year than it was at the end of 2015. Most are projecting continued price increases in Dallas for the foreseeable future. "The Dallas market is slowing down, but not much," Gaines says. "It was going at 80 miles per hour, and it might slow down to 75 miles per hour this year."
That's because of some other "underlying economic fundamentals," also known as "jobs." Dallas' job market has so far seemed immune to the decline in oil prices that has sacked Houston's economy and hamstrung its housing market. Even as energy has declined, other industries here have remained strong. The Dallas area has posted a 4 percent growth in total employment each year during the current housing run-up.  
That, well, hot job market here has helped bring new residents. In droves. Along with Toyota North America, 105 other companies have moved to the Dallas area since 2010, according to commercial real estate and analysis firm CBRE. That's tops in Texas. Today, our area has the leading labor force in the state, with 3.5 million people working here. 
Partly as a result, more than 100,000 people have moved to the Dallas area each year for the past several years. That's roughly 300 people moving to this area every single day, all of them in need of a place to live. And as long as the people keep coming and continue to draw paychecks, the hottest Dallas real estate market—ever!—won't cool off. 
By the Numbers
Where the market is right now, at a glance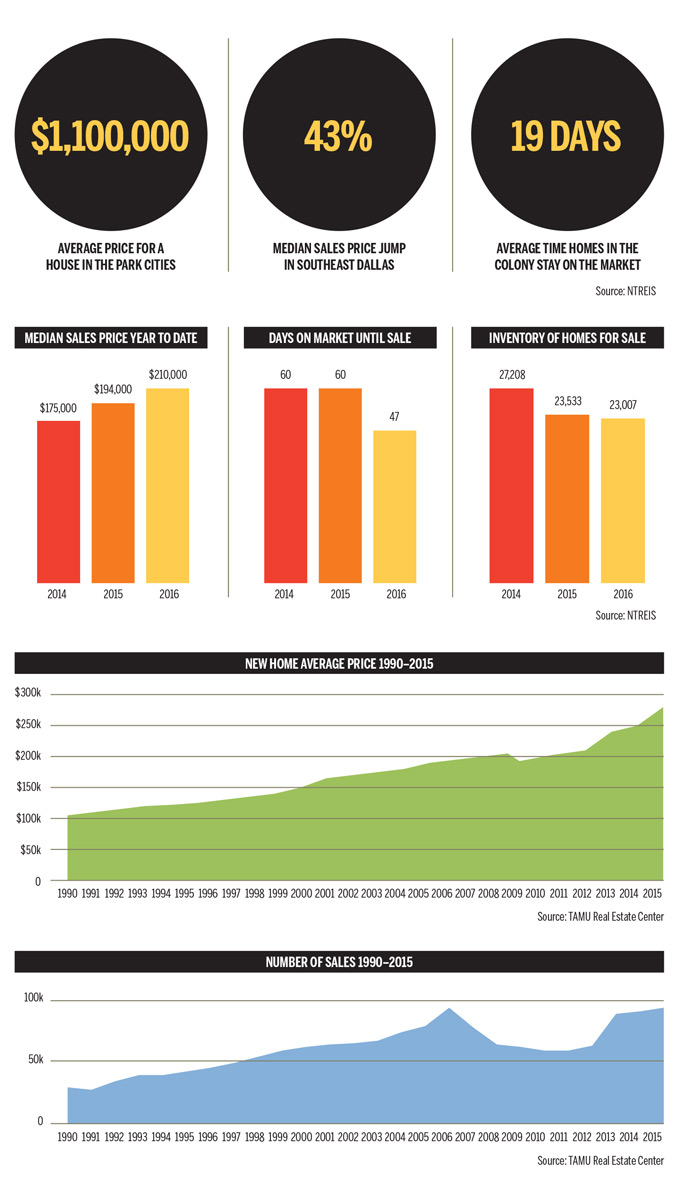 Get the AtHome Newsletter
Enjoy Dallas' best trends, hot properties, and tips from local designers to help you nest in style delivered weekly.