Blushington

We'd sworn off having our makeup done, but an hour in Kate Conkey's chair here converted us. The feminine, light-filled, L.A.-based studio offers professional makeup application (the kind starlets get on Oscar night) that's accessible and affordable. Conkey and her equally gifted colleagues collaborate with clients to create the perfect look for any occasion. Or, for those less versed in the language of lipstick, there's a menu of six options from which to choose, from the minimal Pure & Simple to the retro, red-lip, winged-eye Lucky Stars. The various looks cost $30 to $50 and include the use of cult-favorite, high-end brands like Stila, Becca, Julie Hewett, and Kevyn Aucoin. They also sell the products, so you can attempt to re-create your look at home (or at least be prepared for a touch-up after you leave).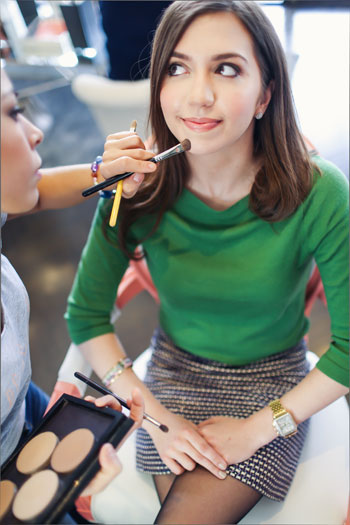 Drybar
Consider this "no cuts, no color" salon one of the founding fathers of blowout-only shops. The concept, which has inspired many others, is simple: book an appointment (or just pop in), grab a glass of bubbly, pick a style from the menu of looks (perhaps the sleek and smooth Manhattan or the messy, beachy Mai Tai), and enjoy a wash and blow-dry in front of a chick flick for $35. We recommend adding a $10 Floater (10-minute scalp massage) to your order or purchasing blowouts in packs. Repeat customers should consider memberships, which offer multiple blowouts, Floaters, and products at a discount. There are currently three locations: Highland Park, NorthPark Center, and Plano. No need to call ahead; just book online.

La Bichette
We don't know if it's the Parisian decor (like the stand of frilly polka-dot umbrellas); the warmth of mom and daughter owners Marsha and Tammy Coleman when they offer you a beverage (mimosa, please); or the fact that we walked away with a head full of soft, sex-kitten curls, but we adore this new blowout and makeup salon. You can't get highlights or a bang trim, but you can get a sophisticated chignon and a $40 makeover customized to your liking. Add-ons include scalp massages, hair masques, faux lashes, and services for the under-10 set should you take along your little ones. Don't miss the armoire of products, including La Bichette's own line of shampoo, conditioner, and strengthening serum, all of which come prettily packaged in recyclable (and refillable) aluminum containers with pumps.

The Hair Bar
Who better to open a beauty bar than two local ladies known for their glammed-up society style? Founder Gina Ginsburg took the original blowout-only concept and expanded on it, adding services like hair extensions (including colored, tinsel, and feather options), eyelash extensions, and makeup applications to their menu. Choose between the Quickie or the Full Monty makeover and select one of four looks: natural day, dramatic night, smoke, or retro. Go all the way with false lashes for an extra $15. While you're getting dolled up, play on an iPad while you sip a free glass of wine. On your way out, shop the product selection, which includes everything from the beloved Moroccanoil line to Kevin Murphy's Color Bug temporary hair color chalk. If you can't make it into the salon, they'll come to you for $75.
Get the ItList Newsletter
Be the first to know about Dallas' best events, contests, giveaways, and happenings each month.