Best Dance Company



Bruce Wood Dance Project



A little more than a year ago, our FrontRow blog argued that Dallas was in desperate need of small, pickup dance companies that could challenge audiences, employ dancers, and explore new modes of dance. As if on cue, choreographer Bruce Wood rode back into town and relaunched his beloved local company with new vigor. What's more, with rumblings of similar new companies starting up soon, it appears Wood has inspired others.

Readers' Pick: Texas Ballet Theater




Best Online Outpost


UrbanDaddy



Urbandaddy is known for its daily email guide to all the cool, classy happenings in Dallas. And those are great. But we go to the site for things like the investigative reporting it did on Max's Wine Dive's $62 nachos. It's been a while since we've laughed so hard at all the skepticism UrbanDaddy brought to that silly, caviar-topped bar snack.

Readers' Pick: CultureMap Dallas


Best Museum
Dallas Museum of Art

The Dallas Museum of Art could have received a nod just for its free general admission policy, which, in January 2013, made visiting the museum's permanent collection completely gratis. But under the leadership of director Maxwell Anderson, the museum has also taken steps to become a leading institution in its field, from launching international partnerships to endowing funds for increasing its holdings of Old Masters art.

Readers' Pick:  Perot Museum of Nature and Science


Best Actor
Alex Organ

even if you just saw Alex Organ killing it in musicals Fly By Night and the Sondheim revue Putting It Together, you would understand why the native Texan who recently returned from New York is a strong choice for best actor. But Organ blew us away many times this year, especially in challenging dramatic roles, such as the lead in Shakespeare's Coriolanus and in Theatre Three's production of Aaron Sorkin's The Farnsworth Invention.

Readers' Pick: B.J. Cleveland (The Producers, Naughty & Nice: A Very Turtle Christmas)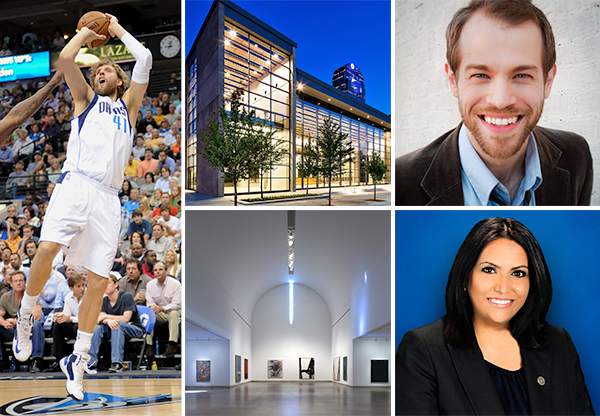 Best Athlete
Dirk Nowitzki
The tall baller from the G deserves this for essentially transforming himself into a Game of Thrones character during the latter half of a mostly depressing season, vowing not to shave until the Mavericks' record reached .500. But this is not a symbolic victory. After coming back from knee surgery, Nowitzki led a team that could have played its home games on the Island of Misfit Toys to the verge of the playoffs. We still see you, Big German!
Readers' Pick: Dirk Nowitzki

Best Performing Arts Venue
Dallas City Performance Hall
The modest new addition to the Arts District isn't designed by a name-brand starchitect, nor is it home to one of the city's flagship performing arts groups. But its simple elegance, fantastic acoustics, and community-focused mission have accomplished what other spaces in the Arts District haven't, sparking inspiration for the formation of new groups and bringing new life to mainstays.
Readers' Pick: Bass Performance Hall

Best Politician
Ana Reyes
In May, the 39-year-old daughter of Mexican immigrants became the first Hispanic city council person elected in Farmers Branch, more than a third of whose residents are Latino. It took a lot to get her elected: a Voting Rights Act lawsuit; a federal judge who forced the city to adopt single-member district balloting; and a candidate who knocked on a lot of doors. For Reyes, now the real work begins.
Readers' Pick: Mayor Mike Rawlings

Best Theatrical Production
Fly By Night
Fly By Night was a shining example of our city's biggest theater's commitment to nurturing young talent (playwright Kim Rosenstock). More practically, it was also a blindingly brilliant production of a musical. Catchy hooks from seemingly silly songs lingered like the retinal flare from a single direct look at the sun. It made you want more of everything: more heart, more laughter, more happiness.

Readers' Pick: Avenue Q
Best Columnist
Alice Laussade, Dallas Observer

Last year, Laussade won this category for her Cheap Bastard dining column in the Dallas Observer. Under that rubric, she won a James Beard Award for humor writing in May (the Pulitzers of food journalism). By then, though, she'd already started a new column for the weekly, Alice Column, allowing her to tackle a broader range of topics (including parenting, because she just had another kid). Put simply, Laussade is the funniest, most profane writer working in Dallas.

Readers' Pick: Evan Grant, The Dallas Morning News


Best Annual Festival
Dallas VideoFest

For 25 years, the Dallas VideoFest has been the city's best-kept cultural secret. From introducing Dallas to video artists like William Wegman and Martha Rosler, to traveling the world to find the best unseen political documentaries and avant-garde cinema in the 2010s, there is no better, more progressive, longer-running cultural event in Dallas. In 2012, the festival broke new ground, co-opting the fluorescent skin of the Omni Dallas Hotel in downtown for an experimental video collaboration. videofest.org.

Readers' Pick: State Fair of Texas


Best Art Space
The Reading Room

Karen Weiner's explorations of the boundaries between text and art at The Reading Room have made Dallas' art scene smarter. Exhibitions at the tiny Fair Park neighborhood art space this year have included sculptures that print out phone messages from callers outside the gallery; videos of fishing trips set to the sound of gastrointestinal processes; and plenty of other delightful, perplexing, and almost always ingenious artistic projects.

Readers' Pick: Dallas Contemporary


Best Critic
Mark Lamster, The Dallas Morning News

since the death of the great architecture critic David Dillon, Dallas has been bereft of good writing about the glass and steel going up around us. Kudos to the Dallas Morning News and UTA's School of Architecture, which joined forces to hire Mark Lamster in March. His reviews (especially his take on the expansion at First Baptist Dallas) have been provocative and on-point. There's not another writer at the paper with his command of the English language.

Readers' Pick: Jerome Weeks, KERA Art&Seek


Best Sports Team
FC Dallas

A trip to FC Dallas stadium is quietly the best sports experience in town. There are no bad seats, and the game presentation is fun without taking too much attention away from the action on the pitch. But the main reason is the team, on top of the MLS table until a recent slide. Most of that success is thanks to goalkeeper Raúl Fernández's acrobatic saves, which are alone worth a ticket.

Readers' Pick: Texas Rangers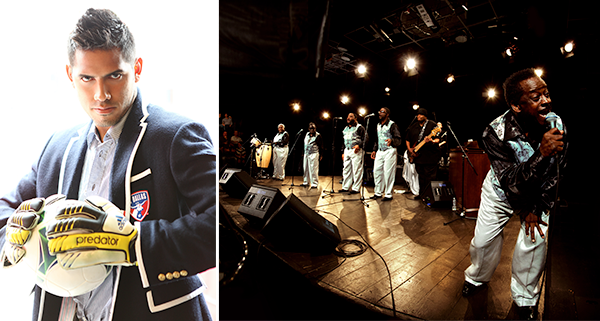 Best Music Act
The Relatives
Until recently, few locals had ever heard of funk-gospel act The Relatives. Except for record collectors, or perhaps members of lead singer Reverend Gean West's tiny West Dallas congregation, the group went unnoticed for nearly 40 years. That was, until a 2009 reunion, which has since seen the group at South By Southwest, adored in the New York Times, and bringing the oft-divided Dallas music scene together at 2013's Homegrown Festival.
Readers' Pick: Sarah Jaffe

Best Theater Company
Dallas Theater Center
Under director Kevin Moriarty, the Dallas Theater Center is doing exactly what an important regional theater should be doing. That means strong performances of a wide variety of plays, from populist musicals to challenging new productions, all while cultivating new local acting and writing talent and forging strategic partnerships with some of the nation's leading theater companies.
Readers' Pick: Dallas Theater Center

Best TV Broadcaster
Jim Knox, Texas Rangers
his nickname is Knoxie, and he's a baseball sideline reporter for Rangers games. He is also a walking, talking Deadspin highlight machine. Every 30-second interview he conducts with a fan is a potential train wreck. One classic: a drunken fellow, with his fiancée seated next to him, told Knoxie that his wedding the following day would be the worst day of his life. That Knoxie willingly and repeatedly wades into such tension endears him to us.
Readers' Pick: Gloria Campos, WFAA Channel 8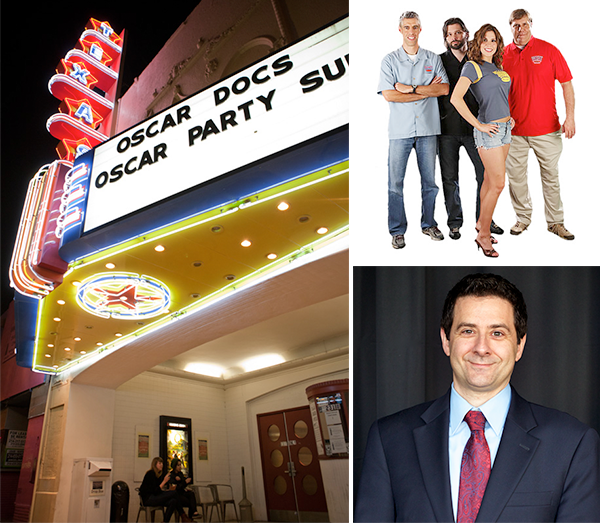 Best Movie Theater
The Texas Theatre
When the Texas Theatre started, we wondered if the one-screen Oak Cliff movie house could last. Now we can't imagine the city without The Texas Theatre's quality mix of quirky programming. And we haven't even mentioned the theater's great addition to the cultural calendar: the Oak Cliff Film Festival.
Readers' Pick: Angelika Film Center & Cafe (Dallas)

Best TV News Team
WFAA Channel 8
The most obvious test of a local TV news team is how it responds when there is a real news story to report, not just something to grab ratings. The most recent test for Dallas-Fort Worth crews was the fertilizer plant explosion in West, Texas. When other stations went back to regular programming, WFAA's John McCaa stayed on the air until late in the night, until Daybreak host Ron Corning came in early and spelled him around 2 am. That is how you handle a real news story.
Readers' Pick: WFAA Channel 8

Best Actress
Tina Parker
Tina Parker hasn't spent much time on local stages of late. In fact, she only appeared in one production this year. But her fearless spin in Kitchen Dog Theater's Rx reminded us just what we were missing. We love seeing Parker in TV shows (Breaking Bad) and movies (The Lone Ranger), but let's hope that in the coming year we see a little more of her in Dallas.
Readers' Pick: Megan Kelly Bates (Avenue Q)

Best Art Gallery
Oliver Francis Gallery
Last year, we named Oliver Francis Gallery the Best Art Space, rather than gallery. The small DIY space was still just getting its legs under itself as an artist-representing, work-selling outfit. In the past year, though, Oliver Francis has done a better job of finding the most interesting local artists, mounting shows by important artists, and even exporting its represented
artists via curated shows in New York.
Readers' Pick: Valley House Gallery & Sculpture Garden

Best Blog not by traditional media outlet
Walkable DFW
Urban planner Patrick Kennedy is driving a conversation in North Texas about our self-destructive addiction to roads. Posts on his blog regularly bubble up to traditional media such as the Morning News and, yes, this magazine. He's a must read for anyone who cares about smart development and the growth of Dallas.
Readers' Pick: Crave DFW

Best Radio Station
Sportsradio 1310 The Ticket
"That guy's wheels just totally shot off." "Jury duty is a beating." "I'm a Cane Rosso P1." "You want my hot sports opinion?" The little Ticket has grown so popular that it has contributed to the lexicon of North Texas. No other station can make that claim.
Readers' Pick: Sportsradio 1310 The Ticket
Get the FrontRow Newsletter
Get a front row seat to the best shows, arts, and things to do across North Texas. Never miss a beat.