Dallas is octopus crazy. It's the exotic protein of the moment, popping up on menus all over the city. Chefs love it. Foodies brazenly order it, as if the photogenic cephalopod is some culinary badge of courage. But many local diners are still skeptical. At least that was my take when the waiter delivered my entrée at new Oak Cliff restaurant Driftwood.
"Nuh-uh," said my tablemate as he wrinkled his nose. A nearby couple leaned in for a closer look. "Is that the octopus?" asked a well-coifed woman. I nodded. "Hmmm," she replied, intrigued yet still leery. "Well, it certainly looks interesting. Let us know how it tastes."
In a word? Effortless. Perhaps that seems like an odd description for a dish. Savory. Tasty. Delicious. Those are more common adjectives for a dining review, and, rest assured, I'll get to those in a bit. But after several visits to Driftwood, I was delighted by the ease of each experience, from the service to the atmosphere to the complex cooking that never felt labored. That is the definition of effortless, and it's a trait not often found in new restaurants.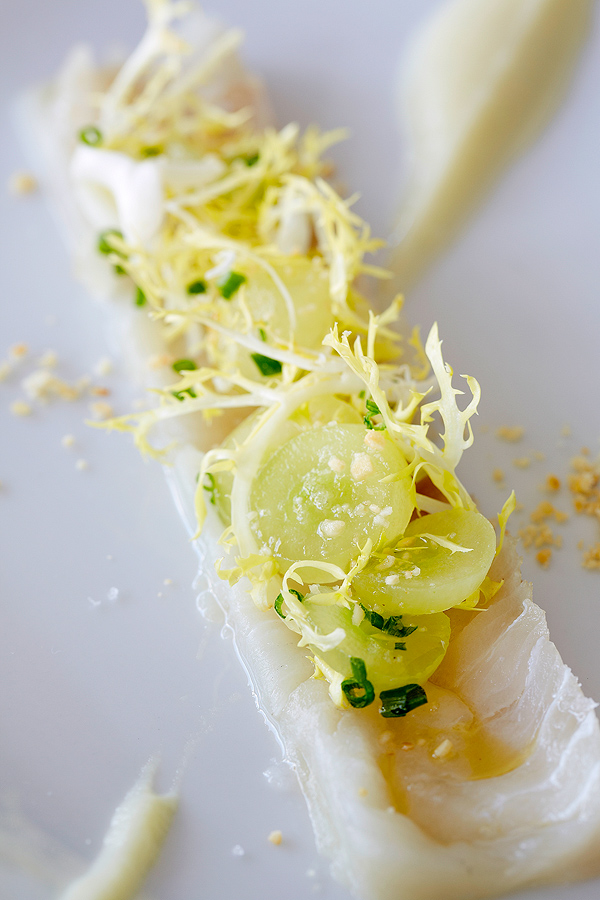 Credit Driftwood's dream duo of executive chef Omar Flores and owner Jonn Baudoin. Flores spent five years at Abacus, three of those as executive sous chef. Baudoin has managed many Dallas restaurants, including Mi Piaci, Salve, Ristorante Nicola, and Dallas Fish Market. Baudoin and Flores were friends before they opened Driftwood, and their collaboration went swimmingly. "We hit it off," Baudoin says. "We could communicate right off the bat. Omar created his vision for Driftwood's menu at a tasting for me, and he blew me out of the water."
That connection might explain Driftwood's ease. Many first-time restaurateurs feel the need to dazzle and excite. Unfortunately, they often veer into overkill. But Baudoin plays it low-key. Much like its name, Driftwood is all easy cool and seaside chic, exuding a relaxed, Hamptons-like vibe. It's a welcome respite from the overdone heritage restaurant design that seems to be de rigueur these days. The service is spot on as well, with a knowledgeable staff making deft recommendations. Baudoin welcomes guests and works the small room, clearing dishes, checking on patrons, and making fast friends without ever being overly solicitous. After 17 years in the restaurant industry, he charms with skill.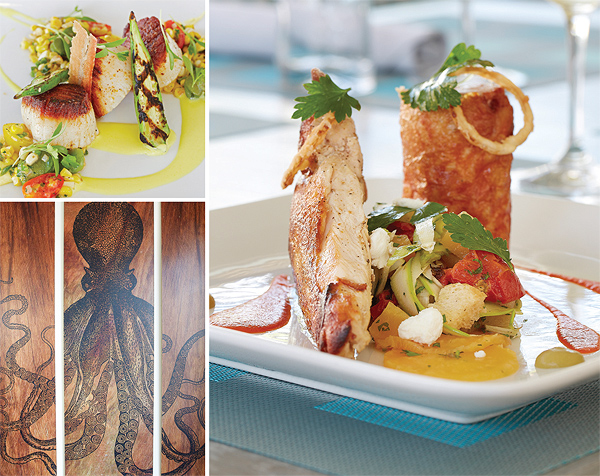 Baudoin's expert staff is useful when it comes to explaining Flores' challenging menu. At first read, Flores' creations might worry diners who are more familiar with tilapia, tuna, and the like. Let's be honest: Dallas seafood restaurants aren't known for their challenging fare. Driftwood is different. Flores' inventive dishes change seasonally, featuring fair-raised or wild-caught, organic seafood and fresh produce. Flores' crudo selections are particularly adventurous. Avocado ice cream over slices of raw ahi tuna might seem odd. Strike that. It definitely read odd to my table. But with yuzu olive oil, Moroccan seven spice, and English cucumber, the dish was harmonious, a sublime marriage of flavors and textures. The finish was silky heaven. Another crudo offering paired hamachi with charred pineapple, macadamia nuts, mint, and lime oil. In both cases, the ingredients enhanced the fish, never overwhelming it.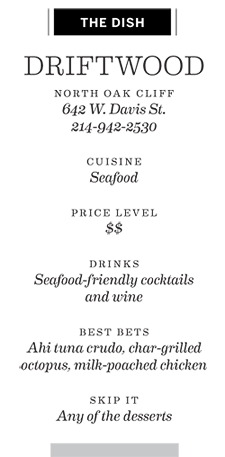 Flores divides the rest of his menu into small and big plates. One night, I made a meal of the smaller offerings, greedily spreading decadent smoked salmon rillettes—similar to pâté—on rustic toast with a bit of pickled red onion and baby beets, and then moved on to Driftwood's already-famous Maine lobster roll. Flores mixes chunks of lobster with tarragon aioli and serves it atop trimmed, toasted brioche. A side of wafer-thin waffle chips sprayed with just a hint of infused truffle oil—not the obnoxious synthetic stuff most restaurants use—made the dish a diminutive, two-bite gem. And, Dallas, before you order yet another cloyingly tangy and overdressed Caesar, try Driftwood's playful spin on our city's favorite salad. Long, lovely romaine hearts were topped with marinated dates, pine nuts, ricotta salata, and roasted lemon-anchovy dressing. Though it might not be called a Caesar on the menu, it certainly plays like one, albeit far more sophisticated and complex. "It's the anti-Caesar," my satisfied tablemate said.
Entrées were a hearty lot, especially for a seafood restaurant. Unsurprisingly, one of Driftwood's best-selling dishes is its pan-roasted diver sea scallops. (Like the Caesar salad, Dallas loves its scallops.) Happily, Flores transformed them into something special. Expertly seared until they were crispy on both sides, the fat scallops were served with a succotash of fresh-off-the-cob corn, cherry tomatoes, fava beans, jalapeños, shallots, and garlic. A purée of baked cornbread with a corn-cream-lemon reduction lent the dish a sweet Southern appeal. Tongue & Cheek was an untraditional spin on surf and turf. Here, Flores stuffed seared agnolottis—a type of ravioli—with beef tongue, mascarpone, and Parmesan, and served them alongside seared Alaskan halibut cheeks. Other highlights included crispy Wyoming golden trout with Serrano ham and sherry vinegar pan sauce, and grilled Gulf shrimp served with butter beans, chorizo, and lobster froth.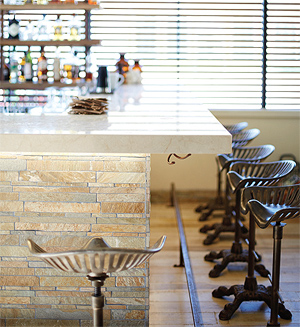 If you're not into seafood, Driftwood offers two entrées for you. The milk-poached chicken featured chicken roulades sous vide in yogurt, grilled, and then served with yellow beet panzanella on one visit and toasted faro with pearl onions and oyster mushroom pan sauce another. Both were delicious. Only the duo of rabbit faltered. Though the roasted leg was succulent, the tenderloin was a bit dry and overwhelmed by the bacon in which it was wrapped.
As is the norm with new restaurants, not everything is perfect at Driftwood. The tiny dining room can be too loud at peak hours. The wine list is still finding its voice, with Baudoin cutting back on the big Cabernets that Dallas diners crave while introducing more seafood-friendly light reds and old-world whites. Flores runs a small kitchen of four cooks and, therefore, currently serves as pastry chef. It's a temporary fix and his inexperience shows. The three sweets offered were forgettable, save for the house-made olive oil ice cream served atop a blueberry buckle. Forget the dry cake. A single scoop of the fragrant, luscious ice cream would have satisfied.
But judging by the packed dining room and hard-to-get reservations, those small quibbles are easily forgiven by local restaurant-goers ready for seafood dishes a bit more imaginative and adventurous. As for the aforementioned octopus? It was smoky, slightly charred perfection, with Manzanilla olives and smoked tomato vinaigrette providing the right acidic kick. A side of marble potatoes roasted in duck fat pushed me over the gastronomic edge. My pleasure, betrayed by a satisfied grin, was not lost on my well-coifed neighbor. I nodded my approval. She leaned into her husband and said, "Next time, I'm getting the octopus."
Get the SideDish Newsletter
Dallas' hottest dining news, recipes, and reviews served up fresh to your inbox each week.