There have been plenty of prospectors who have talked about developing historic downtown Plano into a vibrant, hip destination. The Fillmore Pub and Vickery Park, two spinoffs from trendy Henderson Avenue in Dallas, sparked the fire when they moved in among the vintage clothing stores, furniture markets, and quaint embroidery shops that have populated 15th Street for many years. The little old ladies who lunch at Jörg's Cafe Vienna began sharing the sidewalks with tattooed barflies.
But Nathan Shea is the one who fanned the flame. He has opened two thoughtful and successful restaurants, turning East Plano into a destination for diners from as far away as Oak Cliff. Plano doesn't seem remote when you sit at a table in the second-story bar at Urban Rio and watch the twinkling lights of Reunion Tower in the distance.
Shea has been a believer in Plano since he moved here from Michigan in 1972. He taught school at Richardson's Berkner High for 15 years. After class, he dabbled in marketing and bought and sold real estate. His wife, Bonnie, spent 25 years in the oil and gas business. She retired from a large firm and decided to strike out on her own. The Sheas looked for office space near their home in Plano and stumbled on a vacant building on East 15th Street that was once a saddle and harness store. Nathan bought the building and, with the help of his builder brother Michael and designer Cal Young of CYA Design Collective, finished out the interior and added a second floor to accommodate Bonnie's office. Then they not only changed their minds, but they also changed the energy of downtown Plano. Bonnie and Nathan partnered with Salvatore Gisellu (the Sardinian chef who owned Daddy Jack's Wood Grill in Deep Ellum) and his wife, Jeanne-Marie, to open Urban Crust Wood-Fired Pizza and 32 Degrees Rooftop Bar in 2009. The street that once shuttered at 5 pm was now open late. The search for Bonnie's office continued.
A block down the street, they found the deserted Plano Ice House. It opened in 1917 and was the only place locals could buy blocks of ice. The building was in sad shape, though. It probably would have been less expensive and easier if they'd torn it down. Instead, the Sheas preserved what history they could and created a four-story complex with a restaurant; a bar (On the Rocks); a catering office and event space (Rooftop), with an exhibition kitchen for cooking classes and demos; a gelato shop; and potential office space.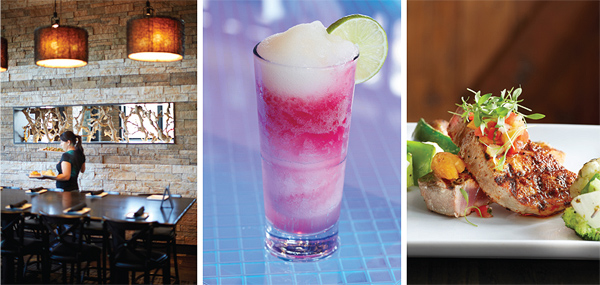 The first floor is
Urban Rio
, a restaurant with a contemporary take on Tex-Mex-meets-Southwestern cuisine. The name translates, more or less, into "River of the City," but since there isn't a true waterway, it refers to the DART rail tracks that run beside the building. They are the "steel river" of Plano.
My gal pal who lives in downtown Dallas hopped a DART train at Pearl Station and took a 40-minute ride up the steel river to meet me for dinner. I don't know how many downtown dwellers would consider commuting to Plano for dinner, but thanks to Shea, it's a now a reality.
Urban Rio is more than chips, salsa, and margaritas. The menu offers something for everyone: tacos, enchiladas, tortas, empanadas, and chili. There are hamburgers for the unadventurous and tamale pie and chef-y entrées for intrepid eaters. Shea enlisted celebrity chef Mark Miller, the creator of Coyote Cafe in Santa Fe, New Mexico, and Red Sage in Washington, D.C., to work with Urban Rio's executive chef, Ryan Olmos, formerly of Eatzi's, on saucing and roasting techniques. They grind corn into masa and form tortillas on a wooden press. The cocktail menu is creative. They offer eight hypercooled tequilas on tap, and the short wine list includes selections from Chile, Spain, Argentina, and California. All of the juices, including mango, pineapple, watermelon, lemon, lime, and lychee, are produced in-house.
"I have a passion for this place. It's fun," Shea says. "Our focus is on fresh. Everything we do here is fresh, and I want the people in Plano to have fresh food instead of fast food."
My gal pal and I got both. Five minutes after we ordered tamale pie and smoked brisket tacos, they were delivered to the table. I would
have preferred more time to enjoy the watermelon margarita and basket of green nopales chips mixed with traditional white corn chips served with two salsas, one of puréed black beans with a hint of canela (Mexican cinnamon) and the other a tomato-and-cilantro-based red sauce spiked with garlic and serrano peppers. Instead, we pushed away the calorie-laden basket and dug into our entrées.
Get the SideDish Newsletter
Dallas' hottest dining news, recipes, and reviews served up fresh to your inbox each week.