Cedar Hill—that plucky little suburb just south of Duncanville, hard against Joe Pool Lake—probably doesn't figure too prominently in the day-to-day affairs of anyone who lives north of the Trinity River. If hard-pressed, an avid shopper might recall something about some new outdoor mall recently built there. (That would be Uptown Village.) So why would anyone in Dallas care about a Cedar Hill school bond election that went awry in November?
The school district had for years neglected certain maintenance and technology costs. There were leaky roofs, broken air conditioners and heating systems, computers that seemed older than the students. The district's softball fields lagged woefully behind on federal Title IX requirements. So the parents in Cedar Hill did what communities are supposed to do: they got a bond proposal added to the ballot. If passed, it would raise more than $53 million for the school district. People campaigned both for and against the bond. When election time drew near, both sides knew it would be close. Indeed it was. In a city of more than 45,000 people, the bond package failed by just 69 votes.
But there was a problem. One of the precincts was shared by DeSoto voters and Cedar Hill voters. DeSoto residents were to get a ballot without the Cedar Hill ISD bond questions, and Cedar Hill residents were supposed to get a different ballot. That didn't happen, though, and, as a result, at least 24 Cedar Hill voters—all from an area where the bond was popular—were denied their voice on the matter. One man claimed poll workers ignored his concerns when he told them the bond was supposed to be on his ballot.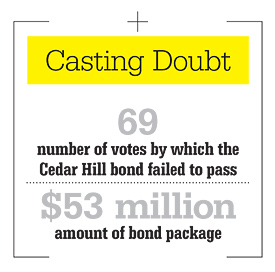 The problem wasn't discovered until a former school board member went to vote and realized what had happened. But by then it was already 6:30 pm, and the polls were nearly closed. School district officials say we'll never know how many voters called friends or stayed at home because they were told the bond wasn't on the ballot. "A lot of people who had talked about this just figured maybe they had the dates wrong," one parent told me.
If this was why the leaky roof wasn't getting fixed at your kid's school, you would care. But why would anyone beyond Cedar Hill worry one bit about 24 people not getting to vote? Why, in fact, has this seemingly small glitch raised eyebrows all across North Texas? As is the case with much political intrigue of late in Dallas County, it all has to do with embattled Dallas County Commissioner John Wiley Price.
The Cedar Hill election just so happens to have been the first since Toni Pippins-Poole was officially named Dallas County elections administrator. (She ran two larger elections with the title "interim.") Pippins-Poole, you might remember, was appointed in September to her position after her former supervisor, Bruce Sherbet, was ousted by Price. Sherbet had held the job for 24 years and was well-respected by the county chairs of both political parties. But Price, a friend of Pippins-Poole's, wanted Sherbet gone. And the motivations were openly political.
When asked by the Dallas Morning News a year ago if he was behind Sherbet's ouster, Price said, "I don't mind being in front of it. If I had a chance to vote on it, he wouldn't have been here." Price explained that he felt Sherbet was responsible for not registering more new voters, voters he theorized would likely be minority and swing Democrat. He also claimed that Sherbet was less inclined to send election workers to monitor long lines in lower-income and minority areas. Sherbet has repeatedly denied claims of partisan or racial bias. (Dallas County Democratic Party chairwoman Darlene Ewing told reporters at the time: "Bruce Sherbet is one of the finest election administrators in the state.")
After the trouble in Cedar Hill, parents who had supported the bond proposal said that a mistake like that never would have happened with Sherbet in charge. Clearly, they figured, Price was to blame. By playing partisan politics with a job that should be above the fray, by replacing a stalwart, competent elections chief with an unqualified friend, he had consigned kids to wearing winter coats all day when the heaters go out, and he'd forced teachers to use garbage cans to catch leaking water in their classrooms. Making matters worse, in a News article about the voting snafu, Pippins-Poole did not offer an apology or even promise that this kind of mistake would never happen again. She only assured the paper that the mistake did not sway the election.
But here's the twist in the Cedar Hill story: there is no conspiracy. The voting glitch likely would have happened no matter who was running the show. Price's political maneuvering didn't undo democracy. It just created a lot of unnecessary fear and loathing.
First, the vote itself. Pippins-Poole almost certainly could not have avoided the mistake. The judge scheduled to work the poll that day had been given specific instructions on how to handle the bond issue and the different ballots. But that judge got sick the night before the election and didn't notify the county office or pass along instructions about the different ballots to the alternate judge. No matter how much officials prepare, a system run by humans is bound to be imperfect. Even Sherbet can understand what happened.
"I don't know if I could have prevented the mistake had I been in charge," he told me. "There were a few occasions [when he was in charge] that this type of human error occurred even after all possible precautions were taken."
Then there's Pippins-Poole, the unapologetic would-be villainess. She insists there is "no big conspiracy" and that she had nothing to do with Sherbet's departure. What's more, she worked with Sherbet for more than two decades. It's not as if she came to the job without experience. And aside from an effort to register high school seniors, she hasn't changed any of his policies. As for not publicly apologizing for the mistake? She says she did. But the News didn't print that quote—or any quote from her.
"I'm very sorry for this," Pippins-Poole says. "Deeply, deeply sorry. Anytime anyone is denied their right to vote, we're very passionate about it."
She says she has addressed the problem with the precinct judge in question, and her office will make an effort to ensure all alternate judges receive shared-precinct ballot instructions in the future.
When partisan politics enters what should be the party-neutral process of running an election, even situations that might otherwise seem innocuous—merely unfortunate operational mistakes—become a question of competency and potential corruption. That's why county officials moved the job out of the tax assessor's office and created the elections department more than 30 years ago.
Ironically, if Price's goal was to get easier and more efficient voting in areas with lower-income and large minority populations, the plan has so far backfired. Most of the people disenfranchised in this election were minorities from lower-income neighborhoods.
Write to [email protected].
Get the D Brief Newsletter
Dallas' most important news stories of the week, delivered to your inbox each Sunday.