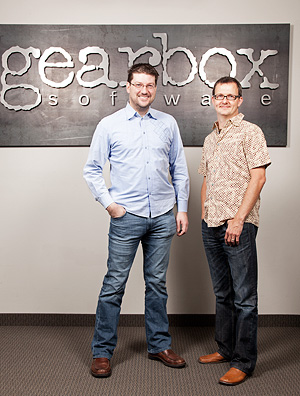 It has all the trappings of a classic American tale: wild success, abject failure, and the hope of wild success again. In 1996, a ragtag group of Dallas video game developers releases Duke Nukem 3D, a first-person shooter that helps define the genre, as it sells 3.5 million copies and makes its creators wealthy. And then the unthinkable happens. Those same developers, after working for 12 years on the sequel, Duke Nukem Forever, give up. Their company collapses. It is as if George Lucas announced
The Empire Strikes Back
and then failed to produce it.
That was two years ago. But now, at last, Duke Nukem Forever will have its comeback. Next month, Plano's Gearbox Software will release the game. It's hard to exaggerate the buzz among gamers. Months before the release date, Duke Nukem Forever was one of the top trending topics on Twitter. As one online commenter put it, Duke Nukem Forever is the white whale and the second gunman combined. And it couldn't have happened anywhere but Dallas.
The exact location of the game's resurrection is an office building on Park Boulevard in Plano, not far from Central Expressway. Gearbox is clearly a video game company. There are whole rooms full of slouching kids test-playing games, the snack closet is impressively deep, and toys line shelves. But Gearbox's offices on four floors also feel organized and uncluttered, grown-up. New character designs are neatly push-pinned into a board on an otherwise white and unmarked wall. The space feels clean, with ample room to be both creative and productive.
Company co-founder Randy Pitchford, who quit studying law in California to come to Texas and design games, is wearing a black velvet jacket and designer glasses. His hair is messy-spiky. He looks a little like the magician he once was. For the last 12 years, he's been president and CEO of Gearbox. His decision to buy Duke was a business one—Duke is one of the best-known brands in a multibillion-dollar industry—but it was also personal. "Duke was where it began for me professionally," Pitchford says. "In many ways, I feel like I owe Duke my career."
Pitchford once worked for 3D Realms, the Garland company that created Duke Nukem. He met Gearbox co-founder Brian Martel while there. They first teamed up on the original Duke game; Pitchford designed levels and Martel was an artist. Later, a number of former 3D Realms employees who'd worked on Duke came to work at Gearbox, too. So not only was Duke one of Pitchford's first games, but it also indirectly led to founding and staffing his company.
When the game's creators announced that Duke was dead, no one, Pitchford and Martel included, thought that was the right ending to the story.
The eponymous Duke Nukem makes Stallone look wimpy and Schwarzenegger look like a feminist. He spews one-liners. For the first-person shooter, that was revolutionary back in 1996.

"Duke Nukem is kind of where it all started," says Jesse Divnich, an industry analyst and a vice president at Electronic Entertainment Design and Research. Duke was one of the first prominent digital characters. Before him, Divnich says, story line and character weren't all that important. Where once people just manned guns and went after bad guys, now they were actually playing a specific character. There was Mario, yes, but for the first-person shooter, Duke was novel. Mario never had a catchphrase. "It's time to kick ass and chew bubble gum, and I'm all outta gum," Duke said as he wasted aliens and mutant humans in a dystopic Los Angeles "sometime in the early 21st century." Duke's catchphrase was lifted, more or less, from Roddy Piper in the movie
They Live
. The game made all sorts of references to pop culture. At one point, Duke comes across the corpses of Luke Skywalker and Indiana Jones.
When the sequel was delayed a few times, gamers didn't worry too much. Development delays in the industry are common. Dan "Shoe" Hsu is a veteran video game journalist and co-founder of gaming site bitmob.com (full disclosure: he and I once worked for sister gaming magazines). "It's almost kind of embarrassing," Hsu says. "I used to upgrade my PC hardware in anticipation of that game." But then it didn't come out. And didn't come out. And didn't come out. Hsu stopped upgrading for Duke. (Even now, as D Magazine was going to press, the game was delayed a month. "Five-week delays are not uncommon in this industry and happen very often," says a Gearbox spokesperson.)
A website about the endless delays lists all the projects that were completed faster than Duke Nukem Forever (including digging the Suez Canal, by hand) and points out how different the world was when the game was announced ("Google, eBay, and the term 'web log' didn't exist"). The site—The Duke Nukem List—has had more than 34 million unique visitors. That's a lot of people paying attention to/mocking/wishing for a game that didn't exist.
Understanding what went wrong is tricky. Scott Miller cofounded 3D Realms, Duke's creator. He explains that, at least in part, they failed to finish the game because they struggled with the challenges of success. "We didn't grow the company like we should," he says. When 3D Realms shuttered in the summer of 2009, it had about 30 employees. By comparison, Gearbox has about 200. There were some complications with the publisher, too.
People with inside knowledge offer other possible explanations. George Broussard is the other co-founder of 3D Realms. He didn't respond to an interview request for this story, but those involved say he was a perfectionist and that he kept making big changes to the game. As video game technology advanced, he wanted to use the latest and greatest tools, forcing his development team to start over almost from scratch more than once. Another theory: the developers made so much money from the first game that they didn't feel the same pressure other developers might have felt to ship the sequel. Or maybe the delays sprang from all of the above.
Whatever the reasons, after a lot of years of work, 3D Realms folded. Employees were laid off, and the game officially, finally died. Duke, the mouthy, cigar-chomping badass who saved Earth from aliens, became the poster boy for vaporware, industry-speak for a product that never actually gets produced.
Then along came Gearbox's Randy Pitchford, who acquired the game under some special circumstances.
Get our weekly recap
Brings new meaning to the phrase Sunday Funday. No spam, ever.