"We should perpetuate a rumor that I won it in a poker game," Pitchford says. In fact, Pitchford does play poker with Broussard. They're friends. But that's not how the deal was done.
The 3D Realms guys—Miller and Broussard—simply trusted the Gearbox guys with their baby. "We know they have a passion for the brand," Miller says. "We know that they understand the brand." Remember, Pitchford and Martel used to work for them. Now they were friends, part of a close-knit community.
"Dallas has had this collaborative," Martel says. "We all make shooters and first-person games, and this is the place that's supposed to be the hub of that." Any animosity Miller and Broussard might have felt about Pitchford and Martel leaving to start their own company years before had "kind of tempered over time," Martel says.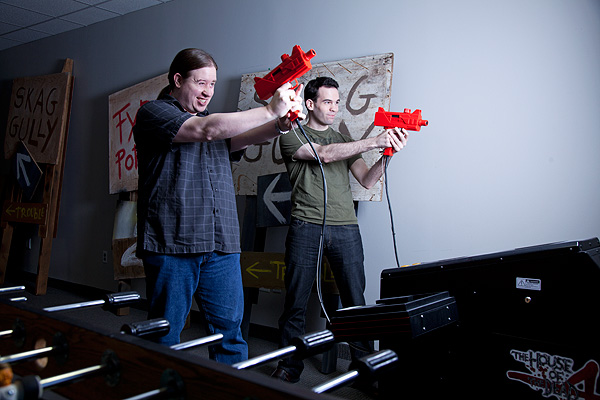 "I find it easier to negotiate with people that I know and trust," Pitchford says. Plus, Pitchford says, Gearbox didn't need Duke, and 3D Realms was comfortable with the fact that they'd "already burned their house down." That made everything easier. "When both parties are comfortable not doing the deal," Pitchford says, "it actually makes it really easy for both parties to find the happy place that everyone is comfortable with."
Pitchford won't reveal the terms of the deal, but he estimates that 3D Realms had sunk $25 million to $30 million into Duke. "Optimally," he says, "they don't want to feel a loss."
"Everyone's going to make a ton of money off this," Miller says.
There were other important factors in 3D Realms' decision to sell to Gearbox. Gearbox has a good relationship with Duke's publisher, Take-Two Interactive Software, which helped resolve a lawsuit the publisher had filed against 3D Realms. Gearbox's location in Plano also played a role in the sale. Miller and Broussard can more easily stay involved. They still own the film rights, for example. "It makes sense for us to still be in very good contact with each other because stuff that's happening on the film side might relate to the game side and vice versa," says Miller, who has an office at Gearbox.
But it's Gearbox, along with all the former 3D Realms employees who now work there, that has to complete Duke Nukem Forever. Martel says his team has taken a simple approach to finishing the project. "It's not quite magic. It's just roll up your sleeves and do the hard work," he says.
When 3D Realms shut down, most of the employees got other jobs, but a handful of the team kept working on Duke in their houses. They formed Triptych Studios. The Triptych team, with its institutional knowledge, was given offices at Gearbox. Then the Gearbox and Triptych teams worked together to find the shippable game inside the years of graphics and minigames and dead ends and great starts.
That meant culling. It meant "being an advocate" for the consumer and finding the "cohesive game—beginning, middle, and end that feels right," says Martel. Gearbox had a history of shipping games—often successful ones—and they had the system down. They knew the certification process so that Sony and Microsoft and crew would certify the games for their respective systems. They had teams dedicated to figuring out technical issues with translating the PC version of the game to consoles. Mike Wardwell, the very first employee Gearbox hired, is the producer on Duke Nukem Forever. He put his years of expertise into getting the game out the door. Wardwell "can really make the harsh kind of decisions," says Martel. He can decide what can be removed, what won't matter to the customer.
This, more than anything else, may be the reason that the game is finally shipping. When someone has gotten too close to a project, worked on it too long, it can become impossible for him to make those harsh decisions. Even Nobel laureates need editors. Gearbox was that editor.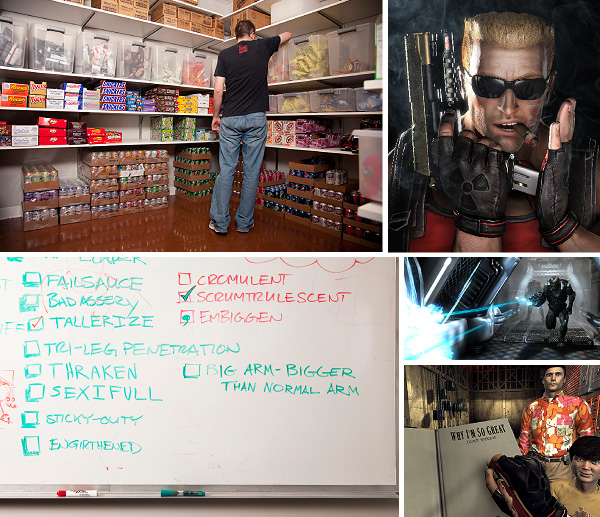 And how will Duke be received after all these years? Video games have changed dramatically since Duke was first unleashed on the world. Even with Duke Nukem Forever's technological updates, the core game was conceived in another era. "Nowadays we're used to more anti-heroes. We're used to guys that have weaknesses," Hsu says. Plus, he says, the first-person shooter has exploded in the last 10 years. "It's going to have a lot of catching up to do to compete with those other products," he says.
Hsu played a preview version of the game at a recent junket held in a strip club in Las Vegas. The city serves as the setting for Duke Nukem Forever. And, yes, Duke himself does visit a strip club in the game. Change.org started a petition to get Walmart to refuse to sell the game. Nonetheless, Hsu expects that the game will have "some success with mainstream America."
Divnich, the analyst, was also there for the test run. He's confident the game will do well. He is almost adamant that everyone should play the game so "that they understand a little bit more about where the video game industry has come from." He calls Duke Nukem Forever an "ode to what games were." Playing it is like "having your kids watch the first Star Wars title," something everyone should do. Historical significance aside, Divnich says the game is really, really fun.
Common wisdom says when a business experiences explosive growth, the people who founded it are rarely the right ones to manage it. Which makes sense: inventors are people who, by definition, see in ways that other people don't. That vision can be great for redefining a genre, as Duke did for first-person shooters, but visionaries are rarely good at overseeing day-to-day operations.
Handing over a project to someone else presents another set of challenges, but in this case, a lot of pieces fit. The new guys started with the original guys; the friendship began with professional respect; they're still in close contact; everyone wants to play fair when it comes to money; and they all love the game. It's not a recipe for success—nothing is—but it makes a lot of sense.
Regardless of how successful the game ultimately is, there's something powerful about just finishing it. My husband, a former hard-core gamer, was shocked when I told him Duke Nukem Forever was actually coming out. He spluttered a little, and his eyes widened. If you look vaporware up in a dictionary, he said, you'll see a picture of Duke Nukem. He was silent for a moment, then added, "I guess they'll have to change the dictionaries."
Write to [email protected].
Get our weekly recap
Brings new meaning to the phrase Sunday Funday. No spam, ever.