The Best Jukebox Bars in Dallas
The watering holes that still have a place for the coin-powered (all right, dollar-powered) behemoth get an instant air of street credibility that no bottle-service or velvet ropes could ever engender.
The old-fashioned jukebox is more than a cool, nostalgic piece of bar furniture. It is a comforting presence that lets the drinker determine the soundtrack for the night, one song at a time. We're talking old-school jukebox cabinets, not the newfangled, digitized machines with every song ever recorded at your screen-touching fingertips. No, a proper jukebox joint needs to have an edited playlist, where the bar owners have put trust and faith in the bar patrons to play the songs that fit the character of the place. There's nothing worse than a hen party taking over the corner of your favorite dive bar and playing their favorite Avril Lavigne girl-power anthems ad nauseam.
Sadly, the number of bars in Dallas that have stuck with the classic jukebox is on the decline. But those watering holes that still have a place for the coin-powered (all right, dollar-powered) behemoth get an instant air of street credibility that no bottle-service or velvet ropes could ever engender.
Here, then, are six of our favorite jukeboxes in our favorite local bars. To measure the music machines' ability to set the sort melancholy mood—what the Germans call Weltschmerz—that encourages world-class drinking, I've created the Haggard-Jennings Power Rating scale. My methodology: a scan of the song selections, of course, but also a three-song sample heard in the time it took me to order a drink, find a good place to sit, and settle in.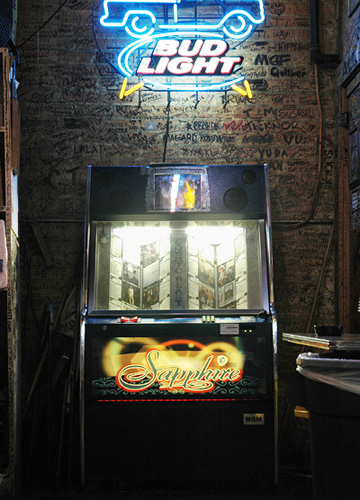 ADAIR'S SALOON
Obviously: Marty Robbins, Johnny Cash, David Allan Coe
Surprisingly: Bob Dylan's Highway 61 Revisited, Tom Petty, Bob Marley
First Three Songs I Heard: "Think I'll Just Stay Here and Drink," by Merle Haggard; "Twice as Hard," by The Black Crowes; "Ramblin' Man," by The Allman Brothers
Haggard-Jennings Power Rating: 9 (on a scale of 1 to 10)
Why Adair's: One of the few still-thriving bars in the eerily deserted Deep Ellum, Adair's is known for three things: quite possibly the best hamburgers on the planet, the fact that you not only are allowed but also encouraged to graffiti any surface with the permanent markers provided, and, finally, a jukebox that just fits. The jukebox serves up everything from the elder statesmen of honky-tonk music by the likes of Buck Owens, Waylon Jennings, and Hank Thompson to the newer stuff by Dwight Yoakum, Eleven Hundred Springs, and Chris Knight. One thing you most certainly will not hear pulsating from the Adair's jukebox is any sort of "modern" country Pro-Tools/Def Leppard-with-a-fiddle sort of music. Big and Rich may be both corpulent and wealthy, but they have no place in this bar. And the barkeeps don't skimp on the jukebox volume at Adair's. To say they crank it up is putting it lightly (or quietly, as the case may be). On the night I went, the jukebox took a few breaks to allow honky-tonk cover band The King Bucks to play their weekly Monday night gig. Only when the band took a break and the jukebox filled the void did everyone realize that the jukebox is actually louder than any live band at Adair's.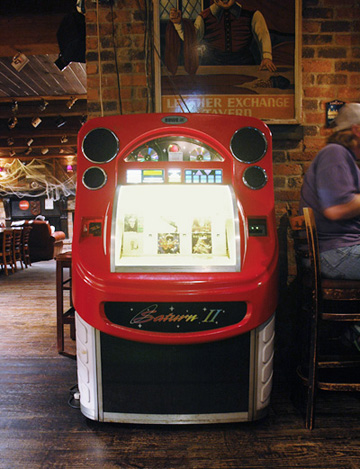 THE LONDONER
Obviously: Queen, The Stone Roses, Amy Winehouse
Surprisingly: Glen Miller, Yaz, Superfly soundtrack by Curtis Mayfield
First Three Songs I Heard: "Every Day I Write the Book," by Elvis Costello; "Is This It?" by The Strokes; "London Calling," by The Clash
Haggard-Jennings Power Rating: 2 (It's hard to be sad when you're surrounded by elated drunks singing arm in arm.)
Why The Londoner: What's a person living north of LBJ to do, should he feel like going out for a drink and shooting some pool? Isn't everything north of 635 now a dance club or swanky cocktail lounge? Nope, not just yet. The Londoner in Addison sits among restaurants and strip malls but sticks out like a sore thumb. It's an admirably authentic pub, right down to the red phone box outside. Inside, though, it's like an Anglophile's TARDIS with soccer on the television, dart boards on the walls, and, perhaps most important, a jukebox full of British gems. Think I'm joking? Well, then, you obviously have not picked the soccer terrace staple "Three Lions" during an England match just to watch the entire bar collectively lose its mind in a fit of hugging and drunken singing. Here's another Londoner true story: a friend and I used to eat lunch at The Londoner on a semi-regular basis, and there was one man who would come in during the early afternoons with alarming regularity to sit by himself, nurse a Guinness, and pump dollar after dollar into the jukebox to hear his favorite UB40 songs. Luckily, he grew out of that phase after a few months.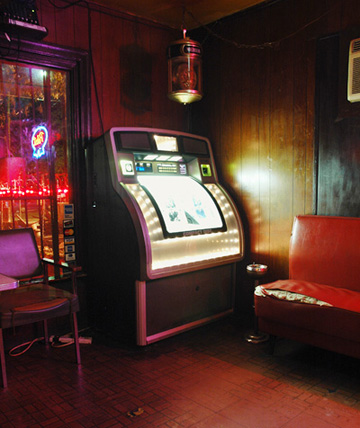 LEE HARVEY'S
Obviously: The Beatles, T-Rex, The Smith
Surprisingly: 24 Hour Party People soundtrack, Gram Parsons, Air
First Three Songs I Heard: "What Do I Get?" by The Buzzcocks; "Dead Leaves and the Dirty Ground," by The White Stripes; "Monkey's Gone to Heaven," by The Pixies
Haggard-Jennings Power Rating: 5
Why Lee Harvey's: Yet another deceptively dive-y bar that is actually a destination spot for locals and out-of-towners. Lee Harvey's renown is partially because of the menu, but it's mostly for the uniqueness of the bar itself. The actual bar is roughly the size of a spacious one-bedroom apartment. Lee Harvey's large outdoor area—complete with fire pits, a dogs-allowed policy, and free shows by the best local bands—is what has made this bar so popular. But on quieter weekday nights, when getting a seat inside is possible, the jukebox is king. It rules over the place so much that while I was there, a couple who were obviously enjoying their cocktails put on such an elaborate dancing display that by the end of the night, they were receiving applause after each song. If you have ever wondered how exactly someone could tango to The Smiths, wonder no more. Lee Harvey's has your answer.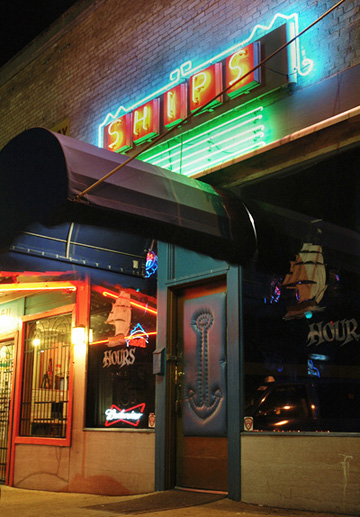 SHIPS LOUNGE
Obviously: Jimmy Reed, Glen Campbell, Lightnin' Hopkins
Surprisingly: Rod Stewart, Andy Williams, Eartha Kitt
First Three Songs I Heard: "Born on the Bayou," by Creedence Clearwater Revival; "Back in Baby's Arms," by Patsy Cline; "Make the World Go Away," by Eddy Arnold
Haggard-Jennings Power Rating: 10 (In fact, I can neither confirm nor deny that Merle Haggard himself, or a reasonable facsimile thereof, was regaling the bar with tales of hard labor in Morgan City, Louisiana, back in the 1970s during my visit.)
Why Ships Lounge: Nowhere does the jukebox power the entire feel of a bar more than at Ships. Unlike many self-proclaimed dive bars around town, Ships is the real deal. Grizzled, retired tradesmen outnumber hipsters 3-to-1 most nights. The bar is a bring-your-own-liquor joint, which means that you can either order a beer or offer to split the cost of a mixers set-up with the old-timer holding court at the bar. It's Barfly bottle service and always runs a few hundred dollars cheaper than the Uptown equivalent. So to set the mood in this bar, the owners have ensured that no music made after, oh, about 1971 will ever puncture the time bubble that is Ships Lounge. This is quite possibly the only bar in Dallas where the chance of there being a "rock block" of Ella Fitzgerald, Roy Orbison, or Buddy Holly happening at any given time will always run somewhere around 60 percent. Ships also holds the distinction of being the only bar in town where I did not hear a Tom Petty song within 30 minutes of my arrival.
LAKEWOOD LANDING

Obviously: Frank Sinatra, The Replacements, Neil Young
Surprisingly: Big Star, Miles Davis, Black Rebel Motorcycle Club
First Three Songs I Heard: "Mary Jane's Last Dance," by Tom Petty and the Heartbreakers; "Amarillo by Morning," by George Strait; "I Got a Woman," by Ray Charles
Haggard-Jennings Power Rating: 6.5
Why Lakewood Landing: The sign outside claims this bar is an "upscale dive," though the actual breakdown is probably more like 85 percent dive and only 15 percent upscale. This bar is the Green Bay Packers of titles won, having received a nod from every major local publication for, among others, Best BLT, Best Bartender, Best Home Away From Home, and, yes, Best Jukebox. If the idea of putting another quarter in the jukebox in the back and slouching on your barstool in the darkest corner of the city's darkest and smokiest (for now) bar excites your inner Charles Bukowski, your own little slice of dirty realism awaits you at the Lakewood Landing. Also, the kitchen stays open late in case you need a burger and onion rings to soak up all that whiskey and nicotine you will doubtlessly have coursing through your system.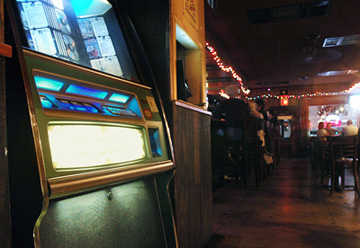 ELBOW ROOM
Obviously: R.E.M., Chris Isaak, Wilco
Surprisingly: Ratt, The Cult, Royal Tennenbaums soundtrack
First Three Songs I Heard: "Nightrain," by Guns N' Roses; "Drive," by The Cars; "Joey," by Concrete Blonde
Haggard-Jennings Power Rating: 5
Why Elbow Room: Perched perilously on the fringe of Deep Ellum, Elbow Room has been able to ride the ebb and flow of the district's upheaval by being a completely gimmick-free watering hole in the midst of themed, fly-by-night bars and clubs. There's nothing particularly tricky about Elbow Room, unless you count the occasional jazz night. Even the food is comforting—nothing too intimidating or fussy. On a Saturday night, the bar hums along nicely, being neither uncomfortably packed nor depressingly deserted. The jukebox speaks directly to the clientele, who are pleasantly hip without being pretentious or unwelcoming. The unexpected surprise is that, unlike many other bars with jukeboxes, the music isn't cranked to ear-shattering levels that render conversation impossible. The volume even allows for patrons to disagree respectfully over who gets the next turn at the shuffleboard table.