Pasadena, California
This quiet community sits just 9 miles from the bustle of LA, but it has charms all its own.
SHADY RETREAT: The Langham Huntington Hotel & Spa, converted from a Ritz-Carlton about a year ago, has all the trappings necessary for a relaxing getaway. It helps that the drive to the property takes you up scenic Oak Knoll Avenue and through the manicured neighborhoods of Pasadena. Really want to get a feel for the city? Ask the concierge for a map of jogging routes. It's small enough to carry with you as you run (or walk briskly) through Pasadena's quiet streets. GARDEN PARTY: One place you should explore is the Huntington Library, Art Collections, and Botanical Gardens (1151 Oxford Rd., 626-405-2100). It's a sprawling complex, often used in film and television shoots, with a diverse display of plant life arranged into themed gardens such as the Shakespeare Garden, Children's Garden, and Chinese Garden, each painstakingly planned and researched for authenticity and sustainability. The Huntington's impressive library features an Ellesmere manuscript of The Canterbury Tales; a Gutenberg Bible; letters penned by Washington, Jefferson, and Lincoln; and more than 6 million manuscripts. It also houses a world-class art collection, which includes Thomas Gainsborough's The Blue Boy, as well as works by American artists Frederic Remington, Gilbert Stuart, and Edward Hopper. TOWNIES: Pasadena, a city of about 150,000 residents, boasts six museums and six theaters—more culture per capita than any other city in the United States. Highlights include the Norton Simon Museum of Art, the historic Pasadena Playhouse, the storied Rose Bowl, and shopping in Old Pasadena. Feeling peckish after scouring boutiques such as Gold Bug, Elisa B., Lather, and familiar faves H&M, Sur La Table, Kate Spade, and J. Crew? Stop in to the Mediterranean-influenced Cafe Santorini (64 W. Union St., 626-564-4201) for your pick of Greek and Italian specialties. Start with a mezze platter of grilled Halloumi cheese, grape leaves, babaghanoush, kubbe, and lentil pilaf, and follow it up with the penne con pollo: roasted chicken with leeks, arugula, shiitake mushrooms, and tomatoes in a white wine cream sauce tinged with roasted garlic. Late night, sidle up to the counter at the famed Pie 'N Burger (913 E. California Blvd., 626-795-1123) and trade barbs with waitress Jo Dell, who's worked at this local dive for 44 years. The name is also a fine ordering suggestion: the pie is heaven in a crust, the perfect complement to the thick grilled burgers. STAY IN, STAY HAPPY: If you're worn out from touring the city, there's not a better place to unwind than the Langham. The 23-acre property features a Japanese garden, a picture bridge, heated outdoor swimming pool, fitness center, tennis courts, and a full-service spa. After all the walking you've done, settle in for the Walk in the Clouds pedicure, a 50-minute respite of foot-focused massage, soaking, and pampering. Before checking out, enjoy dinner in The Dining Room, the hotel's Michelin Star-rated restaurant. There, chef de cuisine Craig Strong dazzles with his modern American approach to dishes such as sautéed Hudson Valley foie gras, farm-raised pheasant breast, and butter-poached lobster. If you want to indulge, let chef Craig design a personalized tasting menu for you with wine pairings. California dreaming, indeed.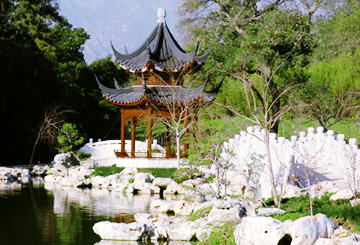 Afternoon Tea Time, Old-School
Every June 10, all Langham properties roll back the price of their afternoon tea service to one shilling, or about 15 cents. The occasion is to mark the 1865 anniversary of the opening of Langham's London hotel, the company's flagship, which was the premier purveyor of afternoon tea in a luxury European hotel. Unlike the tea of 144 years ago—served in the main dining room with a dainty spread of bread and butter, cakes, and sweets—today's incarnation offers an assortment of tea sandwiches, scones with Devonshire cream, fruit tarts, strawberries with Grand Marnier sauce, chocolate mousse torts, and kir royale cocktails. It's served from 2 to 4 PM in the hotel's Lobby Lounge, which has serene views of San Marino and the Horseshoe Garden. It's open to the public, and reservations are required. At just 15 cents per person, spots fill up fast.
WHERE TO STAY
The Langham Huntington Hotel & Spa
1401 Oak Knoll Ave.
Pasadena, California
626-568-3900
www.langhamhotels.com
Rates: $199–$4,250
HOW TO GET THERE
American Airlines flies nonstop daily from Dallas to both the Los Angeles and Burbank airports. Car or shuttle service can be arranged through the hotel, or taxis are available on-site. LAX is about 26 miles from the hotel, and Burbank is about 16 miles away.