MATTHEW EARNEST
Fashion designer and owner of Sartel
Native Texan turned New York fashion designer Matthew Earnest has introduced a sophisticated collection of women's clothing and accessories to the Shops of Highland Park with the opening of his new store, Sartel. After presenting his senior thesis for Parsons School of Design on the runway of New York Fashion Week (a first for an enrolled student), Earnest was ready to branch out into retail. Dallas seemed like an obvious place to open a boutique, given the city's emergence on the fashion scene and Neiman Marcus heritage. "Dallas has a good support system and knowledge of fashion and the industry," Earnest says. He and co-creative director Lily Atherton Hanbury (a former jewelry consultant for Jaspar LLC) teamed up to design Sartel, a women's line that is "neat and sophisticated, informed by the history of art, architecture, and fashion," Hanbury says. Together, the pair travel the world gathering unique finds, and collaborate with other designers to make products exclusive to the store such as candles by Paris' legendary Maison Cire Trudon and jewelry designed by Kathryn Allsopp, whose ornate pieces have an antique feel with a modern twist. As for the clothes, expect to find a fresh approach to 1930s-inspired attire, geared for the modern woman. Think dresses that unzip into a skirt and top, or a feathered hem or ruffled sleeve that detaches. "We design for the contemporary professional woman, who is social and always on the go," Earnest says. —PAIGE NOBLES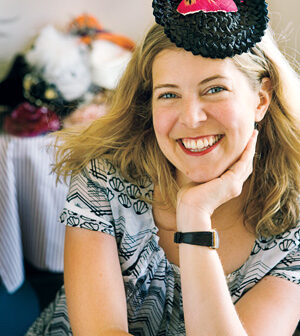 CASSIE MACGREGOR
MILLINER
Cassandra "Cassie" MacGregor never dreamed of becoming a hat designer. But after enrolling in a milliner's class at New York's famed Fashion Institute of Technology, she revealed an unknown talent and found her niche in the fashion industry. MacGregor honed her craft by apprenticing with acclaimed milliner Albertus Swanepoel, designing hats for both Marc Jacobs and Proenza Schouler. Five years later, she packed up her antique hat blocks and headed south. "When I came back, Dallas had a lot more going on than I ever remembered," she says. Not only has MacGregor joined the ranks as one of the few accomplished milliners in Dallas, with her custom-made fedoras and bridal hats, but she also found a bit of fame when one of her cocktail hats showed up on the cover of W.
MacGregor derives much of her inspiration from old fashion books. "I use a lot of vintage straw and feathers in my creations," she says. "And I'm excited because I think cloches will be the new style this fall." After researching her family history on a trip to Scotland, she learned her grandmother had been a milliner as well, and she renamed her label The House of MacGregor, a tribute to her heritage. For now, MacGregor is happy to create her art in a studio (appropriately located in the Bishop Arts District), but says she may open a boutique someday. She also hopes eventually to teach hat making. "The more people make hats and the more people wear hats, the better it is for business," she says. "It could also help bring hats back into fashion." The House of MacGregor is sold locally at V.O.D. and Pumps. ahatbycassie.com. —KRISTIN HART
HEATHER HAYLERFashion Consultant
Heather Hayler has seen a lot of bad things in Dallas closets. The 31-year-old personal stylist and founder of Development Fashion Consulting begins every consultation in the infamous home of family skeletons and unforgivable style crimes.
"I've gone into closets before where everything in it just didn't work for the person," she says. Hayler worked at Forty Five Ten before starting her own business in January. Though she comes face to face with fashion faux pas on a regular basis, don't expect any cringe-worthy What Not To Wear-type moments from her. She even allows her clients keep some beloved items. "It's about the client," says Hayler, who charges $100 an hour. "So if there's something that they want so badly, you figure out a way to work it so that it's not as horrifying as I maybe would find it." That doesn't mean Hayler lets her clients walk out looking anything less than spectacular. Her job is to lead them in the right style direction while also leaving room for their own creative freedom. Hayler teaches her mostly female clientele how to choose appropriate colors, cuts, and fabrics—and it's all highly personalized. "I find it really important that my clients base their looks on their individuality and what they're going to be comfortable with over the long term," she says. University Park mother of two Nicole Groth says hiring Hayler was the best gift she could have given herself. "She has completely opened my eyes to different styles and looks that I never thought I could wear," she says. Hayler has also helped Groth retire some old standbys that just weren't working for her. As a result, the early-30s mom regained some of the self-confidence she'd lost after having her children. "It makes such a big difference to feel confident in what you have on and not have to think about what you're wearing," Hayler says. developmentfashion.com. —RHONDA REINHART
LISA FINKELSTEINDirector of design/women's jewelry, J.Crew
Dallas women are known for their larger-than-life taste in jewelry—a design aesthetic J.Crew accessories designer Lisa Finkelstein understands. "In Texas, we are friendly and loud and fun," the Dallas native says. "Jewelry is a conversation piece and should make one happy." As director of design for women's jewelry at J.Crew in New York City, Finkelstein is in charge of creating the entire accessories collection for the company—everything from oversized cocktail rings to sparkling hair pins. Growing up, the Greenhill School and UT Austin grad had a passion for making crafts, as well as drawing and photography. After college, these creative passions led her to a career in fashion. She worked her way up the ladder with jobs in New York and Los Angeles, followed by a summer intensive at Central Saint Martins College of Art & Design in London and several years at Rebecca Taylor. Three years ago, she was hired on as a consultant for J.Crew, and it wasn't long until the company's creative director asked her to design J.Crew's jewelry collection. "It was challenging, but I definitely felt ready for it," she says. While much of her inspiration comes from J.Crew's color palate and clothing designs, Finkelstein also scours vintage stores on the streets of Manhattan to get ideas. "I'm a very vintage-inspired person," she says. For fall, she's loving big statement necklaces, and she advises layering bangle bracelets for a chic look. One thing she's not a fan of: wearing every piece of jewelry you own all at once. "Pick your statement and swallow it," she advises. Perhaps not surprisingly, Finkelstein's Dallas roots are still firmly planted. "Growing up in Texas I was surrounded by women dressed in bright colors wearing big baubles and rings," she says. "I like to have fun with jewelry and use it as a way to express myself." —SARAH EVEANS
Get our weekly recap
Brings new meaning to the phrase Sunday Funday. No spam, ever.