When "Making It New: The Art and Style of Sara and Gerald Murphy" makes its stop at the Dallas Museum of Art this month, much will be made of the Murphys' A-list friends and their important role in the modernist movement in 1920s Paris. The quieter story, that of Gerald's rediscovery after years of relative obscurity, will likely be unheard among the thunder of bolded names such as Pablo Picasso, F. Scott Fitzgerald, and Ernest Hemingway. But without Dallas, the Murphys may have remained only in the memories and biographical footnotes of the countless famous friends they influenced.
The Dallas Museum for Contemporary Arts, which later merged with Dallas Museum of Fine Arts to form the DMA, began in 1957 as a safeguard against the politicized cultural environment in Dallas. A group of avid young collectors, including the Marcuses and Betty Blake, were committed to bringing the best in modern art to Dallas, despite protests by conservatives that it was "unpatriotic" and "communist." "Dallas nurtured in the '50s and '60s a sophisticated group of collectors and patrons, and it's in our institution's heritage," says William Rudolph, Pauline Gill Sullivan associate curator of American art at the DMA.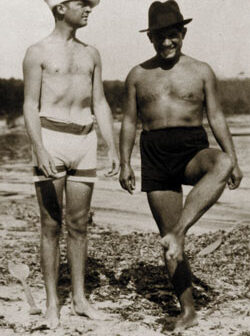 When DMCA director Douglas MacAgy included Murphy's work in a 1960 group exhibition, Murphy had long since stopped painting. "It took one show—'American Genius in Review'—and he was back on the map," Rudolph says. Upon hearing the news, Gerald replied with style, "I've been discovered. What does one wear?" He didn't attend his own exhibit, but he gave two paintings,
Razor and Watch
, to the DMA as gifts. "He was thrilled, but I don't think he trusted that the world wasn't crazy," Rudolph says. "His rediscovery and response was another instance of how he and Sara did everything—graciously and effortlessly, always saying and doing the right thing."
"Making It New," which Rudolph calls a "different type of show for us," includes letters, news clippings, snapshots, home videos, and works by other modernist luminaries. "It's about Gerald and Sara, about a golden age, being young, rich, good looking, with famous friends," he says. "They led a charmed and creative life. Their friends knew how creative it was, but the world didn't know. It took Dallas to show the rest of the world Gerald's art."
Get our weekly recap
Brings new meaning to the phrase Sunday Funday. No spam, ever.