Review: Tecole Taco House and Urban Taco
The once tired Mexican favorite is now a smoking-hot trend, showcased at two upscale tacquerias: Tecole Taco House and Urban Taco.
It is neither the best of tacos, nor the worst of tacos—but when two taco joints open practically within the same month, comparisons are inevitable, si? Especially when the sensibilities are as similar as they are at Urban Taco and Tecole Taco House.
Both are upscale tacquerias, specializing in soft tacos with a spoonful of filling sold on the cheap, as has been done for years on the streets of Mexico (and some streets in Dallas, too). True-blue chowhounds prefer it that way, finding the mystery-meat fillings more authentic and relishing the bargain prices, as low as $1.50 per taco.
That's fine as long as you don't mind devouring your taco under a glaring streetlight or on the dashboard of your car. What of the diner who'd like to consume his soft tacos in nicer digs, with haute-cuisine fillings and a cool beverage, too?
Mico "Mi Cocina" Rodriguez paved the way with Taco Diner, founded in 1998. Just as he did with Tex-Mex, Mico classed it up. He brought the taqueria indoors, gave it a chic setting, margaritas, chips, and salsa. It must be working. Taco Diner has five locations.
Neither Urban Taco nor Tecole offers any dramatic variation on Mico's formula. All provide a nice room, a decent dinner, and a drink, for about $25 a pop. Between the new guys, Urban Taco had a more interesting menu; Tecole had stiffer drinks.
Tecole seemed a mite calculated, given the unexpected team behind it: Feargal McKinney, co-owner of The Old Monk, The Dubliner, and The Idle Rich Pub; and Ian Beach, ex-rocker (Buck Pets) and graduate of the Culinary Institute of America who most recently held the No. 2 spot at the Mansion on Turtle Creek.
But no lobster tacos. Quail was about as fancy as it got, along with beef short ribs, pork, and sautéed shrimp. "Pulled" white chicken braised in mole was a standout. So was Texas redfish, grilled or fried, and topped with cilantro slaw and diced pineapple. All entrees came with cumin-y black beans and moist rice.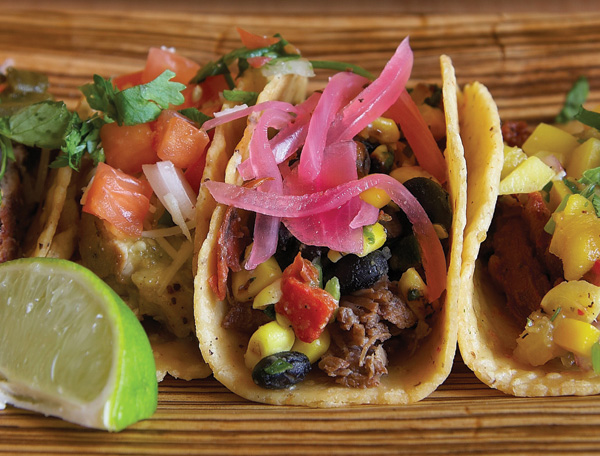 A bigger impression was made by the chiles rellenos, wrapped in a thick battered crust and stuffed with a juicy vegetable filling that included golden raisins and chopped pecans. (You can get it with chicken mole, as well.) Queso contained white cheese rather than Velveeta, and appetizers included another popular street-food item, elotes—corn on the cob, overcooked and coated in chile seasoning, then dusted with grated white cheese.
But the biggest impression was made by the drinks: two sangrias, white or red, and get-you-hammered frozen margaritas. The big draw is the patio scene, bustling nightly for all to see on McKinney Avenue, with gals in shorts seeming as much like cocktail waitresses as servers. How many places have come and gone at this ramshackle house over the years? Pueblo Arriba, LuLu's Bait Shack, Rodizio's, Tijuana Johnny's, McKinney Station, Crackers—and the patio lives on.
Urban Taco comes from Markus Pineyro, a 24-year-old Mexico City native and graduate of SMU, and another name-brand chef, Fernando Huerta, who previously worked at Stephan Pyles (although at press time, Huerta had left Urban Taco). The menu offers solid intrigue for foodies, with fillings such as ahi tuna in pumpkin-seed pesto, red snapper in garlic mojo sauce, and fall-apart-tender pot roast braised in Dos Equis Ambar beer. Another telltale foodie sign was that there were two vegetarian filling options: spicy-hot poblano pepper, potato, and zucchini; and luscious roasted corn in lime cream.
Corn tortillas were made on the premises, slightly thick and "artisanal." They added an irresistible toasty-corn flavor to the tacos and to appetizers such as the chicken tinga empanada. These small crescents contained shredded chicken in an understated barbecue sauce that seemed as much Indian as it did Mexican.
Chips and salsa functioned as something more than an empty starter. You can choose from six house-made salsas, including one with peanut and habanero, vaguely reminiscent of the peanut sauce you'd find at a Thai place.
Cocktails used fresh citrus juices such as orange juice and fresh lime in the margarita de oro. The Paloma was a unique, sparkly refresher with tequila and grapefruit soda. Four brightly flavored nonalcoholic agua frescas presented worthy competition, from sweet mango and prickly pear to the more sophisticated tamarind.
Logistics can be awkward. The line runs through the middle of the restaurant, and you order at a counter. But it's a beautiful space, incorporating natural materials such as stone, redwood, and bare tree trunks for an atmosphere both rustic and elegant. It makes eating tacos a far better thing than if you eat them on the street.
Get contact information for Urban Taco.
Update: Tecole Taco House has closed.