WHY NOW: Nothing beats the winter blahs like an upscale Caribbean getaway. Just as Dallas turns shades of gray, the turquoise waters, warm ocean breezes, and fruity beachside libations beckon. Peter Island comprises 1,800 acres but most are untouched, so although the hotel has all the desired amenities—spacious rooms decked out in sunny yellow and cornflower blue, room-enough-for-two soaker tubs in the suites, generous staff-to-guest ratio, lively water sports, romantic dinners, soothing spa treatments—it's easy to relax away your cares on secluded sands.
ROOMS WITH A VIEW: Settle into one of 52 guest rooms and suites (32 overlook the ocean), or rent one of three spectacular private villas: Hawk's Nest (three bedrooms), Crow's Nest (four bedrooms), and Falcon's Nest (six bedrooms). All villas are perfect for families or couples who like to travel with their beach-loving couple friends, and the experience is more akin to staying in a luxurious estate replete with personal staff (chef, valet, maid, groundsman, and chauffeur on call), private pools, and large living spaces for lounging and cavorting.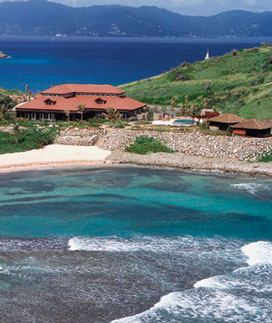 DAYTIME DELIGHTS:
I could spend all day reading a book and nursing a cocktail. But some need more stimulation than others. Not to worry. With complimentary snorkeling gear, sea kayaks, sailboats, basketball and tennis courts, and mountain bikes, you can actually exercise while you tan. Or you could do as we did and throw a fallen coconut like a football. Among the more leisurely must-dos is a picnic on White Bay beach. The staff neatly packed a lunch of yummy sandwiches and appropriate accoutrements, then drove us to the other side of the island, where we were alone save for a nude-sunbathing couple we affectionately nicknamed Adam and Eve. They didn't bother us, we didn't bother them, and we all enjoyed an afternoon of shaded solitude under a thatched hut (not the same hut, mind you). Divers can arrange to visit one of nearly two dozen established dive sites within 45 minutes by boat, including the famous wreck of the Rhone, the 310-foot steamer that sank in 1867. But no matter how you spend the daylight hours, you have to take a drive around the Loop at sunset. Park at a high point, sip champagne, and watch the sun sink into the horizon.
AH, SPA: What's a romantic getaway these days without luxurious spa treatments? The 3-year-old Spa at Peter Island Resort is 10,000 square feet of pleasure, with 10 treatment rooms, outdoor relaxation pool, spa cafe, private steam rooms, and nearby fitness center. Many treatments make use of local ingredients, such as coconut, Caribbean coffee, and salt from nearby Salt Island. But no matter which you choose, it simply must be done in one of the two private bohios—complete with Jacuzzi, outdoor shower, and private bathroom. Hand yourself over to an experienced therapist and enjoy the ocean breeze gently blowing through the open windows. After your treatment, submerge yourself in the warm, bubbling Jacuzzi tub, or curl up on a chaise lounge on the private sunbathing deck overlooking Big Reef Bay.

THE YOUNG GIRL AND THE SEA: We worked with the hotel to set up a half-day deep-sea fishing excursion. The waters were a bit choppy, but I still managed to catch a blue marlin—well, our co-captain hooked it, and I helped reel it in. Novice fisherwoman that I am, when the guide said we had a billfish, I wasn't sure what he meant. And, for a while, as I frantically reeled, I thought for sure I had lost it—I mean, aren't the suckers supposed to be fierce and fast? Turns out my prize was just tired from the fight. Sure enough, after what seemed like an eternity, an enormous (it seemed enormous to me, at least, although it was no prizewinner) marlin came into view. Even the captain was amazed by my luck; some spend a lifetime fishing and never hook one. We hoisted it up just long enough to snap a picture, then carefully let it go. Sadly, my fishing companion wasn't as lucky as I that day. A bout of sea sickness zapped him of his zeal, though he did sit up long enough to see his girl and her fish.

FAST FACTS
Where To Stay
Peter Island Resort
British Virgin Islands
800-346-4451
www.peterislandresort.com

How To Get There
American Airlines flies in to Tortola's Beef Island Airport via San Juan, Puerto Rico. Peter Island is a 25-minute cruise from Beef Island. A representative from the resort greets guests at Beef Island Airport and escorts them to the private launch.
What It Costs
Through December 19: $660–$995 per night double occupancy for guest room or suite; $3,360–$9,890 for private villa
December 20–January 3, 2008: $1,070–$1,500 per night double occupancy for guest room or suite; $5,300–$13,750 for private villa
The above rates include all meals; activities such as water sports, health club and tennis courts, and bicycles; and airport transfer. Alcohol, spa treatments, and offshore activities such as fishing and diving are extra.
Get the TravelClub Newsletter
Explore the best deals, inspiration, and opportunities for your next travel destination to escape in style.