Review: Kenichi
Among the entrees, sushi, and salads, the brightest note is the signature rolls.
If cocky Kenichi were half as good as it thinks it is, it would be pretty special. From the strutting chef to the bustling managers to the boastful waiters, the message at this sleek Japanese/sushi entry comes through loud and clear: we are something else.
Yeah, you're something else. You're a Nobu knockoff with an au courant address at Victory Park. You have an ultra-modern glassy interior that can feel like a bank lobby and a second-floor bar that lets patrons look down on other patrons. As a trendy place to get sushi rolls, Kenichi is more than adequate, on par with other basic, decent sushi restaurants in town. But it's not in the same league as its hoped-for competition, Tei Tei and Nobu.
Perhaps in Austin and Aspen, two other cities that have Kenichi outposts, the combination of sushi bar plus robata grill under one roof seems novel. Perhaps in Austin and Aspen, it's still a big wow to cook tiny, overpriced portions of Kobe beef on a hot stone at your table. Here, it's old hat.
Put Kenichi's menu next to Nobu's and you'll spot the same black cod marinated in miso and sake, the Kobe beef sold by the ounce ($14 per at Kenichi), the eggplant side dish, and more. It becomes clearer why Kenichi seems like a junior Nobu once you consider that executive chef Bodhi Durant, who is still involved with the Kenichi in Aspen, worked at Matsuhisa Aspen, owned by chef Nobu Matsuhisa. ("He trained under Matsuhisa!" confided one starstruck server.)
Among the entrées, sushi, and salads, the brightest note was the signature rolls: loud, assertive, and well-made. The Austin roll enclosed stalks of asparagus fried in a terrific tempura batter until crisp, yet maintaining a bright green color and earthy vegetable flavor. The Godzilla roll was intriguingly weird, with avocado and thin slices of strawberry draped over the top, the sweetness neither a benefit nor a liability—just odd.
As for the plain sushi, its simplicity only made it more obvious that the quality of the fish never hit A+. It was more like a B, with some selections—tuna, mostly—showing well and others, not as much.
Entrées had a spooky uniformity in presentation: usually a strip of protein—beef, seafood, whatever—cut diagonally into slices and drizzled with sauce. Ono, a Hawaiian white fish, had a center so raw it may as well have been sushi. The outside had been lightly warmed, when what it begged for was some kind of crisped edge that might offer a contrast in texture and flavor to the cool, jiggly middle.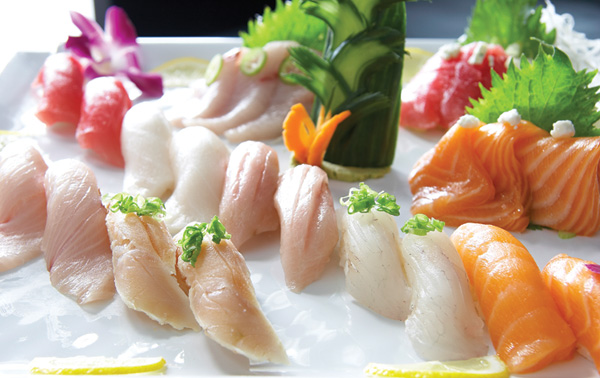 The standout entrée was the venison, cooked to order and cut into thicker, more substantial slices than either the fish or the $84 Kobe beef (for 6 ounces). It came with two pumpkin galettes, the centers of which were surprisingly liquid—an unsettling ooze of loose, hot pumpkin purée.
Two robata items fell flat. Robata perfection would be a just-cooked center and a fire-charred crust. But scallops—four halves, threaded onto bamboo skewers—were soft and limp, as if they'd never gotten close to a flame. Pork came in bite-size medallions, with a caramelized orange half described so rapturously that the reality was sure to disappoint, and it did. And ho-hum to the squeeze of warm OJ.
Appetizers sounded as generic as something you'd find at an American chain: crab cakes, spring rolls, calamari. True, many were made with offbeat ingredients such as wild boar inside gyoza dumplings (which might impress even more if you hadn't already been delighted by the brisket dumplings at Fuse). But maybe that's part of the mission: to create a sushi restaurant that won't scare away the sushi-phobic.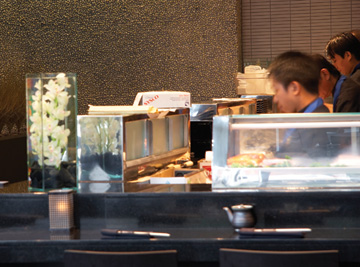 The phobia Kenichi will challenge is fear of high prices. As befits a Victory Park establishment, the average bill at Kenichi is obscene. A tiny, carefully constructed salad with hearts of palm and four asparagus spears? $15. Godzilla sushi roll: $16. And on and on. Expect to drop $75 to $100 per person, and don't count on leaving with a full stomach or much of a wine glow.
There's a colorful wall display of obscure sake selections for which you will pay dearly. Imagine a glass—they use Riedel petite stemless sake glasses—with barely one-third an inch of sake at the bottom, maybe three gulps, and imagine paying $15 for that. Prices this high are about context, and for now, this is what the market will bear at Victory Park. See you in September for the dollar sushi nights.
Get contact information for Kenichi.