Review: Shinsei
Tracy Rathbun and Lynae Fearing are married to celebrity chefs. How surprising, then, that their new place is such a delight.
Shinsei initially seems to come out of culinary nepotism: a sushi restaurant opened by a pair of chefs' wives. Hello? Can you say "vanity project"? But with every choice made and every step taken, Tracy Rathbun and Lynae Fearing reveal themselves to be canny stewards overseeing a terrific enterprise, caught in a happy collision of timing, talent, and connections.
Put more simply, the restaurant rocks, with dynamite food, sterling staff, and a casual-chic atmosphere.
Tracy's married to Kent Rathbun (Abacus, Jasper's); Lynae, to Dean Fearing (former chef at the Mansion on Turtle Creek, now Fearing's at the Ritz Carlton). Did their names grease the wheels on financing? Possibly. Have their husbands offered recipes and advice? Maybe. Do some of Shinsei's customers come to catch a glimpse of Kent or Dean? Probably.
But you don't give that much thought when you see the gals greeting customers and industriously working the room. Instead, you recall that Lynae held management positions at Primo's and Del Frisco's and that Tracy once managed a cafe in Austin and quit her job at Boardwalk Porsche only a few weeks before Shinsei opened.
If the menu seems to swing toward the Texas-Asian fusion for which Kent is known, it's a Dean protégé in the kitchen who's executing it. Shinsei's executive chef, Casey Thompson, was a sous chef at the Mansion on Turtle Creek. (And, actually, everyone worked on the menu together.)
But this is a two-chef kitchen. Anyone hepped to the local sushi scene would recognize Shuji Sugawara, nicknamed "Elvis" for his distinctive updo. Tracy and Lynae lured him from his long-term tenure at Tei Tei/Teppo to become Shinsei's executive sushi chef. He's a major get, and his presence rockets Shinsei straight to the top of the list of Where To Get Great Sushi.
An order of super-white tuna proved the point, with the pale fish so creamy and soft that it swaddled the ball of rice. The rest of the menu comes off as hearty, with lots of dishes pairing meat with fruit, and plenty of sharp, bold flavors.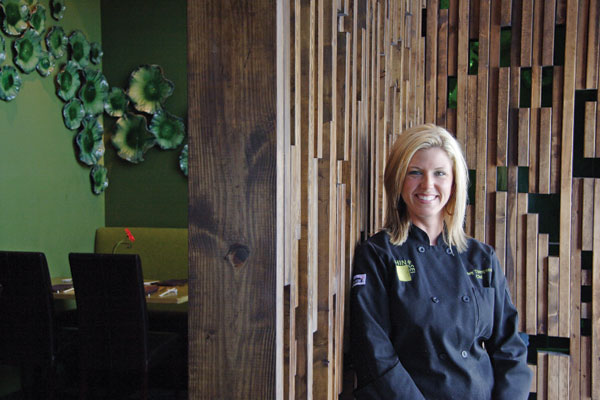 If everything were as top-notch as the calamari salad, well, then you'd have to order everything. So be grateful, and be sure to order the calamari salad. To call the rings of calamari tender wouldn't do them justice, and saying they were like butter feels trite. Look, this was incredibly soft calamari, okay? But tenderness wasn't the half of it. The thrill lay in the salad's sweet-versus-crunchy kaleidoscope of flavors. Mixed greens were drizzled with a fruity dressing made of cane sugar vinaigrette, soy sauce, mango, and pineapple, its sweetness a bracing contrast to the calamari's tempura crust.
Equally unimpeachable was Thai rice, Shinsei's spin on fried rice. It used chewy sushi rice, pan-fried until nearly crisp, along with chopped carrots, squash, lovely green Broccolini, cilantro, mint, garlic, and peas spooned into a big bowl. The kicker was a sunny-side egg propped on top, the yolk seeping down over the rice to make it creamy and rich. With a couple of sushi rolls, this would make a meal.
Pork cutlets were, in their original rendition, seemingly perfect, like veal scaloppine, with the medallions of pork sliced super-thin. But some customers wanted a meatier presence, so the Shinsei team complied with thicker slices in a panko crust. Sigh. What do customers know? It's still served with marvelous banana chutney. One supposes that's some comfort.
No complaints have been lodged against the tenderloin, hardly surprising with a steak this delicious. It was a neat, 6-ounce cut with an amazing texture—pliable but not droopy—and shiitake black bean sauce and random peas. On the side came an amusing little trio of wasabi dumplings.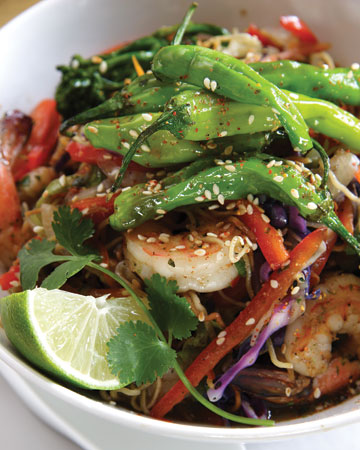 The gals made affordable wines a priority, and most of the bottles on Shinsei's list are under $40, with special attention to small vineyards on the West Coast that produce fewer than than 300 cases a year. Bubbly fans will love Zipang, a unique sparkling sake served in a cool, aluminum-clad bottle just big enough for one (so hands off, pal).
Shinsei has its beverages down cold. Water's served with a slice of cucumber in the glass. Coffee is an Italian roast delivered in a French press carafe, said to be the best brewing method of all. Desserts took a perfect approach: just a few, priced cheaply but guaranteed to have kicky flavors, such as cinnamon cake or cherry tart, each served with a different scoop of ice cream.
While you'd hardly expect pink vinyl banquettes or a poster of one of those circles with the cross hanging down, the décor has a rather masculine color scheme: dark, though not oppressive, with accents of pale green and gold. But unisex restrooms go too far, and the smoky-glass doors don't help a bit. (It's only confusing at first. You do get used to it. But having a clearly marked ladies room sure would be nice.)
Reservations are accepted only for parties of five or more, so couples have to wait unless they come early or don't mind sitting at the sushi bar. A bar upstairs picks up the slack, and it might just be the best seat in the house. You can order anything up there, and it's quieter than the scene downstairs.
Oh yes, there's a scene. Between the upscale neighborhood and the automatic name-brand recognition, how could there not be? The nice surprise about Shinsei's clientele is how many females there are. Sushi bars often attract more male diners than female, but Shinsei fizzes with gal pals, sharing sushi and good times.
Get contact information for Shinsei.