Early one Sunday morning in a Fort Worth neighborhood, where faded sedans and wood-paneled station wagons line the street, neighbors heard a single pop, much like a firecracker blast. Some would later say they heard laughter and cheers drifting from a vacant shopping center lot nearby, but the voices hardly seemed worth getting out of bed to investigate. Not until daylight came did they discover nearly a dozen police cars blocking the street and as many federal agents scavenging through the shrubbery. It was their first glimpse of an incident that would shock a quiet sliver of suburbia into a painful self-consciousness. Within days, that eerie sound evolved into what would be for some, a personal crisis; for others, a racial threat; and for students at the city's oldest high school, the focus of a bizarre and bitter tale.

The voices that pierced the predawn silence on that morning in late March came minutes after Trey Hill's 1980 blue Datsun was pipe bombed outside his parents' home. For the so-called Legion of Doom-nine self-anointed Paschal High School vigilantes-the celebration was most likely their last. As police began to piece together a string of incidents stretching from January to March, news of the students-turned-vigilantes shocked teachers, parents and classmates. By the time the case went to the grand jury more than a month later, rumors meshed with truth to paint a picture so alarming that television producers couldn't wait to hype the Legion of Doom as the latest Texas tragedy. Editorial writers chewed on the subject, then spat guilt in the faces of parents in the affluent Overton Park and Tanglewood neighborhoods where most of the members lived. Reporters set up camp on the school's front lawn, and national television crews turned the classroom into a carnival. The Legion of Doom was drama at its best, with the explosive elements of racism, sadism and Nazism rolled into a seemingly all-American setting.

On the following Monday, as news of the pipe bombing circulated through the halls of Paschal High, Trey Hill sat in an English class with the Legion of Doom member who only a day earlier had allegedly taped a homemade pipe bomb to the window of Hill's souped-up Datsun. The explosion, police say, was so powerful it easily could have killed someone. Instead it shattered the car's windshield, melted the steering wheel and ripped the vinyl from the seats. Hill had put much of his time and money into that sports car, so on this school day morning, diagraming sentences was the last thing on his mind. His thoughts kept returning to the scene of the vandalism, where police had found footprints in the flowerbeds outside his bedroom and scraps of duct tape streaming from the window. "They probably tried to tape the bomb to the bedroom window," investigators told Hill's parents. "But the pipe bomb was too heavy, so they taped it to the car."

Hill was not the only victim of that weekend spree. A few blocks away, the mother of another Paschal student found a note on the windshield of her son's car. Walking away from the automobile, she realized that the object inside was a dead cat, gutted and draped across the steering wheel. The animal's collar and vaccination tag were still hanging from its neck.

As this article goes to press, a Fort Worth grand jury has just returned 33 indictments, 17 of them felonies, against seven members of the Legion of Doom. Darren Dietrich, Joe David Dorris, Charles Fillmore, Michael Guthrie, James Mathis Jr., David Norman and James A. Turner all face felony charges. An eighth Legion member, Bradley Bielss, faces two misdemeanor charges. Rich Williams, 16, a juvenile, was referred to Juvenile Court. Though the indictments fell short of police expectations of charges of organized crime, the returned accusations were no less serious. And they came on the day of Paschal High School's graduation ceremony. The eight accused students were not allowed to join fellow classmates in their triumphal march across the stage. Instead, their diplomas were in the mail.

For the families of both vigilantes and victims, the student violence had disturbing consequences. Eight boys, known leaders of the school, are scarred for life. If convicted, they face up to 20 years in prison or, at the very least, loss of critical democratic rights. The ninth member, a juvenile, escaped charges but will suffer nonetheless.

But the pain inflicted upon the victims may be no less enduring. Targeted as thieves and thugs, they too have lost their community's esteem.

By appearances, the Legion-eers were razor-cut, flag-waving, clean-up-America youths. But behind that Summer of '42 veneer lie some disturbing realities. In some cases, these were boys with swastikas-not NFL pennants-over their beds; boys for whom the ideas of Hitler's master race held a good deal of credence for today. One of them often told his friends that he wished Vietnam had waited for him. Another frequently talked about weapons. That they had been held up-officially and otherwise-as school heroes seems established by classmates and teachers. That they extrapolated from that hero status a vision of vigilantism may say more about the times than we care to hear.

"I know there is a private world among kids that's reflected in their language, the way they dress and the clothes they wear," says Bob Reed, a Paschal teacher. "They set up their own code, they have their own secret hiding place and it's right there in front of our eyes. But we just can't muscle our way into a kid's mind."
•••

In the eyes of their community, the nine boys who formed the core of the Legion of Doom were as wholesome as boy scouts, with all the promise of a Roger Staubach or Kurt Thomas. In the eyes of Trey Hill, they were nine charlatans as deceptive as the finest con artists, with enough gall to dupe not only classmates, but teachers and parents as well. At 16, Hill is bitter like an old man worn down by a lifetime of disappointments. He is also defiant, set on beating a system that he believes turned on him. After the Legion's bombing wiped out all but one seat in his car, he might have taken the insurance money and pumped it into a newer, flashier car. Instead, he insists on driving his damaged Datsun, riddled with dents and nicks, to school, to work, anywhere he might run into his attackers. His mother cringes at the sight of that vehicle parked outside, but Trey is insistent. "I'll never get rid of that car," he told his mother after she suggested that he sell the painful reminder, "because that's exactly what they want me to do."


The Legion's blatant use of Nazi symbols, racial slurs and Hitler propoganda stirred deep concerns among those who fear a resurgence of right-wing terrorist groups.
At first glance, it's easy to see why Trey Hill became a target for the Legion of Doom. On the surface, he appears to be everything they aren't. Tall, husky, almost menacing in appearance, Hill can turn abrasive just as easily as he can slip into a quiet conversation. He is neither the class clown nor the homeroom nerd. He is too big to ignore, yet too foreboding to approach. He is, as his mother says, "just Trey. What you see is what you get."
What the Legion members thought they saw in Trey Hill was a thief. The note that they signed and attached to his windshield threatened,
Thieves will not be tolerated at Paschal. This is your last warning.
Hill became obsessed with making sure the press got every word right. He would repeat the contents of that note over and over, well aware that he was holding himself up to public scrunity. Hill was investigated by federal agents, who could find no evidence of theft or any wrongdoing.
As the weeks crept by, Hill found it increasingly difficult to attend school and his parents found it nearly impossible to send him. The school became a battleground for skirmishes between those who supported the Legion of Doom and those who did not. And the sides were clearly drawn on the school parking lot, with socials, athletes, honor students and the Legion of Doom dominating one parking area, and a half-dozen other loosely defined cliques on the lot across the street. Hill was caught in the middle, and he was mad.
"The way everything was portrayed, it made me sound like the criminal and them sound like the all-American guys," he says. "They're out there saying they were just trying to do the right thing. Now you tell me if turning around and gutting someone's pet sounds like the right thing to do. They weren't trying to clean up the school; they were just trying to get rid of the people they didn't like."
When he testified before the grand jury, Hill was confident and straightforward. The public scrutiny may have taken its toll on him, but Hill seems to have walked away unshaken.
The Legion of Doom probably didn't like Hill for the same reason they didn't like their other targets. He didn't fit the mold. Another generation, perhaps, would have applauded Hill's non-conformity, hailing the very qualities the Legion attacked. But in 1985, buzz haircuts and a vocal patriotism prevail. If there is something to learn from this whole mess, Paula Hill, Trey's mother says, it has to be tolerance: "It's a shame a group of kids have the power to make others feel so inferior. What in the world ever made these kids believe they were the superior, master race?"
•••
Almost as soon as the investigation into the Legion of Doom's activities began, it became obvious to the police that they were not dealing with another gang of knife-wielding juvenile delinquents. These were cheerleaders, baseball stars and honor students; the sons of lawyers, executives, even a minister. These were children from good families, always at church on Sunday; highly visible, exemplary youngsters, to whom others could point with pride.

In the school yearbook, which came out the same week the case went to the grand jury, Legion of Doom members are pictured in their baseball uniforms or on the football field. Most are smiling head-on into the camera.

How a seemingly all-around gang of guys went from innocent adolescence to perverted patriotism is still a mystery. Their behavior shocked even classmates who had known them since elementary school. "Rich Williams was supposed to be our valedictorian next year," one says, "No one would ever have suspected him of any type of violence. He was always just a quiet, nice guy." Said another of David Dorris, who was indicted on three felonies and two misdemeanors, "He's very smart and a real sweetheart. He was the kind of kid who would do anything for you."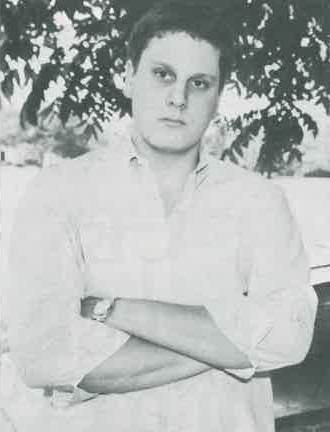 Other classmates began to paint a different, far more disturbing picture. Some students claimed to see past the glossy, yearbook smiles, asserting there were tell-tale signs pointing to racism and violence: swastikas blazoned across some members' notebooks, graffiti on campus sidewalks. "Some of the members were known as big-time bigots," says one. Another classmate reveals that he made arrangements to buy a gun from a Legion of Doom member, but backed out of the deal at the last minute. "When I went to his car to get the gun, he opened up the trunk," says the student, "and I had my pick from a whole trunk filled with weapons." Others point to a Legion of Doom member who received an A in a business class after he turned in a flow sheet carefully illustrating how to make a bomb. The student distributed copies of the paper to every student in class, and the teacher pinned the paper to the bulletin board.
In hindsight, school officials and others at Paschal may have been blind to a latent viciousness among several of the school's elite. In fact, the school may even have provided the impetus for the group when it formed a corps of school monitors dubbed The Ambassadors. One of the ringleaders of The Ambassadors and the Legion, Chad Fillmore, pushed for the organization to control locker theft before his early graduation in December.
The 29 students assigned to monitor the halls and report suspicious activities were among the school's best and brightest, and among them were several members of the Legion of Doom.

"I don't know why it should surprise anyone that intelligent, well-off kids got into trouble," says Jim Neidermayer, a former juvenile probation officer and now a family counselor. "It's been my experience that it's often the ones who are very smart and better at getting away with things who get further down the criminal road before they get caught."

Before the car bombing, police began investigating vandalism in the area after an anonymous phone call tipped them off that something was very wrong at Paschal High School, says Police Public Information officer Doug Clarke. Although no weapons were recovered, Clarke says, police had reason to suspect that some students were making their own bazookas and pipe bombs, or were "borrowing" weapons from their parents.

Soon after the investigation began, police asked nine students, including a Paschal cheerleader, a football player, a baseball star and an honor student, to make statements. Three of the teenagers failed to appear, and arrest warrants were issued, Clarke says, but only for the purposes of questioning. Before the warrants were served, Fillmore, by then a Tarrant County Junior College freshman; Dorris, a Paschal junior and athlete; and Turner, a senior and member of the school-appointed Ambassadors, went to the police. In an affidavit submitted with the arrest warrant, two Legion members told police they were present during the Sunday morning bombing. "Bubba" Mathis, who says he dropped out of the Legion of Doom when members became violent, told police the group was against kids using drugs in the school and stealing from lockers.

By the time bail was set at $5,000 each and the boys were released to the custody of their parents, the investigation took on a far more serious tone. It was discovered that the group had painted a dummy black and used it for target practice, which only compounded the concern that racial motives might be involved. There were further reports of students videotaping their target practices, using a bridge in a neighborhood park to test a homemade bazooka and assaulting blacks, prostitutes and homosexuals.

By then, the police weren't talking about a stern reprimand for mischievious school boys. They were talking about a grand jury investigation into more than 30 felonies and numerous misdemeanors. And Trey Hill, who by this time was staying close to home to avoid a confrontation with Legion members, realized that other people were beginning to see the Legion of Doom members as terrorists, just as he did. A Legion member responded by blaming Hill for his fall from grace. "He tried to make me believe that it was my fault that his plans were ruined," says Hill. "Imagine, blaming me for ruining their lives."
•••
With graduation a month away, several community leaders decided it was high time to strike back with some harsh words for the system. They expressed outrage that the students were allowed to continue attending school, especially with the expectation of graduating with their class in May. Black leaders claimed that investigators were dragging their feet because white, upper-class students were involved. "If this had happened in a less affluent neighborhood, [justice] would have been served much sooner," says Clyde Tillman, who handles court-related services for the Student Affairs office of the Fort Worth Independent School District. "You can bet that if these kids are punished it won't be to the limit of the law. The whole case has been on the back burner much too long."

The Fort Worth police were bombarbed with complaints from community members who insisted the case was being mishandled. Doug Clarke shot back with the response that an angry public would claim "whitewash" if the punishment fell anywhere short of imprisonment. Argues Clarke, "Even if the kids are found guilty and get probated sentences, they're still convicted felons and they still lose a lot of rights, including the right to vote or bear arms."


"You tell me if gutting someone's pet sounds like the right thing to do. They weren't trying to clean up the school; they were just trying to get rid of people they didn't like."

Trey Hill
As the crimes under investigation were revealed as increasingly serious, the school district toughened its response. Several school and city employees publicly criticized the way the case was being handled, and Fort Worth Independent School District Superintendent I. Carl Candoli asked school employees not to talk to the media. But by decreeing that the students would not be allowed to participate in graduation exercises, FWISD officials made a decision that may amount to a wrist-slap, but a face-saving one. For the time being, the indictments returned by the grand jury-and the serious consequence's they portend-have laid charges of whitewashing to rest. A troublesome point that remains, though, involves Brad Bielss, the 18-year-old senior suspended for bringing a broken, unloaded weapon on campus. He was the only Legion member publicly "persecuted," friends say, while other Legion members were protected. Legion members, including Bielss, were later indicted on misdemeanor charges for destroying a school locker, but only Bielss was barred from classes. Bielss was thrust into the limelight while his classmates went to school as usual. Bielss' attorney, David Lobingier, believes he was treated more harshly because his family isn't as affluent as some of the other families involved. In the end, Bielss was indicted on lesser charges than the others, and the grand jury did not indict him on the gun charge.
•••

Just why nine boys facing full, rich lives would resort to back-room terrorism and latter-day Nazism is still unclear. According to TCU sociology professor Bill Reese, the Legion of Doom may have presented itself as a vigilante group trying to weed out the undesirable elements at the school, but their explanation "smells of rationalization to soothe their conscience."

Some students insist the Doom members cooked up the pseudo-patriotic rationale only after they knew that the police were on their trail. Their real intentions, suggests one student, were far less noble: "They just wanted to leave their mark as the class of '85."

It is probable that the boys were inspired by the recent surge of vigilantism, fueled by popular movies such as Death Wish, the expansion of groups like the Guardian Angels and the example of America's most recent vigilante hero, New York's subway gunman Bernard Goetz. "People are tired of feeling helpless," says Reese. "It's easy to stir up sympathy when you have people's feelings on your side."

Police efforts to link the Legion of Doom to neo-Nazi or survivalist groups have been largely unsuccessful. But the Legion's blatant use of Nazi symbols, racial slurs and Hitler propaganda stirred deep concerns among those who fear a resurgence of right-wing terrorist groups. Those concerns were heightened when the Legion was "congratulated" by a computerized message from The Order, a renowned neo-Nazi organization. Mark Briskman, director of the regional office of the Anti-Defamation League of B'Nai B'Rith, says his organization began researching the subject out of concern that there was a connection between the Legion of Doom and other anti-Semitic groups. They were unable to find one. Likewise, police spokesman Clarke says the police have not been able to make any connections between the Legion and The Order, the extremist organization based in Idaho.

There is some evidence, however, that the Legion was a kind of a junior offshoot of the Ku Klux Klan. In a tape-recorded message played on a religious radio station, Tommy Rollins, a former Grand Wizard of the White Knights, says that a junior branch of the KKK is active in Fort Worth and the Mid-Cities. In 1978, he says, he and others heavily recruited juveniles in the area. The Legion, he says, is an extension of those earlier attempts to strengthen the organization at all levels. As an eerie aftermath to the story, in the weeks following the pipe bombing Trey Hill found newsletters distributed by the Aryan Legions, and carrying a Fort Worth office box number, in his front yard.

Even if the Legion acted on its own, Brisk-man regards the use of the swastika and other Hitlerian graffiti as an immediate and tangible problem. "For whatever reason, these kids identified with a negative symbol," Briskman says. "The fact that these kids didn't understand the meaning of Nazism and the fact that the leaders of our country don't understand the difference between the way a Nazi soldier died and the way a 2-year-old thrown alive into a fire died is very disturbing. It's only been 40 years since the Holocaust and there are still survivors alive. If this is happening already, imagine how little will be understood 40 years from now."

According to Dr. Nick Parker, an Arlington psychologist, growing numbers of people insist the Holocaust wasn't nearly as bad as it has been portrayed in films and documentaries. "There's a feeling among some people that Hitler was right when he said there was a supreme race," Parker says. "If you are far enough removed from the situation, someone like Hitler stops sounding like a monster and begins sounding like a simply marvelous leader."

To counter the lack of understanding at Paschal, the principal urged teachers to attend a workshop sponsored by the Anti-Defamation League. In turn, the teachers were expected to pass the information to their students. If they did, it had little relevance for members of the Legion. Though some defenders claim the boys chose the swastika only because it carried a frightening message, some classmates insist the Legion members chose to glorify Hitler because they recognized the German leader as a powerful symbol. "After all," says Trey Hill, "these were honor students. Do you expect me to believe they didn't know what a swastika meant?"

"Vigilantism smacks of elitist philosophy," says Parker. "There's an attitude of 'we know what is right and wrong, so the rules don't apply to us.' Families with a high degree of success can very easily develop elitist values." An elitist philosophy provides the backdrop for committing crimes in the name of self-righteousness, says Parker, who adds he can only speculate about the Paschal students. "I doubt that the students thought much about getting caught," he adds. "They might have done things only because there was that element of adventure, of doing something that had a risk to it, or of beating the system." Neidermayer, the family counselor, suspects the students got fired up and lost their ability to see the overall picture. "As intelligent as they might be, they could have gotten so enthusiastic they just forgot themselves," he says. "It's the same thing that happens at parades and boxing matches."
•••
Before the swastikas, skulls and death threats were scrawled on the sidewalks of Foster Park, the neighborhood park near Paschal, it was a quiet place where retirees frequently took early-morning strolls and young mothers picnicked with their preschoolers. Now the faded black spray-painted messages have become a painful reminder and an eyesore. "People want to believe this is the kind of thing that happens in New York or New Jersey, but certainly not in Fort Worth, Texas," says Parker. "But there's crime everywhere, even in the elementary schools. It might not be as organized as the Legion of Doom, but that's where its roots are."

Indeed, throughout its history, Paschal High School has been known for its pranksters as well as its high achievers. Past pranks pulled on Paschal's rival, Arlington Heights, have upset school officials and caused quite a commotion, but none that compares with the Legion of Doom's attacks. Hartley Hampton, a 1968 Paschal graduate, remembers an incident involving a Paschal student who used large rocks to blast every trash can in Southwest Fort Worth. Another group of students kidnapped an 8-foot alligator from the zoo, then hid it in a Paschal hallway. It took zoo keepers an entire day to get the beast out of the school.

In 1979, a Paschal senior stole a bulldozer and knocked down a field house at Arlington Heights. And painting the other school's marble dome black was almost a tradition among students, Hampton says. A far more serious incident occurred in 1980, when three students were accused of extortion and burglary. Police also discovered that a student had planted a bomb on the campus, but failed to detonate it.

Whether initiated as a continuum of a prankster tradition, or as something much more sinister, it is likely, police say, that the Legion began as a large group, then dwindled to nine as the group's activities became increasingly violent. As the investigation ensued, and the number of Doomers dwindled, some of them dropped their clean-cut facade. Some Legion members, classmates say, let down their guard and began cursing in the halls, disrupting classes and making racial slurs. Once the Doomers' reputations were tarnished, students suggest, they allowed their true selves to show. Unfortunately, says one, by then they had already taken the whole school down with them.

Today, if the fear of imprisonment weighs heavily on the conscience of the Legion, classmates charge that they have shown little evidence of remorse. Even as the grand jury began its investigation, some members of the Legion of Doom were still stalking victims. Trey Hill says one Legion member still drives by his house several times a day; another has threatened his younger brother. The indictments handed down by the grand jury have offered Hill only a short-lived sense of security. "There are some members whom I am certain will do me bodily harm when this is all over," he says. "I know they'll come after me then."

But it is not just victims who have been hurt by the Legion activities. Parents of members, many of whom publicly supported their children, admit privately they have suffered. The money one family had saved for their son's college tuition has gone to pay lawyer's fees. A varsity baseball player who had counted on a scholarship did not receive it. And students who once seemed destined for prestigious Ivy league schools now face a future shadowed by the fear of prison.

Paschal High School has suffered too, its image tainted. "There were aspects of the Legion of the Doom that were promoted through hearsay, innuendo and speculation," one teacher says. "Now that pervasive attitude is still floating around, like a bad smell."

On graduation day, as students walked to the platform to get their diplomas, there seemed little to celebrate. With the return of the indictments that day, the mood was somber. What should have been the last hurrah of youth became, instead, the beginning of a long, painful summer.
Get our weekly recap
Brings new meaning to the phrase Sunday Funday. No spam, ever.