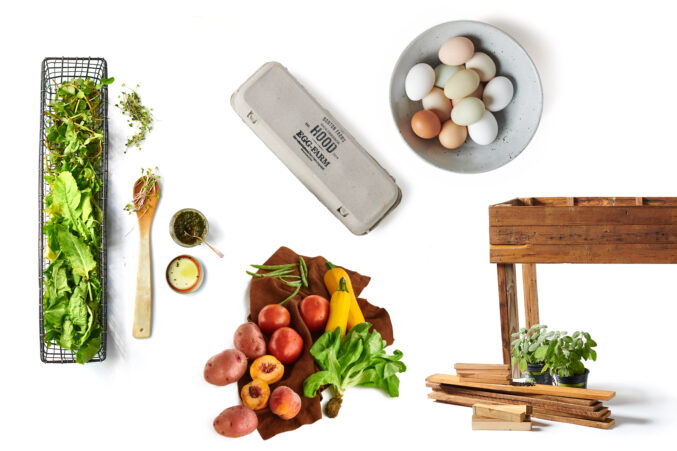 Nourish Your Body and Soul with Fresh Produce from Local Farms (Or Your Own Garden)
From herbs to veggies, here's how to get your produce fix this fall.
Love the idea of garden harvesting but haven't got a clue where to begin? Pick up some pointers while serving the community at the much-celebrated Bonton Farms in South Dallas, which provides fresh produce to an area that otherwise has very few healthy options for residents. Most any day of the week, you can volunteer on their 40-acre working farm, feeding animals, watering and planting crops, and gathering eggs. But the benefits of lending a hand here go far beyond greening your thumb. Says executive director Daron Babcock: "The growing of food and the raising of animals on a farm is healing. When we get to be in the presence of people that have suffered, their strength and resilience from what they've endured is contagious." Email [email protected] for opportunities.
"Salvage" Your Fall Garden
Starting a garden can be daunting, but Orr-Reed Wrecking Co. is making it easier by offering readymade kits with all the parts you need to build a planter box. (Not into DIY? They'll even assemble it for you for a few extra bucks.) Choose from ground-level or raised 3'x5' boxes, vertical planters for small spaces, or ones with adjustable lids to protect your plants from the cold. And because their planters are made from reclaimed wood, not only are they better for the planet than store-bought kits, they'll last longer too. "Most planter kits you can buy in big-box stores are either plastic or tree-farmed wood," says Orr Reed's Hannah Hargrove. "It isn't at the same caliber as old wood." Starting at $45
The Dallas Arboretum's Dave Forehand shares what and when to plant for a fruitful fall garden.
Early September Broccoli, Brussels sprouts, Cauliflower, Lettuce
October-November Artichokes, Collards, Carrots, Cilantro and other herbs
*All will produce until the first frost, with lettuce lasting all winter if protected from freeze.
Farm to Table
Get the best of fresh local produce brought right to your door with these delicious (and socially distant!) delivery services.
Braga Farms This urban homestead in Irving, a staple at many metroplex farmer's markets, grows 45 types of fruits and vegetables. Their seasonal grocery boxes contain six to eight varieties; you choose the size and frequency that's right for your family. Delivery is available within 10 miles of Irving.
Farm House Delivery Packed with hand-selected produce picked at its peak, these produce boxes can be customized based on selection, size, and frequency. (Going out of town? You can easily skip a week, too.) They also offer meat-filled Rancher Boxes and meal kits to truly take the work out of healthy eating.
Farm Box Delivery Select from a range of options—the Local Farmbox supports Texan farmers, while the Ugly But Yummy box focuses on fighting food waste—then choose from their rotating selection of produce, meat, and dairy products. Their website also features recipes so you can use your goods to the fullest.