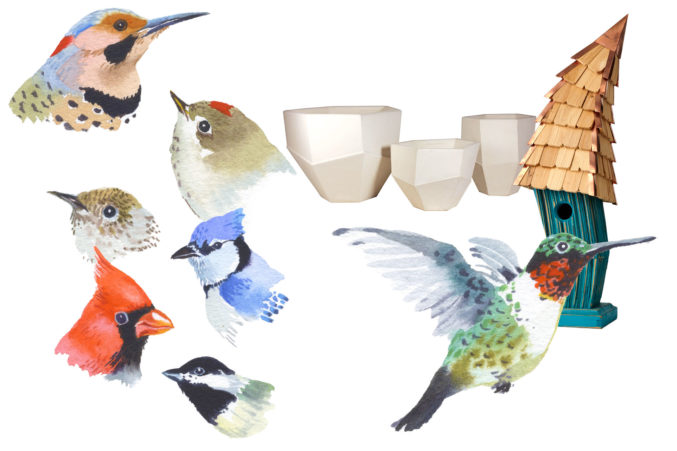 How to Attract Beautiful Birds All Year Round
To every bird there is a season.
By D Home
Published in D Home 2019
Illustrations by Mary Woodin
It's easy to get feathered friends to grace your yard with song and color all through the year. Here, we'll help you map out an aesthetically pleasing game plan.
A Local Bird Breakdown
Spring
Cardinals, blue jays, and chickadees will fight for space on feeders filled with a mix of sunflower seeds, peanuts, and tree nuts.
Summer
Mix one part sugar with four parts water (no food coloring) and watch for ruby-throated hummingbirds.
Fall
Woodpeckers, wrens, ruby-crowned kinglets, and orange-crowned warblers flock to suet, peanuts, and seed cylinders.
Winter
Bushes or trees with berries attract cedar waxwings and American robins. Toss out millet to bring in dark-eyed juncos and other colorful sparrows.
Birdhouses That Are Actually Pretty
These 1960s-inspired dwellings are sure to attract only the most discerning avians.
Buy them at: Maestri Gallery, $400 and $330
Where to buy: Wild Birds Unlimited, $175
A DIY Designer Birdbath
A pedestal birdbath isn't the best option for drawing birds to your yard. Birds prefer shallow water sources no more than a foot off the ground. They also prefer moving water, which sparkles in sunlight. Pair any pot or planter with a recirculating water pump to make a friendly fountain for feathered friends.