So you've acquired the perfect piece of art—the one that's going to change your life, not to mention your house. The problem? Though abundant in character, it's lacking an appropriate frame. We presented that conundrum to seven local framers, and they gave us their take. Still looking for your special piece? Not to worry. Works by artist Thom Jackson—including this photograph titled Chandra Joshua Tree—are available at Craighead Green Gallery.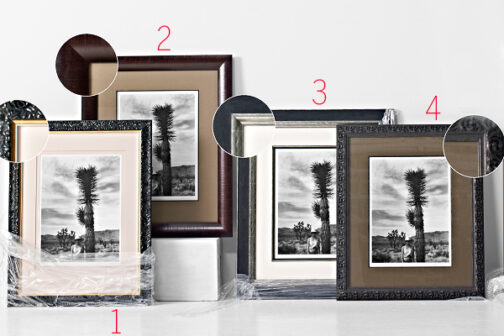 1.
"The design in the molding actually repeats—not verbatim, but it suggests—the pattern that is in the cactus behind her head. I try to utilize something that is behind the topic in order to lift it forward."
The Golden Egg gallery

2. "The warm tones of the natural mat and the rich walnut stained frame balance the coolness of the black-and-white photograph. The scale of the mat and frame provide the strength for the photograph to stand alone on a wall."
Wildman Art Framing

3. "I used the wide light mat to open up the picture and give it size while keeping it neutral. The silver fillet and the under mat add depth and highlight the dark colors in the image."
Orisons Art & Framing

4. "I sometimes like to take a contemporary image and use traditional elements as a contrast. The texture and tone of the mat and frame give some surface interest and allow the photo to pop."
Tom Battles Custom Picture Framing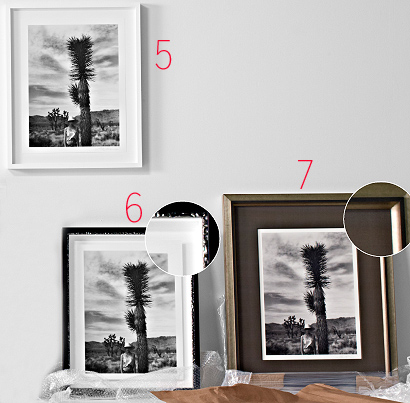 5.
"I like to keep it simple and have the art be the focus, not the framing. In my opinion, all photography should have a white mat or float on a white mat with a very simple frame."
Debra Stevens Custom Framing
6. "The inspiration was Peggy Levinson breathing down my neck."
The Framing Studio at Beaux Arts
7. "I used a darker silk fabric with a deep beveled lip to bring out the depth in the photo, and I chose a rich Italian frame with the same tones as the photo so the frame does not overpower the image."
Beaudry Framing
Get the FrontRow Newsletter
Get a front row seat to the best shows, arts, and things to do across North Texas. Never miss a beat.