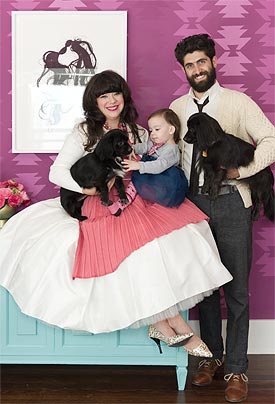 On the map of New York that hangs above Alicia and Adam Rico's fireplace, a heart marks the spot where the two met.
Alicia grew up in Coppell, and Adam in Georgia, but Brooklyn brought them together. After the couple married and relocated to Dallas, the life partners became business partners. Together, the Ricos own and operate Bows and Arrows, the floral design company known for its youthful flair and for being the official florist of the Bush family. Although it's the one that pays the bills, Bows and Arrows is not the only creative outlet Adam and Alicia share. The most recent is the 1920s Colonial Revival they bought earlier this year in the Vickery Place Conservation District.
Both Ricos hold degrees in painting, and their house has become equal parts shelter and art gallery. From the murals on the walls to the tree stump they painted and turned into a side table, their art fills the home, creating a DIY wonderland. When describing their design aesthetic, Adam and Alicia shun the overused "eclectic" and opt instead for "horseplay," a word Alicia says captures their fun, playful style. "We're childish in a way in how we decorate," she says.
For their first Christmas in the new place, Adam and Alicia took that play land, added even more handmade charm, and finished it off with a hearty helping of pink. "I love that Adam loves pink," Alicia says. "He's really let me embrace that."  It probably doesn't hurt that Adam is outnumbered. There's another Rico in the house: their 18-month-old daughter Dotty.

In the living room, the pink Christmas tree—topped with a pink tulle bow, of course—plays host to a menagerie of unusual ornaments. "We collect peculiar stuff," Alicia says of their decorating style, and the holiday adornments follow suit. On the tree, handmade yarn pompoms sit next to dream catchers and vintage glass pieces—and even gold-painted hand grenades and bedazzled ponies. For the mantel, Adam and Alicia used mismatched fabrics to sew stockings for the family, and they used dried flowers and branches to create the wreath on the front door. Even the table with Santa's milk and cookies gets a handmade touch: ribbon-tied notes reading "Eat me" and "Drink me" complete the array of snacks.
Like many artists, Adam and Alicia have quite the creative social circle. A friend pitched in to make some of the hand-knitted Christmas ornaments, and in almost every room in the house, you'll find artwork by people they know. "We have a lot of artist friends," Alicia says. "That's what we spend our money on." They particularly love the Brooklyn Collective. "You can find young, fun, affordable art pieces there," she says of the New York co-op of painters, potters, and creators of all stripes.
In September, Bows and Arrows started somewhat of a collective of its own. The couple closed their Greenville Avenue storefront to focus solely on event design and moved their design studio to a 19th-century house they bought on Bryan Street that Adam remodeled. The Ricos use half the space for Bows and Arrows and rent out the other half to a wedding planner, a DJ, a stationer, and two photographers, creating a one-stop shop for brides-to-be and other party throwers.
For a couple inspired by bright colors, childlike horseplay, and incorporating the unexpected, it's fitting that they're in the party business. And it's no surprise that they were able to create some holiday magic in their home. For the Ricos, it seems, every day is like Christmas.
Styling by Jenny O'Connor | Flowers by Bows and Arrows
Get our weekly recap
Brings new meaning to the phrase Sunday Funday. No spam, ever.