Why We Love Brad Oldham (Sigh).
Sculptor, product designer, artisan, owner of Brad Oldham Inc., family man, and recycler tells D Home about his favorite things.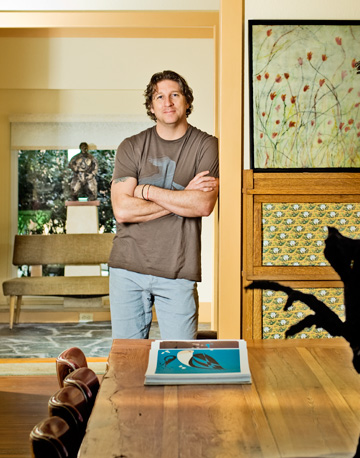 Alberto Giacometti: I enjoy Giacometti's use of texture and shape to create human feelings. It is amazing to me how one can create a feeling from something with so little exact detail.
David Rockwell: I have known and worked with interior designer David Rockwell [of Rockwell Design Group in New York] for almost 10 years. We have developed an artisan/designer relationship that I think is essential in creating all great spaces.
My dining room table: I built our dining room table from yellow pine beams left over from the renovation of the Presidio County Courthouse. That table is where all of the life in our home happens, from homework to board games to family dinners.
Recycling: Recycling is my favorite design trend—and such a wonderful and necessary thing. I don't mean just paper and plastic. A throwaway industrially can be used aesthetically.
The playroom: Our kids' playroom upstairs was made from pedestals and display boxes that were going to be thrown away after a tradeshow. We created an entertainment center, seating, a sewing table, and storage by building doors, adding a little upholstery for the pedestals, painting, and some creative arrangement.
My fence: It's something that I feel really makes our house special. I installed a fence made from red-stained cedar, brushed aluminum, and steel in an alternating offset pattern that turned out great.
Hawaii: Hanalei is the best place to check out of the fast pace and to enjoy huge, lazy family dinners while watching an incredible sunset.
Mai's: I really love Mai's at Bryan Street and Fitzhugh Avenue in Dallas. I feel so good after eating there.
Basketball: Shooting hoops in my backyard with the kids and dog running all around is my favorite way to relax.
Pom Pret Systems: It's a series of wall-mounted fruit racks, a product made out of necessity due to a lack of counter space. We love it so much that we're bringing the concept to market.