From November 2022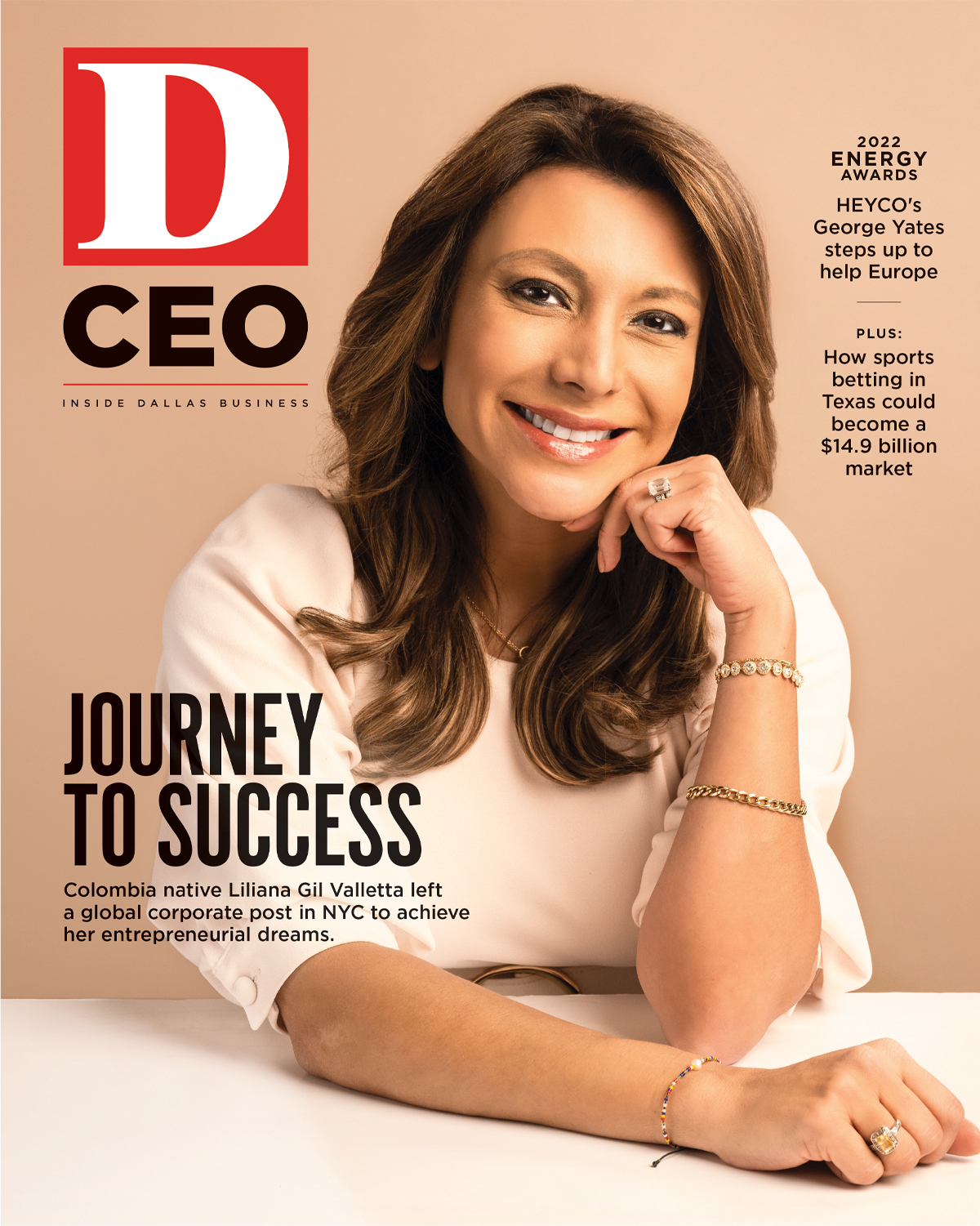 Recent natural disasters and geopolitical tensions have spotlighted the need for reliable power sources, lower emissions, increased market stability, improved supply chains, a solution to European shortages, and more. It's a very tall order. Energy leaders play key roles in determining how challenges will be overcome—and how long any given resolutions will take.
The U.S. Energy Information Administration predicts a staggering 47 percent rise in global energy demand by 2050. More immediately, conflict in Ukraine has led to an energy crisis in Europe, where electricity rates have skyrocketed by roughly 300 percent due to Russia cutting off supplies to the continent.
Stateside, electricity rates are anticipated to tick up 2.5 percent in 2023. Fuel prices were averaging $4.09 per gallon in August 2022, up 20.5 percent over $3.26 in August 2021, but down 19 percent from a June spike that hit $5.03.
"We have a worldwide energy shortage," says Jay Allison, CEO of Frisco-based upstream gas company Comstock Resources. But many proposed solutions to meeting global energy demand cleanly and reliably have hit dead ends, as leaders wait for technology, supply chains, legislation, and infrastructure to evolve. It's not just a matter of ramping up drilling, a move that would have been a go-to in the past. In the last several years, fuel companies have shifted away from previous growth models to focus on efficiency and investor returns, rather than increasing production and rig counts.
"Every time you add a rig, you're adding more capital expenditure, and that means you're taking away the dividends from the investors," says Bryan Sheffield, partner at energy-focused PE firm Formentera Partners in Austin and founder of Permian Basin giant Parsley Energy, which was acquired by Pioneer Natural Resources in 2020.
Sheffield adds that many rigs are available and idle—recently as many as 30 percent at a given company. And even if leaders wanted to fire them up again, labor and supply shortages would prove challenging. "We just bought pipe nine months out," Sheffield says. "I've never bought pipe that far out, and I don't know how bad it's going to be in six to 12 months—and that's without adding rigs."
Allison points out that steel, chemicals, and completion crews are also in short supply. "Our service costs has probably gone up 25 to 30 percent in the last 12 months," he says. Deferred maintenance also plays a role. "The problem with materially increasing production is that you almost can't do it right now because of the supply chain shortage," Allison says. Sheffield sums up the situation in four words: "We are boxed in."
Diversifying the Energy Mix
Another option is investing more heavily into renewables. John Billingsley, leader of Dallas-based Tri Global Energy, the largest developer of wind energy in Texas and third largest in the nation, says the movement to bring renewables into the mainstream has been percolating for the last 10 to 15 years. "It's becoming more prevalent because renewable, alternative energy—wind and solar—has gotten less expensive," he says.
In Texas, wind provides roughly 25 percent of the state's energy and solar accounts for 3 percent, but both continue to trend upward. Allison notes that for the first time in 130 years, U.S. energy consumption of renewables has passed coal. "We have made some progress there," he says. Recent legislation such as the Inflation Reduction Act (see sidebar) has also heavily incentivized renewables and environmental governance efforts.
"Ten years ago, you never saw an ad with Exxon that had wind turbines in it—I mean, not a one," Billingsley laughs. "Now, they're nearly everywhere you look. They are evolving into that because it's just obvious that it's going to be the prevalent mix of the energy." He's quick to add that it will be quite some time before renewables become the majority energy source, and even then, fossil fuels will most likely never cease to have a role. "I'm 82 years old, so I'll never see the end of it, but in my opinion, our whole world is not going to go off fossil fuel," he says.
This is partially because every time a wind turbine starts, it needs a fossil fuel—usually natural gas—to provide the electricity that turns it on, at least until better battery storage can be developed. "One has to play off of the other," Billingsley says. There is a lot of research around bettering battery storage—projects involving zinc batteries and more—so wind energy can be less dependent on natural gas. But even as that develops, the biggest challenge facing renewables is around permitting, Billingsley says.
Texas' two power regulators, ERCOT and Southwest Power Pool, each have distinct, complex, and costly processes leaders must follow to secure the necessary permissions to build wind and solar farms.
With each permitting step, companies must provide more project specifics and pay hefty fees. "It's expensive just to get the permit," Billingsley says. "It used to take about a year-and-a-half to get that. I've had projects submitted that are just now getting cleared, that have been there for seven years." Because of the time and money involved, a relatively low proportion of proposed wind projects come to fruition. "Renewables are working, but it's going to take time," Allison says. "You can't just snap your fingers and be a totally renewables-fueled society."
'A Bridge to a Better Place'
A third option offers what some consider a bridge: increasing natural gas production and exports. "It has the cleanest possible footprint of any other fossil fuel, and it very much is needed for transition over into the renewables," Allison says. He is among the many leaders who see liquid natural gas as a solution to both the immediate crisis in Europe and the long-term push for electrification. Sheffield is another. "LNG is the answer," he says.
Last year, Europe imported roughly 5.47 trillion cubic feet (155 billion cubic meters) of natural gas from Russia. According to Allison, the U.S. could produce 100 billion cubic feet per day, providing ample supply for both domestic and international needs. In Texas, natural gas already provides about 42 percent of the state's energy. And should the U.S. choose to shift to fully electric vehicles in the next 30 years, it could help provide the power needed to supply the extra electricity required. "I believe natural gas is that bridge to the better place for us before we go fully to solar or wind," Sheffield says.
A focus on natural gas has the potential to support sustainability efforts faster than a nationwide shift to electric vehicles, according to some. "If we could just snap our fingers and replace every coal-firing plant in the world with natural gas-fired plants, it would reduce our emissions way ahead of the 2050 goal of reducing the carbon emissions, and it would have a much bigger impact than converting every vehicle in the world to E.V.," says Mackie McCrea, co-CEO of Dallas-based midstream company Energy Transfer.
When it comes to providing aid to European countries and others around the globe, though, the U.S. is not set up to export the volume of gas needed. "You have to have more export terminals," Allison says. Means of building those terminals are already underway: Louisiana-based Venture Global LNG is building a terminal on the Gulf Coast after securing $13.2 billion in financing.
"That's the single-largest financing in the world," Allison says. This should help get more gas to Asia and Europe by 2025 or 2026, he adds. Permitting and negotiating export contracts will add to the timeline, Sheffield notes. "It's going to take a few years. It takes a while to get the permits in these LNG terminals and put in place and build them and secure the contracts with each country."
For now, the sector remains optimistic as research, legislation, time, technology, and financial backing evolve. "It seems like the market is digesting all the news with what the feds are doing," Allison says. The threat of crisis outside of Europe doesn't appear immediate; the U.S. Energy Information Administration forecasts global supply will closely align with demand in 2023. Energy players are benefitting from strong pricing and demand, and incentives toward investing in renewables and environmental governance have never been greater in the United States.
Sheffield says energy M&A activity is bubbling up, too, although securing financing can be a challenge. "Deal volume is sky high because sellers are all trying to sell, but the buyers aren't really there," he says. "Buyers aren't really there because the equity dollars aren't there, because the endowment space left, and then also we have lending issues."
Collaboration is Key
In the midst of all of this, fossil fuel leaders continue to play their part in achieving sustainability gains, spurred by investor and regulatory pushes. McCrea says one of Energy Transfer's subsidiaries, Dual Drive Technologies, has patented a compressor that switches between operating on an electric-driven motor and a natural gas-powered engine, reducing emissions without decreasing reliability.
"That tech has reduced CO2 emissions by hundreds of thousands of tons over the years, so we continue to build those and put those in our systems as well as a lot of third-party systems," he says. The company will also focus more on CO2 sequestration and capture in the coming years.
Sheffield echoes the importance of environmental stewardship for fossil fuel providers going forward. "I am a big believer in ESG," he says. "I think it makes all companies better across the board. In the Parsley days, we did wake up, in a sense, and become the best operator to the environment that we could." Non-industry players could stand to evolve beyond black-and-white thinking, too, and realize that fossil fuels are not the enemy—they should just be used responsibly. "There needs to be re-education of the consumers within the U.S. that these natural resources we have are very important," he says. "But we need to become better operators and good stewards to the environment."
Most leaders feel a closer relationship between fossil fuel and renewable companies will be key to progress, although determining how much effective communication is happening between the two sides is difficult to discern. "I feel like we're at a deadlock," Sheffield says, "Maybe the Russia and Ukraine crisis will help unlock this, and then maybe, eventually, we can have an adult conversation on how to collaborate."
Billingsley, on the other hand, says energy players have made strides and there may be incentives for ongoing relationship-building. "There will be collaboration," he says. "We're all businessmen, and we do what's necessary to make a profit."
Note: Click here to read about the honorees in D CEO's 2022 Energy Awards program.
Get the D CEO Newsletter
Stay up to speed on DFW's fast-moving business community with weekly news reports, interviews, and insights.
Author
Kelsey J. Vanderschoot came to Dallas by way of Napa, Los Angeles, and Madrid, Spain. A former teacher, she joined…