On a hot Texas afternoon in the mid-2000s, then-Plano West Senior High School teacher Merrilee Kick was sitting by her pool grading papers when she had a hankering for an alcoholic beverage. How cool would it be, she thought, to sip a cocktail out of a plastic container so she wouldn't have to worry about breaking a glass bottle? Kick didn't want to miss out on any pool time, either, so the concoction needed to come pre-mixed and ready-to-drink. She also wanted a beverage that wouldn't fill her up or make her feel bloated—and, most important, it needed to be strong enough to get her buzzed.
When Kick couldn't find anything on the market that fit the bill, she decided she'd have to make the alcoholic beverage herself. And that's how the multi-million-dollar enterprise BuzzBallz/Southern Champion was born.
Just don't confuse her beverages with brands like Smirnoff Ice or Mike's Hard Lemonade. "We're completely different," Kick says. "They're trying to fool you with branding into thinking there's vodka in them. Malt beverages are limited and can't go above about 12 percent, or it starts tasting skunky. … They also say they're trying to protect you from drinking too much by keeping the alcohol content lower. Don't believe it."
'Strong-Minded Student'
Kick came up with BuzzBallz's signature spherical shape thanks to a memento she had lying around the house—a crystal snowball from her family's travels to Scandinavia.
She was at a sporting goods store when a can of tennis balls served as inspiration for a pop-top she could use. Kick enlisted engineering polymer experts at the University of North Texas to help perfect the can's design. She then sought out advice from the Texas A&M department of food science on the type of plastics to order.
The multitasking mother of two was soon mixing up cocktails in her garage, using store-bought ingredients and a hand-crank pop-top machine, so she could create prototypes to pass out and get feedback from family and friends.
After the BuzzBallz containers are created and printed, they go into an unscrambler, which sets them upright and rinses them. They then travel to the filler line, which loads them with pre-mixed cocktails.
Next, the seamer puts on the pop-top lids, and the ballz make their way down the line for packaging. The orange and white boxes go into an erector, which glues and gets them ready for a robotic system that fills the 24-packs and readies them for shipping.
Meanwhile, her employer, Plano Independent School District, picked up the tab for executive MBA classes at Texas Woman's University. Each morning Kick would go to school to teach marketing and entrepreneurship classes to high school students. Afternoons, evenings, weekends, and any extra time she could spare were dedicated to perfecting a business plan and conducting market research for the burgeoning beverage business. "Some people go to business school for the vanity degree," Kick says. "I was there to get shit done."
Group projects weren't necessarily one of Kick's strong points, remembers Kick's former professor Mahesh Raisinghani. When students in the global business class he was teaching in the mid-2000s were put into three- and four-person groups, Raisinghani recalls having to step in to mediate when conflicts in Kick's group nearly cost the group an "incomplete" for the course.
"I got wind of a conflict in Merrilee's group pertaining to expectations of team members," he says. "I remember Merrilee as a very strong-minded student. … She always had a very clear vision for her company. And she certainly followed through on that vision." When TWU students were tasked with writing a comprehensive business plan for a new or existing company in their final semester, it was no surprise when Kick chose to create a strategy for a new cocktail enterprise.
Derek Crews, who was Kick's capstone project adviser, says the company wasn't yet called BuzzBallz. Back then, it was known as PartyBalls. Ever the straight-A student, Kick's business plan impressed, Crews says, though the company name was already registered. "And I certainly wasn't going to be that one guy who gave her a B," he says.
A Family Affair
After graduating with her MBA, Kick got her family more involved in the new beverage company. She needed her younger—and hipper—sons to help think of unique, thought-provoking product names. As far as flavors went, Kick kept it simple with Tequila 'Rita margarita, Cran Blaster cosmopolitan, and Lotta Colada pina colada, to start. As time went on, she got bolder with both flavors and names, introducing cream-based Horchata and Choc Tease, as well as Stiff Lemonade and Strawberry Rum Job.
"My favorite part was coming up with cocktail names, colors, branding, and figuring out which flavors would be most popular," says Alex Kick, Merrilee's oldest son, who was a junior in high school back in 2009, when BuzzBallz was officially founded. "It became a regular topic of conversation around the dinner table for our entire family. We'd bounce ideas off one another."
When the pandemic pushed students out of their classrooms, it left parents across the country in a bind. Knowing that many of her employees were in dual-income households, Kick responded in a unique way—by providing virtual learning space at work. A company conference room was turned into what's now known as "The Nest." Children attend virtual classes with the supervision and support of a Texas Education Agency-certified teacher and teacher's aide, during the hours of the production team's first shift.
Merrilee's husband, Tim, was not sold at first on the libations venture. He went so far as to set up a separate checking account and wouldn't let his wife use his 401(k) savings to obtain initial financing. So, Merrilee leveraged a family inheritance for her first line of credit to purchase manufacturing equipment.
"We put my grandmother's cattle in Oklahoma up for collateral on the loan," Alex says. "To this day, we repay her by letting her take any extra empty barrels [we no longer need] up to her ranch. She resells them to all the farmers for cow and deer feed. And she's got a pretty cool little Craigslist operation going for herself up there."
Both of Merrilee's sons continue to help her run the business. Alex is president; Andrew is vice president. Merrilee's husband, Tim, is also part of the family-owned and -operated enterprise. Moreover, BuzzBallz is still 100 percent privately funded, with Merrilee maintaining 90 percent ownership. Each of her sons owns 5 percent. "My mom is spunky, energetic, and full of personality," Alex says. "She works her ass off, and that's something we all try to emulate."
A Leap of Faith
One of the first big distribution deals for BuzzBallz came in 2010 when Glazer's/Southern Distilling ordered five pallets of product. Alex remembers recruiting some of his high school friends to help unwrap empty containers so that they could be loaded onto the production line. The process was incredibly tedious because the containers came from the manufacturer tightly packed in cellophane wrap; it took the teenage cohort nearly an entire weekend to get the products fully ready to be filled.
Blair Casey was a vice president at Glazer's at the time, leading the North American distribution of Gallo Wines. He also oversaw convenience store distribution for Glazer's in Texas. After being unable to secure a deal to get a larger brand into local convenience stores, Casey placed an order for the quirky, ball-shaped spirits, and to his surprise, the product moved quickly.
Distribution began in convenience stores around Dallas, and then expanded to Austin—thanks in part to Alex, who by this time was a student at The University of Texas at Austin and helped open the door to distributors there.
"Merrilee is this trailblazer in a very, very male-dominated industry," Casey says. "That's what I love about her. She persevered in a very difficult world—and she succeeded above and beyond. Through grit and determination, she built the brand from the ground up by knocking on lots and lots of doors."
The brand sold about 23,000 cases the first year by focusing mostly on one-off, independent chain orders. Expanding out-of-state by its second year, BuzzBallz turned a $100,000 profit. By year three, the company had more than doubled in size and hit $2 million in revenue.
Merrilee and Casey kept in touch during this time and met for the occasional working lunch. In the ultimate full-circle moment in 2017, she convinced Casey to leave his cushy executive post with Glazer's and join her scrappy brand to help guide its sales.
"All I have to say is that Merrilee is very persistent," Casey says. "After saying, 'No,' more than a few times, finally, I said, 'What the hell? Let's do this. I think I can really help this company grow to the next level.' And away we went. … It was an ultimate leap of faith, not unlike the one Merrilee took to start the company. She's not afraid to take a risk. But that's how she has gotten to where she is today."
Sky's The Limit
Moving to BuzzBallz turned out to be a good bet for Casey, who has helped guide the company to 121 percent growth in product sales since he joined in 2017. His focus has been expanding BuzzBallz's national footprint inside major convenience-store retailers—7-Eleven, Circle K, and Buc-ees—and zeroing in on placement into major grocers like Kroger, Albertsons, Target, and Walmart. "It has been a blast," Casey says. "This year, we're on target to reach 1.6 million cases."
In 2019, BuzzBallz hit a major milestone: selling one million cases of product in a year. Today, the company employs about 100 workers at its Carrollton headquarters. Its products are available in 45 states, with 21 international distributors. Kick predicts 2020 revenue to be in the ballpark of $70 million to $75 million.
In a transformative move, the company recently introduced premium spirits, including Crooked Fox bourbon, Pelican Harbor rum, Andrew John's gin, and XIII Kings vodka. It also added a line of wine-based Uptown Cocktails to its robust BuzzBallz platform, which now includes 15 flavors in different party-on-the-go sizes.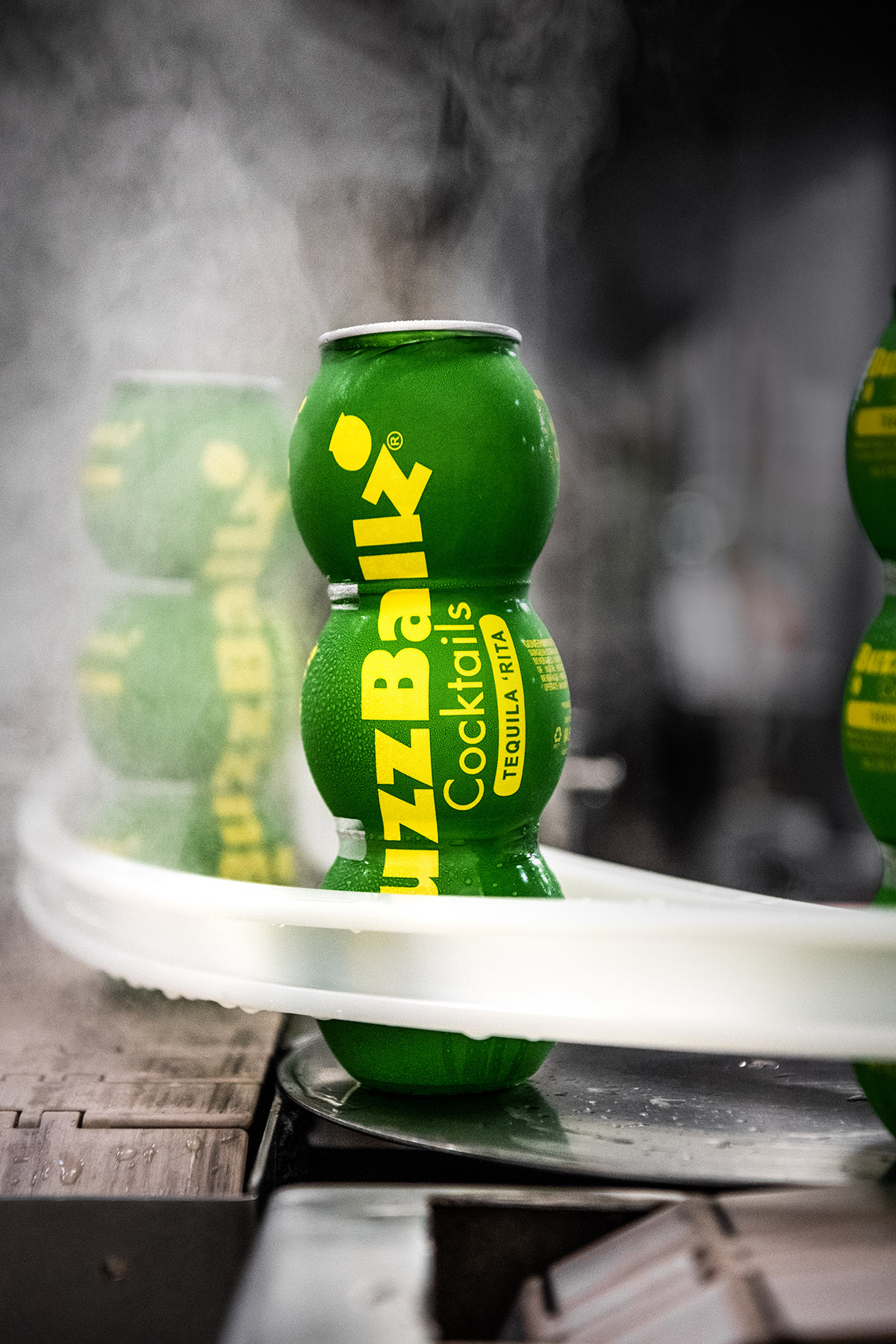 According to Casey, there's still "plenty of runway ahead" for the brand, with the potential to easily reach four million cases in annual sales by the end of 2022.
One big opportunity for growth: Hard seltzer. Boosted by popular brands like White Claw and Truly, it's currently a $9 billion industry nationally, with projections to grow to $20 billion within the next four years. In early 2020, BuzzBallz/Southern Champion received a brewery license to enable it to work with malt—making it the first woman-owned distillery, winery, and brewery under one roof in the United States.
"I wish that there was a mentor along the way that I could point to," Kick says of her remarkable success. "But there really wasn't anyone guiding me or holding my hand. It was me. It was sweat equity and busting my ass. And a lot of times, it was sheer fear—fear of poverty and fear of failure."
Southern Champion Brands
Along with its robust BuzzBallz and spinoff brands, Southern Champion has gotten into the spirits business with premium rums, gin, bourbon, and vodka.
Get the D CEO Newsletter
Stay up to speed on DFW's fast-moving business community with weekly news reports, interviews, and insights.
Author
Brandon J. Call is the executive editor for D CEO magazine. An award-winning business and data journalist, Call previously served…