From D CEO May 2019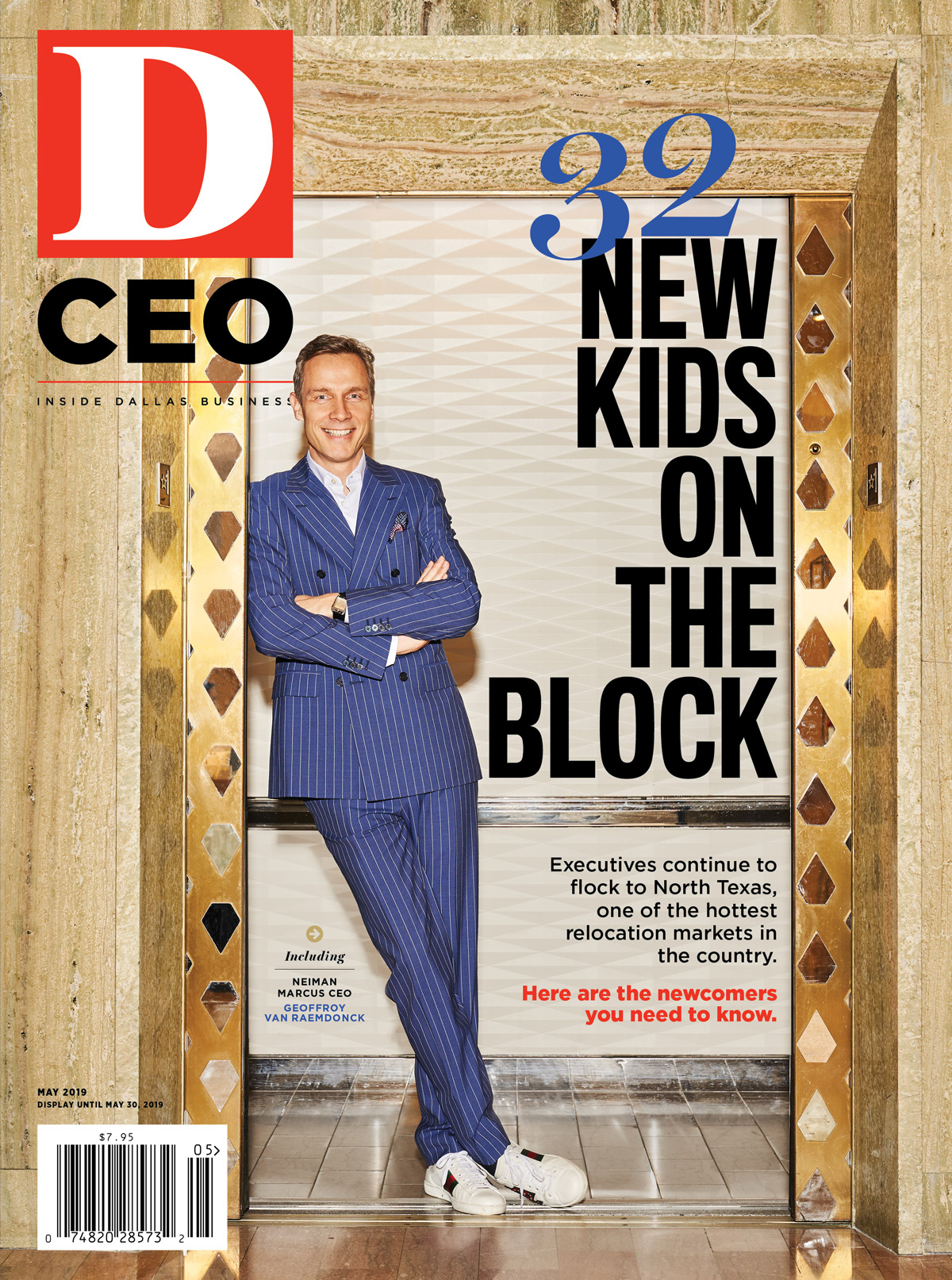 Subscribe
A buoyant stock market and rising energy prices fueled another banner year for North Texas mergers and acquisitions. Total activity in 2018 remained strong—second only to record-high M&A levels seen in 2017. Deal volume, too, trailed the previous year's peak.
North Texas megadeals helped boost overall transaction volume. Home mortgage lender Nationstar's $3.8 billion merger with WMIH Corp., the parent company of Washington Mutual, spurred the renaming of Coppell-based Mr. Cooper Group Inc. And beverage giant Keurig Green Mountain's $18.7 billion acquisition of soft drink maker Dr Pepper Snapple Group Inc. was followed by the announcement of a new corporate headquarters at The Star in Frisco.
But it was the energy sector that continued to dominate local deal activity, as the price of crude oil rebounded from 2017 woes. Most notable was Energy Transfer Equity's $27 billion merger with Energy Transfer Partners, which was a corporate restructuring for the Dallas-based pipeline behemoth. D CEO previously highlighted Midland-based Concho Resources' $9.5 billion acquisition of Fort Worth shale oil driller RSP Permian in its 2018 North Texas Oil and Gas Awards as the M&A deal of the year. The transaction solidified Concho as the largest player in the red-hot Permian Basin.
Although announced in summer of 2018, AT&T's acquisition of Time Warner failed to clear regulatory hurdles until early 2019 and was not eligible for consideration in this year's Mergers and Acquisitions Awards.
Serving as judges for the program were Oliver Crone of Bulkey Capital, Gemma Descoteaux of Sheppard Mullin Richter & Hampton, Stephanie Grossman of Ryan Inc., Larry King of King Strategy LLC, and Mark Solomon of Katten Muchin Rosenman.
Top Transactions
Winners and Finalists in
D CEO's
2019 M&A Awards
Made Ya Smile Dental Merges With Dental Care Alliance
UNDER $25M
Key Players: Jared Behnke and Victor Bloede, Transitus Capital; Jeffrey Brooker, Daniel Goldstein, and Jon Finger, McGuire Woods; Danielle Golino and Chelsea Rogers, McDermott Will & Emery
When: Merger completed November 2018
Why Notable: The complexity. Made Ya Smile entered the transaction as 19 separate entities.
What's Next: With the investment from Dental Care Alliance, Made Ya Smile has plans to scale business statewide.
Finalists: Ansira Partners Acquires Brand Protection Agency; Transition Capital Partners Acquires TransTrade Logistics; Access Healthcare Services Acquires Pacific BPO
Constellation Brands Acquires Four Corners Brewing Co.
$25M TO $149M
Key Players: Tom Harris and Brandon McCoy of Haynes and Boone; Tyler Savage and Katarzyna Murphy of Nixon Peabody LLP
When: Acquisition announced July 2018
Why Notable: The timing. Growth in the U.S. craft beer market was slowing, and the window for brewery M&A deals was narrowing.
What's Next: By leveraging Constellation Brands' resources, Four Corner Brewing Co. now has several avenues of growth within Texas and nationally.
Finalists: Clavis acquisition of RK Supply; Patron Technology Acquires FISH Technologies; Primoris Services Corp. Acquires Willbros Group Inc.
Cold Spring Brewing Co. Acquires Carolina Beverage Group
$150M TO $999M
Key Players: Mark Matteson and Barrett Bruce of SunTx Capital Partners; Tom Harris and Brandon McCoy of Haynes and Boone; and Bryan Jaffe and Erik Einwalter of Cascadia Capital LLC
When: Acquisition announced May 2018
Why Notable: Complications. The owner of a leased real estate asset was revealed to be a Russian businessman who came under U.S. sanctions.
What's Next: Cold Spring Brewing Co. will continue to be a major supplier to brands such as Red Bull and Monster energy drinks from its newly acquired 400,000-square-foot Fort Worth manufacturing facility.
Finalists: Wyndham Worldwide Acquires La Quinta Holdings; Cabot Microelectronics Acquires KMG Chemicals Inc.
Keurig Green Mountain Acquires Dr Pepper Snapple Group
$1 BILLION-PLUS
Key Players: Dr Pepper Snapple was advised by Credit Suisse (finance) and Morgan, Lewis & Bocklus (legal). Keurig Green Mountain was advised by Goldman Sachs & Co.
When: Acquisition completed July 2018
Why Notable: The size. At $18.7 billion, it was among the largest M&A deals in Dallas-Fort Worth last year.
What's Next: Keurig Dr Pepper announced the acquisition of CORE nutrition in September 2018 for $525 million. It's also planning a regional headquarters move from Plano to Frisco.
Finalists: Energy Transfer Partners Merges with Energy Transfer Equity; Concho Resources Inc. Acquires RSP Permian; Nationstar (Mr. Cooper) Merges with WMIH Corp.
Top Dealmakers
North Texas professionals who made the banner deals happen
Todd Dauphinais
Private Equity/Investment Professional of the Year
Starting with Clavis Capital Partners in 2014, Todd Dauphinais has successfully deployed $250 million in capital over the last five years in six deals. During his career, Dauphinais has completed 26 transactions representing more than $1 billion in equity capital deployed. Most notably in 2018, Clavis completed the acquisition of family-owned oilfield products distributor RK Supply.
Finalists: Grant Kornman, NCK Capital; Matthew Hagen, Leeward Capital Management
Mike McGill
Investment Banker of the Year
Mike McGill is co-founder and managing director of Dallas-based MHT Partners. Prior to launching the firm in 2001, McGill spent five years at Donaldson, Lufkin & Jenrette. In 2018, McGill oversaw the execution of a number of transactions that impacted both the local and national markets. They involved Centre Technologies, FISH Technologies, ITA Group, Excentus, and NextRev.
Finalists: Brent Earles, Caddo Lake Capital; Michael Goss, Generational Equity LLC
Molly Slusher
Attorney of the Year
Molly Slusher, partner and general counsel at Jerry Jones-backed Blue Star Innovation Partners, is the youngest partner at the firm. In 2018, BSIP led a financing round for Payrix, a fintech platform. Not only did Slusher quarterback the deal throughout diligence and negotiations, she also was deeply involved in post-closing operations. Prior to joining BSIP, Slusher was an attorney at Jackson Walker.
Finalists: Jeffrey Brooker, McGuireWoods; James Griffin, Weil, Gotshal & Manges; Lauren Leahy, Pizza Hut
Brad Porter
Due Dilligence Professional of the Year
Brad Porter, director at Moss Adams, was recently named one of the firm's top five largest new-client revenue generators. Hired to start the transaction services practice in Dallas for the accounting firm in 2016, he now helps to lead a due diligence and restructuring team of 10 people in two offices. Last year, Porter helped facilitate the sale of a privately held company on an expedited timeline.
Finalists: Daniel Boarder, Whitley Penn; Ryan Irby, Weaver; Kevin Kirksey, ALM First Financial Advisors
Vik Thapar
Capital Provider of the Year
Vik Thapar has 17 years of experience in venture capital, private equity, and information technology consulting. He has been a partner at Cypress Growth Capital since 2012. Prior to his current role, Thapar handled VC for a $200 million investment fund sponsored by the state of Texas. He currently serves on the board of directors for TeXchange, TiE Dallas, and Southwest Venture Forum.
Finalists: Julia Buthman, Prudential Capital; Patrick Hamner, Clavis Capital Partners; Preston Roush, Texas Capital Bank

Get the D CEO Newsletter
Stay up to speed on DFW's fast-moving business community with weekly news reports, interviews, and insights.