From D CEO July 2019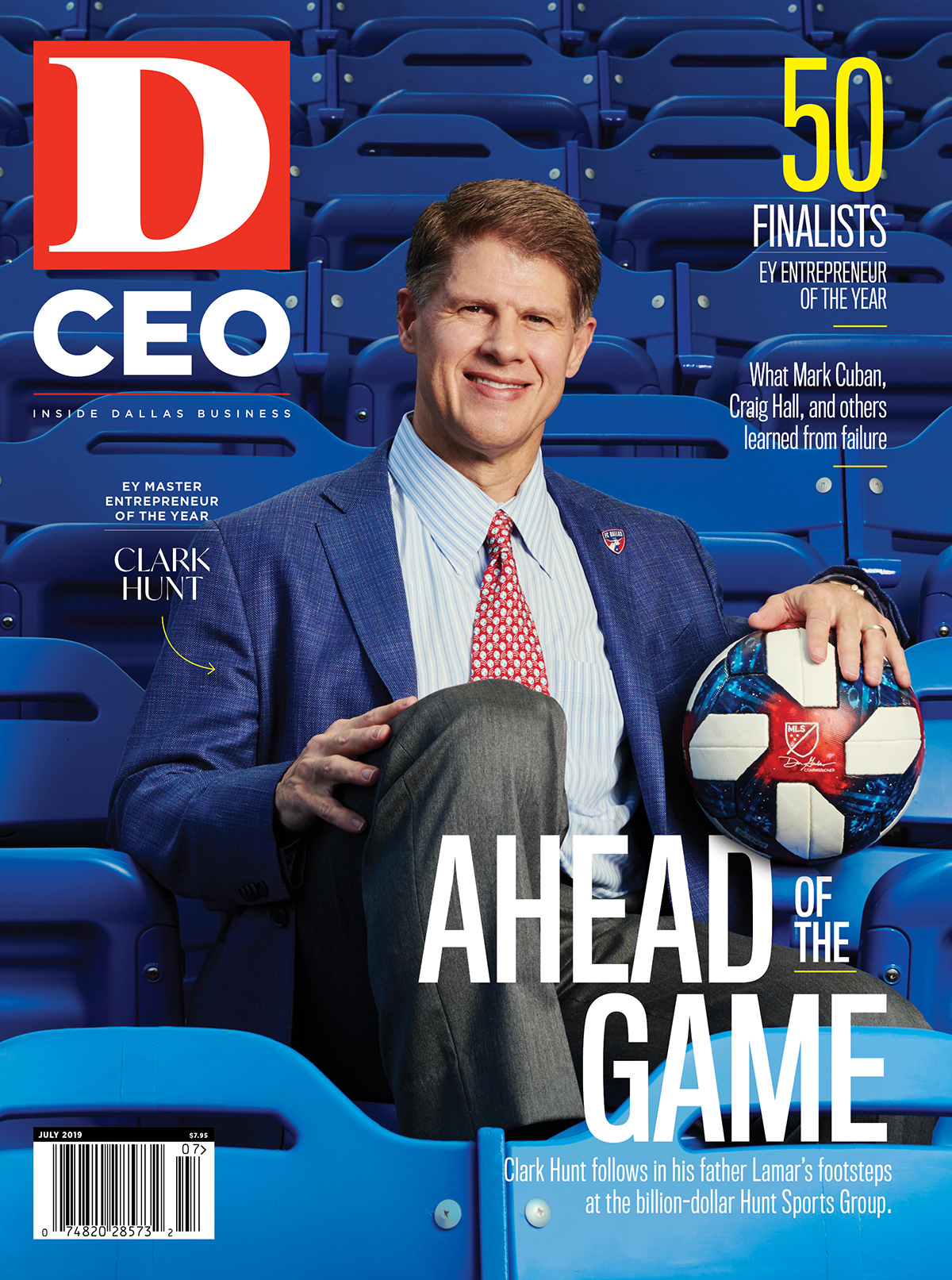 Subscribe
Dallas-Fort Worth has long provided a ripe environment for entrepreneurial ventures. Some of the nation's most successful companies began as startups here—like Southwest Airlines, Texas Instruments, Mary Kay Corp., and Electronic Data Systems. The region's reputation as a hub of innovation continues to lure entrepreneurs, as well as large corporations that want to tap into the deep base of talent. So, who will be DFW's next big homegrown success?
It could likely be one of the 50 business leaders featured on the following pages. For a 12th straight year, D CEO is honored to feature all finalists in EY's Entrepreneur Of The Year program for the Southwest region. They were selected by an independent panel of expert judges assembled by EY: Lance Crosby, StackPath; Alex Danza, Vonlane; Steve Gray, Concho Resources; Anurag Jain, Access Healthcare; Clane LaCrosse, Bosque Systems; Chris MacFarland, Masergy; Teresa Mackintosh, Trintech; Raj Malik, Bioworld; Vanessa Ogle, Enseo; and Blake Walker, Arcis Golf. Winners in this year's program were honored at a black-tie gala in June at the Hilton Anatole Hotel in Dallas. They will go on to compete for national recognition in November at EY's Strategic Growth Forum in Palm Springs, California.
Jamie O'Banion
CEO and Founder, BeautyBio
Growing up, Jamie O'Banion was immersed in skincare through her physician father's cosmetics lab. When she saw reputable skincare brands making clinical marketing claims of an active ingredient while only using small concentrations of that ingredient to save on cost, she founded BeautyBio to give consumers a formula that had the right ratios and ingredients. "That was a hard pill for me to swallow, because I always want to serve the underdog and be the voice of reason," she says. "So it became very apparent to me that there needed to be this voice in the industry." BeautyBio is now carried in Sephora, Neiman Marcus, and other stores throughout the United States. The brand has been recognized with industry-leading awards from Allure and Total Beauty. BeautyBio is on track to take its fair share of an industry that's projected to top $184 billion by 2026. But O'Banion's entrepreneurial spirit isn't dying any time soon. "There's always going to be a million reasons why you can't do something," she says. "I'm just looking for the one that you can. It just takes one."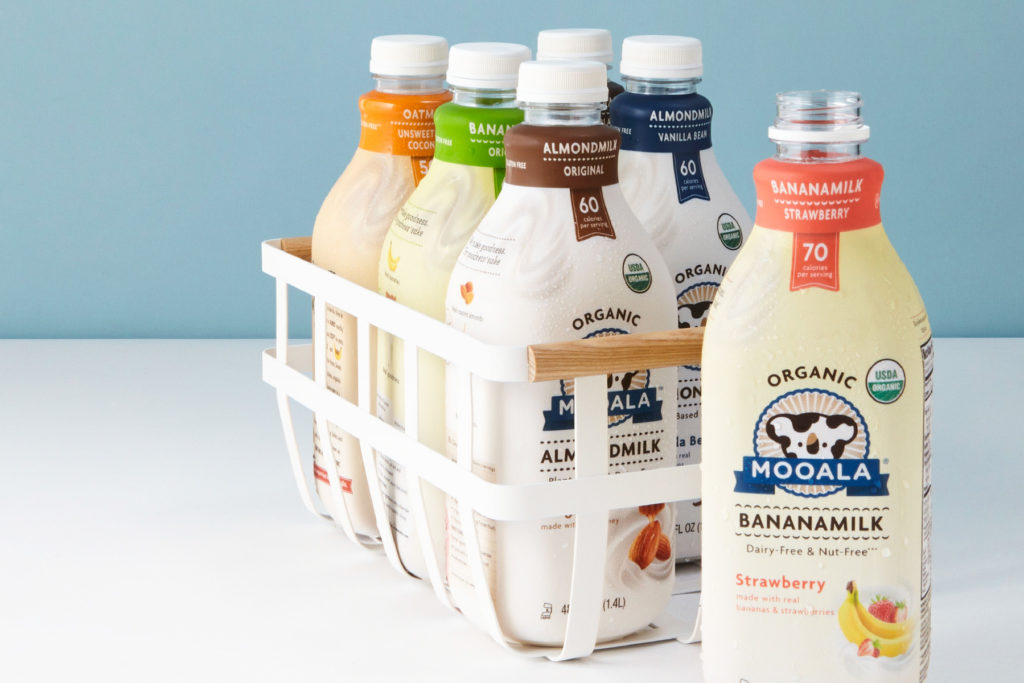 Mooala
Jeff Richards—Founder and CEO
Rarely can it be said that good things come from a bad diagnosis, but Jeff Richards may be the exception. Upon learning that he was lactose intolerant, Richards set out to find dairy-free alternatives that would replace the harmful products he had spent his life enjoying. Unfortunately, the milk alternatives already on the market were loaded with additives. So, he set out to create his own and, in 2016, Mooala was born. The brand makes organic plant-based milk, with a cow-spotted koala as its mascot. Why koalas? "Because they are plant-based creatures," Richards says. As it turns out, he wasn't the only one looking for milk alternatives. "We were able to get into more than 2,000 stores in the first two years of business," Richards says.
Michael Wittmeyer
CEO, JM Bullion
"In early 2011, I fell into affiliate marketing for an online gold and silver retailer. After learning about the industry and building up significant Google traffic for gold and silver key phrases, we decided to monetize that on our own by launching a gold and silver e-commerce business, JM Bullion. Today, we have roughly 65 employees and contractors and our annual revenue exceeds $500 million."
Josh Smith
The CEO of Solovis runs a cloud-based fintech platform for institutional investors, allowing for multi-asset class portfolio, reporting, and analytics.
"I searched for vendors who were in the market and realized it would have taken six vendors to create what we were looking to do."
"Our focus on the core customer and their success has allowed us to achieve triple-digit growth every year, largely driven by client referrals."
"When we moved our headquarters to Dallas from Birmingham in 2015, we found the engineering staff and talent pool we were looking for."
"Our company grew 285 percent in 2016, 116 percent in 2017, and 223 percent in 2018. We have 100 employees, with 60 in DFW."
Groove Jones

In August of 2015, Gary Banks, Dale Carman, Dan Ferguson, and Scott Howell founded Groove Jones, a creative technology company that produces next-gen experiences for brands. It's best known for its award-winning work in augmented reality, virtual reality, and artificial intelligence. How did they know the venture would be successful? "I felt it in my bones," Carman says. And with an average annual revenue growth of 40 percent, it turns out he was right.
StratiFi Health
Dr. Christopher Crow—Co-Founder and CEO; Lance SPivey—Co-Founder and President
"StratiFi Health was born out of a need in the community," says company co-founder and CEO Dr. Christopher Crow. "Healthcare prices were—and still are—increasing, and health system consolidation is a significant contributor. Preserving physician and patient choice matters in delivering high-quality and lower cost healthcare." General statistics across the country show that when independent physicians become part of hospital systems, their productivity goes down about 20 to 25 percent and prices go up about 20 to 25 percent "That combination at scale is bad for a community," Crow says. "We started StratiFi Health with a purpose to support independent physicians and their businesses' needs." The company serves about 1,500 doctors and has seen growth of 1,000 percent in the past five years, with 200 employees in Texas and Oklahoma.
Chakri Gottemukkala
CEO and Co-Founder, o9 Solutions
"when customers like walmart, Nike, Starbucks, and Google are leveraging the o9 platform to manage the heart of their businesses, it is a great confidence boost. … It was a bold bet as a startup, especially when we were building a product that serves large multibillion-dollar enterprises that usually don't do business with a startup, and going up against big competition like SAP, Oralce, and JDA. But we believed in our mission, our product, and our ability to show differentiation. We innovated with a theme we called AIM 10x: how to be 10 times faster and smarter than our competitors. We showed the market our differentiation, and the market noticed."
Kate Richard
Founder and CEO, The Warwick Group
"Perhaps the greatest challenge is getting people from disparate fields of expertise to communicate, work together, hold themselves and one another accountable, be transparent about mistakes, view each mistake as a case study for learning, and move the ball forward—all without being either overly protective or too hands off. This is how I define my main responsibility to my team and our investors."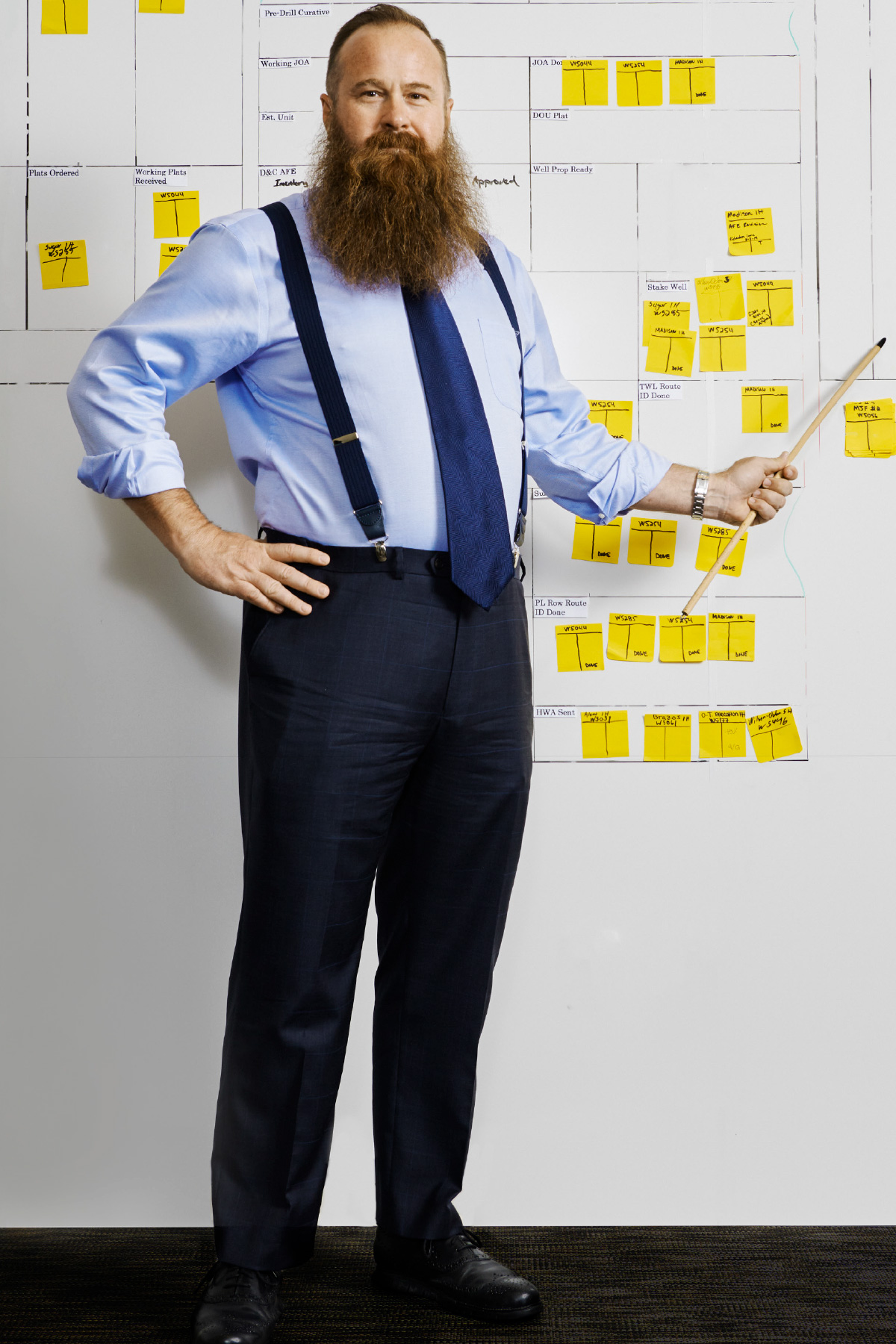 Eric Waller
CEO, MD America Energy
A fourth-generation oil and gas worker, Eric Waller was the first in his family to transition from the oil field to the boardroom. He mastered the positions of mechanic, lease operator, drilling manager, and others before being named chief executive of MD America Energy, an oil and gas development company. He took the helm of the company in 2014, the same year he overcame a battle with cancer and had to wrestle with a staggering drop in oil prices. "We owed a lot of money and our revenue was smashed," Waller says. "We overcame it by retooling virtually every part of our business in a short time just to survive. Many of those processes remain in place today and have strengthened our business." The company is on track to hit revenue of $105 million this year. Although he now works in the C-Suite, Waller says he has no problem putting on his steel-toed boots and heading out to the field. MD America Energy is not his only entrepreneurial endeavor; until last year, Waller owned a tattoo parlor in Fort Worth.
CAF Cos.
Chris Faulkner—CEO; Trent Wood—President
When Chris Faulkner and Trent Wood met at church in 2001, they had no idea their ensuing friendship would become the foundation of a company they'd start nearly a decade later. Faulkner saw an opportunity to capitalize on changes sweeping the real estate investment world and partnered with Wood to launch CAF Cos. in late 2010. It has three separate entities that focus on management, capital, and multifamily opportunities, and has grown to a staff of 235 people. "Our toughest challenge has been managing our growth by hiring the right people at the right time," Faulkner says. "We believe we have done that now. … We have an outstanding group of committed, passionate, knowledgeable people who care about doing the right thing. That's a powerful combination, and we're grateful for it." CAF Cos. has seen revenue growth of 123 percent and profit growth of 153 percent since 2016.
Fusion Packaging
Jonathan Gross—Co-CEO; Derek Harvey—Co-CEO
Jonathan Gross and derek harvey spent six years in the industry before leaving their positions to launch Dallas-based Fusion Packaging and focus on serving skincare clients. "We knew that if we could be experts in the segment and create an innovative technology for skin care products, we would have a unique offering," Harvey says. Their company has attracted many of the biggest names in the beauty biz, including L'oreal, Estée Lauder, Tarte, and Urban Decay. Fusion Packaging recently expanded to both the West Coast and East Coast, opening outposts in Los Angeles and New York. The company expects to hit annual revenue of close to $100 million in 2019. Harvey advises other entrepreneurs to be intentional and put their ideas into action. "A goal without a plan is a dream," he says.
Jason L. Signor
CEO and Partner, Caddis
"I have been surrounded by entrepreneurs my entire life, and I always looked up to them. At one point in the mid-1980s, my father's homebuilding business was failing. Although our family struggled financially for many years, my parents never gave up and continued to take risks rather than work for someone else. … My life experience has taught me to be resourceful and resilient. As opportunities presented themselves, I've always been up to the challenge."
Marcia Upson
Founder, Naturally Slim
"As cliché as it sounds, I think every entrepreneur should follow Winston Churchill's advice: 'Never give in, never give in, never, never, never, never.' There will always be challenges—sometimes professional, sometimes personal—and they may seem insurmountable at times. But that's almost never the case. With perseverance and creativity and a sense of purpose, one can overcome almost anything."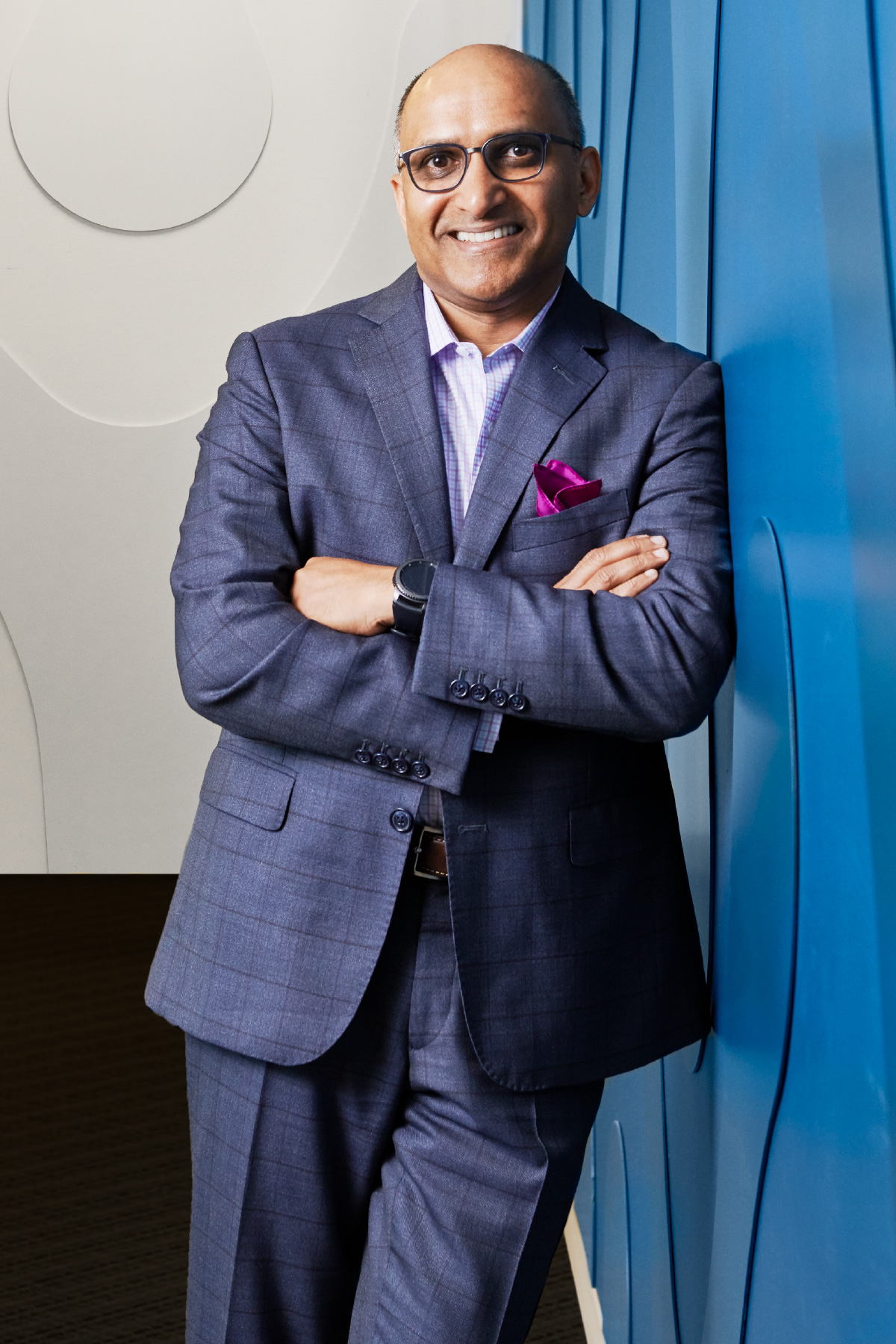 Biju Nair
President and CEO, HYLA Mobile
Ten years ago, with U.S. carriers heavily subsidizing the price of cell phones, consumers were unaware of the precise retail value their devices carried. This lack of knowledge led to used phones being discarded into junk drawers, or worse, ending up in landfills. The founders of HYLA Mobile saw an opportunity that had yet to be seized. In 2009, the company was formed to incentivize trade-ins for consumers and allow carriers and retailers to reduce subscriber churn, increase retail traffic, and drive higher sales. In 2014, president and CEO Biju Nair pivoted the company to become a technology and services firm.  "We hit five million transactions in a year in record time, and then repeated that feat again in 2018," Nair says. The company generates just under $100 million in revenue and will soon launch a business division in Asia. Says Nair, "What I tell entrepreneurs is this: 'Build your products and services like air and water—easy to consume and hard to live without.' When you do that, you are building something of immense value. However, you have to be intellectually honest about every aspect of what you are doing and not get delusional with any idea."
Brenda Stoner
CEO and Founder, PICKUP
"I had some terrible home delivery experiences and when I needed to move inventory across town, I realized that there was a complete gap in the over-50-pounds, under-50-miles delivery space. Same-day service was unavailable. As an industrial engineer, I have been trained to look at capacity and supply. That, coupled with market forces demanding speed and convenience, made the idea just pop."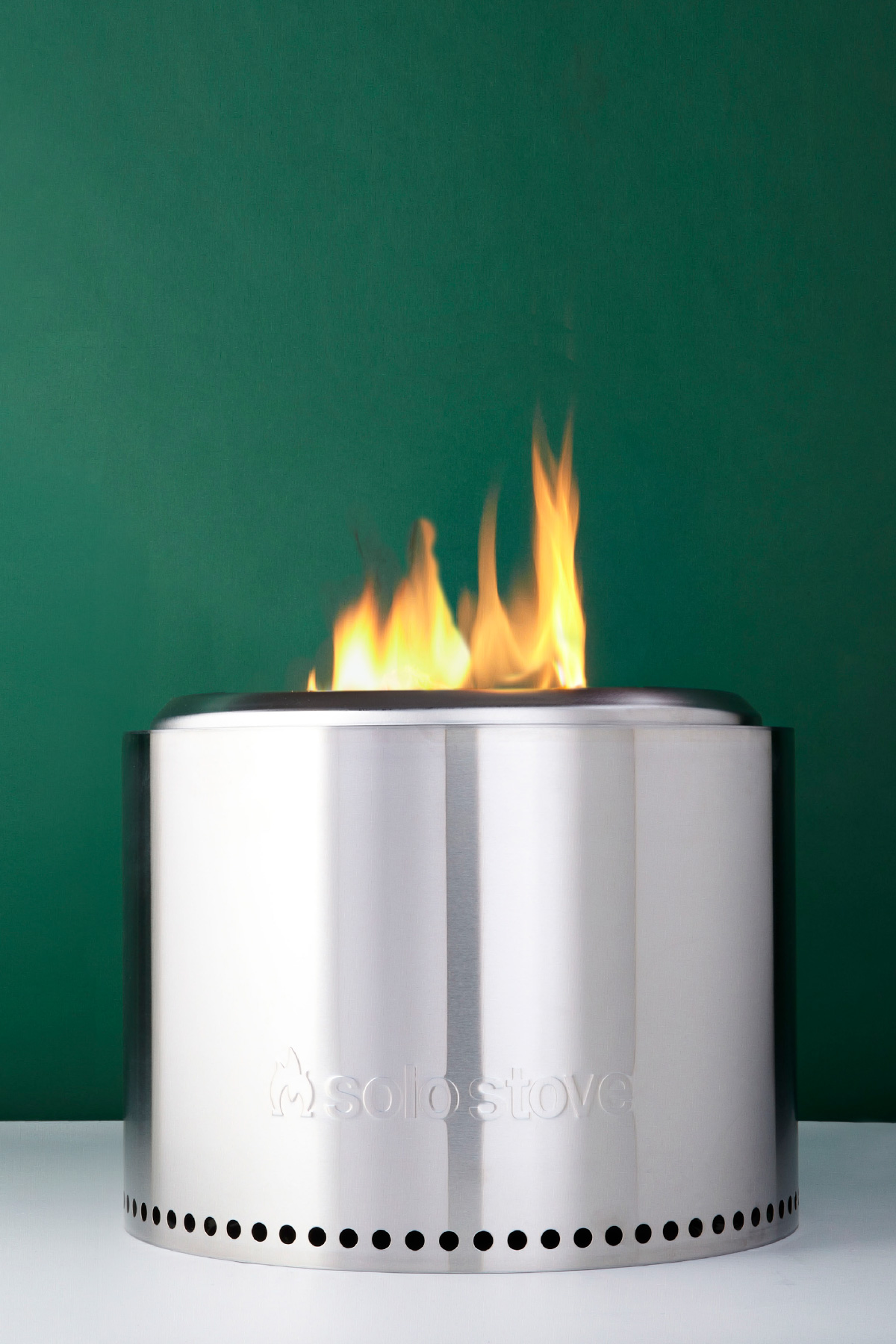 Solo Stove
Jeff Jan—Founder and CEO; Spencer Jan—Founder and CEO
Spencer Jan is a huge fan of the television show Survivor. "I love the tagline: 'Outwit. Outplay. Outlast,'" he says. "I think the entrepreneurial journey is pretty similar." Spencer and his brother Jeff launched their company, Solo Stove, in a garage. Their goal was to come up with something they could sell online, to build revenue that would supplement their day jobs. The product they landed on, a portable camping stove, was so successful, it has grown to a full line of outdoor stoves and firepits. "Coming up with the idea was an exercise of defining our true strengths and passion and gravitating toward them," Spencer says. "We are very strong in developing overseas contract manufacturing and sourcing, and we are extremely passionate about online marketing."
Richard Margolin
RoboKind was formed by Richard Margolin, CTO, and his father Fred, who saw the potential to use robots as an eduational tool for children with autism.
"Robots help deliver a high quality and consistent curriculum to children in a way that is engaging and non-threatening."
"Our toughest challenge has been gaining acceptance and learning to work with government entities of various sizes and at various levels."
"My best advice for entrepreneurs is to test your ideas with your customers early and often. They will tell you when you've gotten it right or wrong."
"RoboKind now has 24 employees and has grown its annual revenue by more than 300 percent since 2016."
Callbox Storage

Dallas-based Callbox Storage is disrupting the self-storage industry by leveraging technology. In simple terms, it takes the work out of the process for clients and gives them a convenient, app-based way to store and retrieve their personal belongings. The company was co-founded in 2015 by Dan Slaven and Kyle Bainter, who serves as chief executive officer. "We believed customers would resonate with this service, considering that one in nine people use storage for residential purposes," Bainter says. Callbox has also found "massive opportunity" on the commercial side, particularly for construction firms and businesses that host events. The company has now more than 500,000 feet of storage space and locations in Dallas-Fort Worth, Austin, Houston, Phoenix, and Seattle.
Excel-health
Mike Williams—CEO and Founder
When Mike Williams was 14, his mother was diagnosed with multiple sclerosis. "I watched as she regressed and relied on drugs to help stop the progression of a terrible neurological condition," he says. "The side effects of those drugs were awful. It broke my heart and still to this day causes me pain to think about." After graduating from the University of Oregon, Williams made it his mission to give people an all-natural alternative for pain relief. His Excelhealth is achieving that through the development of iReliev products, as well as the operational infrastructure to support growth through automation and workflow optimization. "I envision a family of web-based, pain-relieving devices that could be managed from one central web-based application, giving consumers, caretakers, and insurance payers greater insight and flexibility to measure and update treatment plans in real time," Williams says. Excelhealth generated $6.9 million in revenue last year.
Shawnna Latham-Feddersen
CEO, Gameday Couture
"As an alumnus of a top university, sporting events and tailgating was a big part of the culture. I noticed there were very limited and lackluster gameday apparel options for women. It occurred to me there was an underserved opportunity in the market, and I set out to create a brand that would fill that gap. IN three years, Gameday Couture's revenue has grown by more than 155 percent, with more than 110 percent of that growth coming in just one year."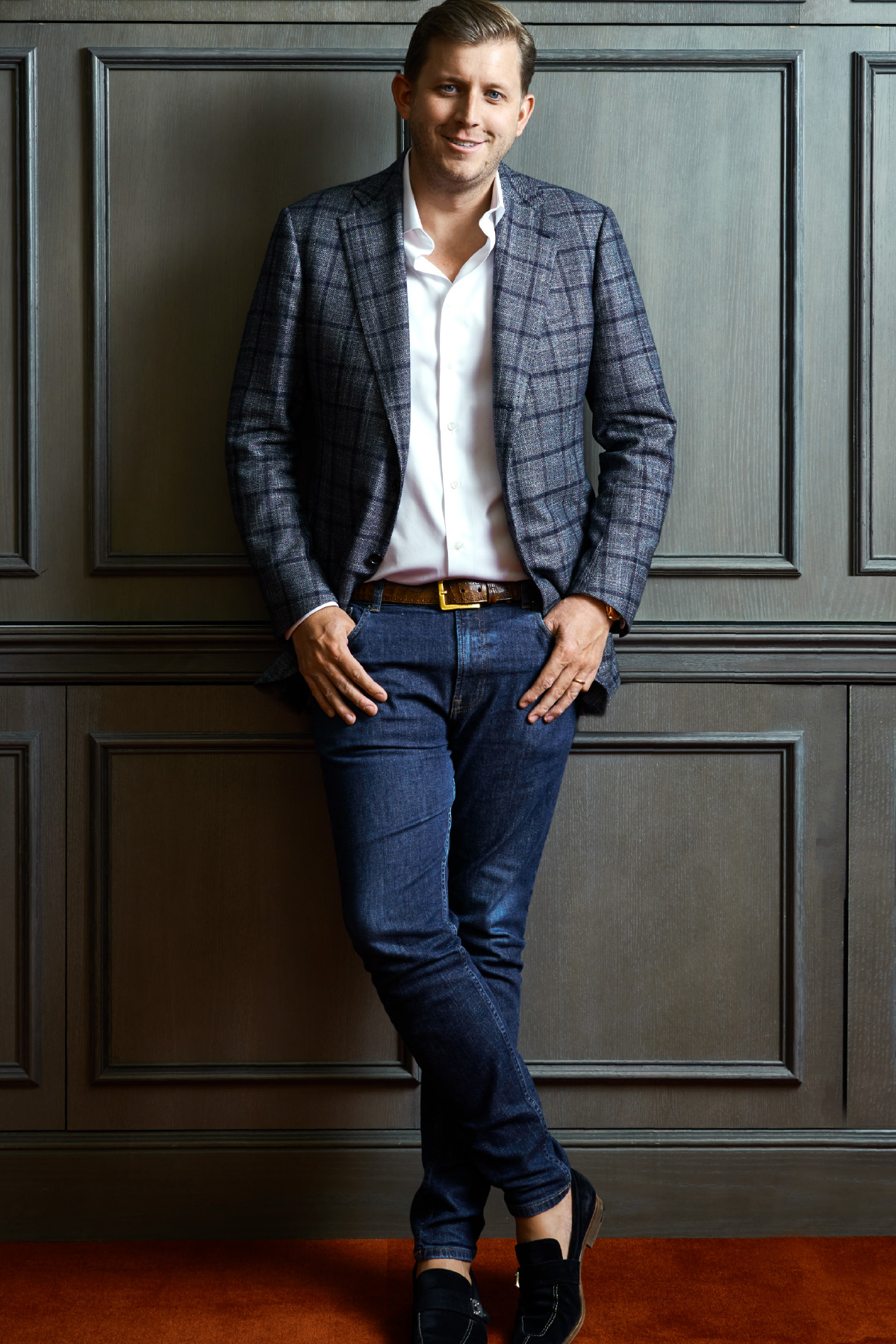 Thomas Hartland-Mackie
President and CEO, City Electric Supply Co.
Thomas Hartland-Mackie spent his 21st year learning the family business, as the newly appointed president and CEO of City Electric Supply Co. He had taken the helm of the multibillion-dollar business in 2008, just months before the Great Recession hit. "I knew I had less experience than all of my direct reports," he says, "so I quickly realized that my job was not to have the answers but to solicit the advice and opinions of my team, collect all the information, and make the decisions that would allow the business to survive." Since then, City Electric Supply has not only survived, it has thrived. Today it operates more than 550 wholesale locations across the United States and has 3,500 employees. Last year, the company did $2.3 billion in global revenue. Hartland-Mackie says the best business advice he ever received came from his grandfather, who founded City Electric Supply in England in 1951. He advised: "Don't create rules that prevent local decision-making, so your team has the freedom to excel and feels ownership to make the right decisions for their customers."
Brad Hunstable
CEO and Founder, Linear Labs inc.
"Linear Labs began as a simple father-son bonding project. Our vision was to bring clean water and electricity to rural Africa and South America with one device. This led to an important discovery of how to build the world's most efficient, highest-torque motors and generators. … Fifty percent of the world's electricity passes through electric motors. The market size is staggeringly big."
Mark Hiduke
CEO, PCORE Exploration & Production
"While working for Pioneer Natural Resources, I learned a tremendous amount about the industry but often saw great opportunities that were passed by, due to being sub-scale. These small-company makers can create plenty of value. … We recently exited a $215 million investment deployed over three years. Prior to that, we deployed $45 million and realized $150 million on the sale of assets in 2016."
Community Beer Co.
Kevin Carr, Founder, CEO, and President
Kevin Carr's previous job in software took him to beer-centric cities like Denver, Seattle, and Portland. As a homebrewer, he enjoyed visiting breweries while traveling. Back in 2009, Dallas didn't have an active craft beer scene. He spent the next several years looking for a reason to not open a brewery in North Texas—and couldn't find one. He opened Community Beer Co. in 2013. Today, it ranks among the 10 largest craft breweries in Texas. Even so, he doesn't feel like he has made it. "I maintain the mindset that success is temporary," Carr says. "Our team and I work hard to chase success, but we never take it for granted.
It only motivates us to work harder."
Newline Interactive

Every business leader wants to have more productive meetings and every teacher wants more engaged students. Over the years, many products have been developed with the goal of helping to achieve this. But, say the executives at Newline Interactive, many of the products were too complicated and difficult to use. So, Chris Bradford, Kevin Wang, and a small group of investors formed Newline in 2012. Today, the company competes with some of the largest technology brands in the world­—like Google, Cisco, Microsoft, Samsung, and LG. But Newline is enjoying success. The company has seen three-year revenue growth of 1,666 percent and expects to hit $55 million in sales this year. The formula is simple, Bradford says: "Make great products that solve real problems."
Ben Lamm
Technology entre-preneur Ben Lamm formed Hypergiant Industries to help major institutions innovate with machine intelligence-driven technologies.
"Hypergiant shares its name with the largest and brightest stars in the known universe. I wanted it to be a guiding light for Fortune 500 companies."
"Combined with the pressures of starting a business, the hardest thing is continuing to be present and show up, even on the hard days."
"To me, success means breaking free of restrictions and moving in a direction no one thought was possible."
"During our first year, Hypergiant Industries grew from two employees to over 130. We had eight figures in revenue in the first 12 months."
Get the D CEO Newsletter
Stay up to speed on DFW's fast-moving business community with weekly news reports, interviews, and insights.