From D CEO July 2018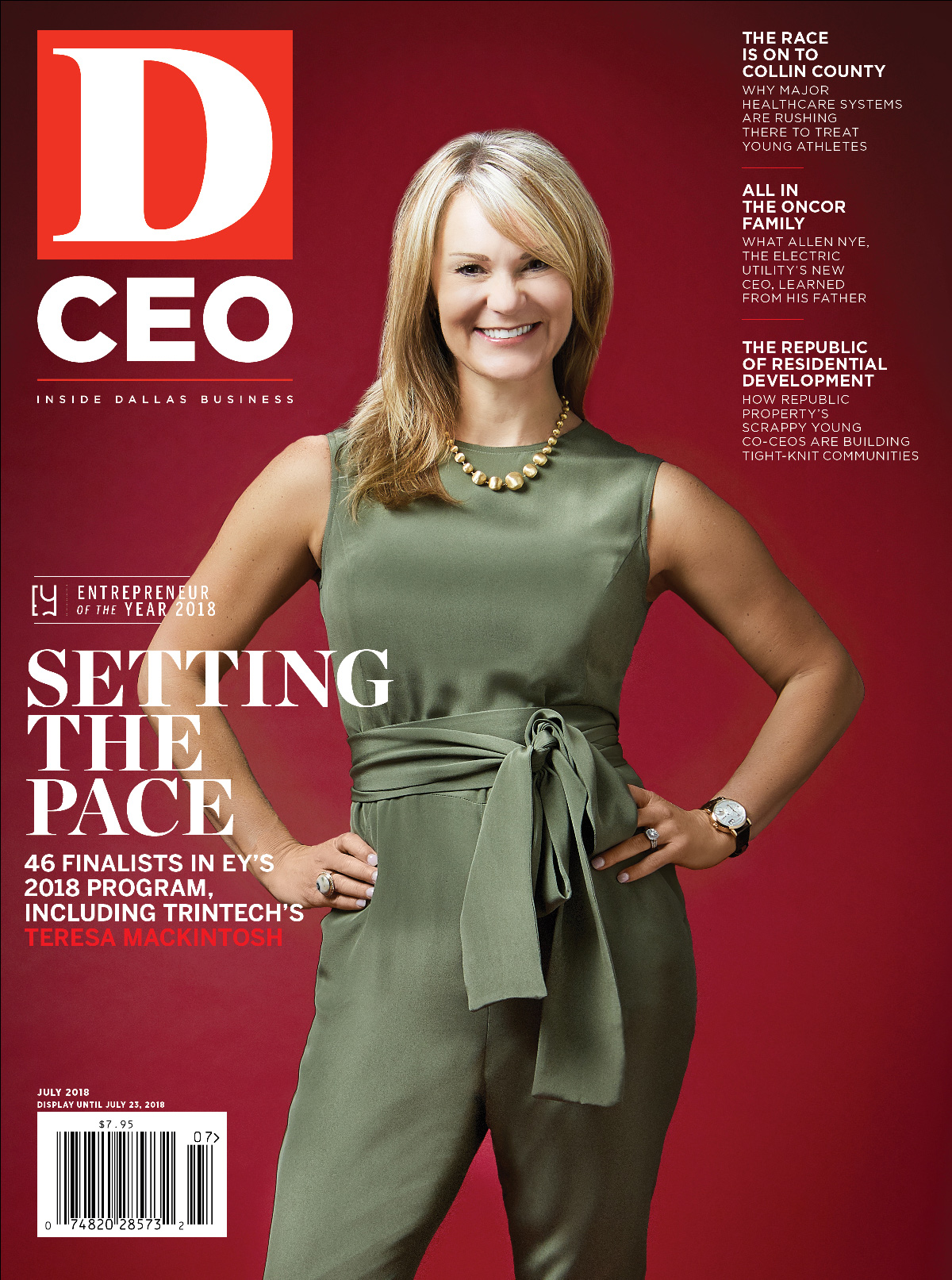 Subscribe
Reeling in venture capital. Figuring out online solutions to bring down costs. Incentivizing employees and renegotiating contracts. Prioritizing future growth.
Those are things the entrepreneurs on the following pages do very well. But what they may do best is cope with rapid change. For the 11th straight year, D CEO is honored to profile all of the finalists in the EY Entrepreneur Of The Year program for the Southwest region.
EY assembled a stellar panel of independent judges to select the 2018 finalists. They were: Rick Allen, Paragon Healthcare Inc.; Mark Dubrow, Onyx CenterSource; Randy Gier, NRG Restaurant Group; Amber Venz Box, rewardStyle; Kevin Lavelle, Mizzen+Main; Anurag Jain, Access Healthcare; Clane LaCrosse, Bosque Systems; Lee Bird, At Home; Wendy Lopez, AECOM; and Chris MacFarland, Masergy Communications.
The regional finalists in this year's EOY program were honored at a gala in June at Dallas' Hilton Anatole hotel. The winners will go on to vie for national recognition in November at EY's Strategic Growth Forum in Palm Springs, California.
---
Chris Munday
2020 COMPANIES
Chairman and CEO
In recent years, the retail industry has traveled down a rocky road, and Chris Munday has felt some of the bumps.
Munday's Fort Worth-based 2020 Companies could have stayed—and survived—on the same route it had been on. For a decade, the business's bread and butter had been providing outsourced brand advocates, sales representatives, and merchandisers at more than 50,000 retail locations.
But as online shopping has soared and bricks-and-mortar retail has teetered, Munday leaned on this corporate mantra: "We stay focused on finding a way, and change when change is not necessary."
One of the biggest "unnecessary" changes at 2020 Companies? Creation of an events business, launched in 2012 and ramped up in 2014, that lets 2020 bypass traditional retail settings and take brand sales and marketing efforts straight to the consumer at sporting events, exhibitions, fairs, festivals, and the like. —John Egan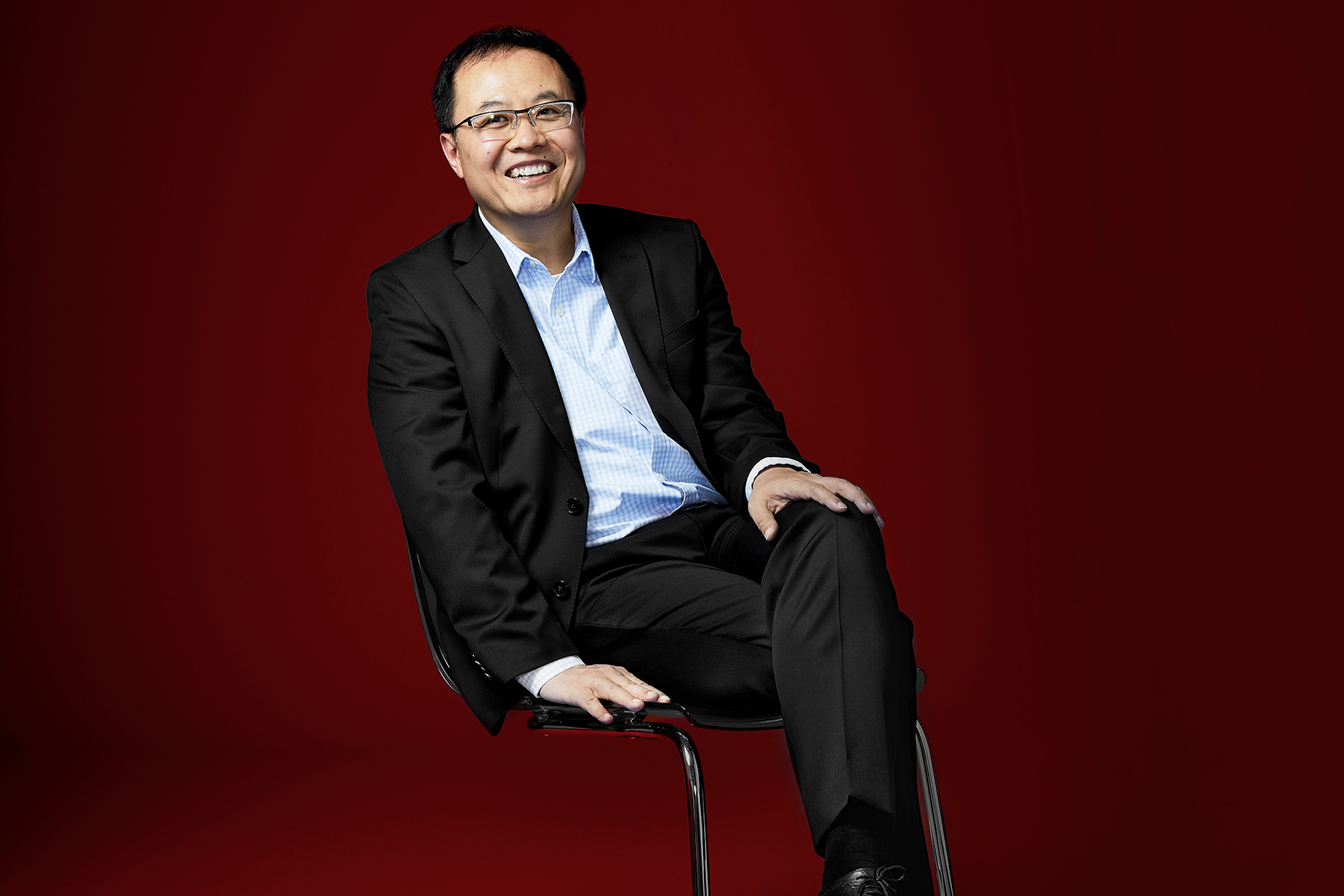 Lucas Lu
5MILES
Founder and CEO
5miles has not only managed to outlive several of its competitors but also to expand.
The company, founded in 2014 to create a localized mobile marketplace, gained speed after picking up a sponsorship with the Dallas Mavericks earlier this year. It also has made headway in the auto category, helping auto dealers automatically upload inventory into the 5miles marketplace, as well as in the housing and job-listing categories.
In 2016, it landed $30 million in venture capital and, last year, launched CyberMiles, a blockchain network for ecommerce. To date, the company has more than 13 million downloads. It ended 2017 with $10 million in revenue and 100 employees.
"We've been really lucky the last four years," Lucas Lu says. "We are reaching the break-even point. So … it's a very good time for us." —Danielle Abril
Stephen Bohanon
ALKAMI TECHNOLOGY
Founder and Chief Strategy and Sales Officer
Stephen Bohanon wanted to help regional and community banks strengthen their digital presence. So in 2009 he created Alkami Technology, a fintech company that provides a mobile digital banking solution.
"Digital banking is becoming more important to financial institutions," Bohanon says.
Alkami currently employs about 330 people, has more than 4 million active users from 63 clients, and is expecting to generate about $50 million in revenue this year. Last year, Alkami posted $24 million in revenue. The company also recently raised $70 million in investment.
This year, Alkami has focused on applying data intelligence and artificial intelligence to data it collects, providing insights behind the numbers. It's also investing in developing capabilities to allow connected devices and home assistants to access its data. —Danielle Abril
Jere Thompson, 
John Burke, 
Laurie Rodriguez and 
Chris Chambless
AMBIT ENERGY
CEO, Chief Information Officer, CFO and Chief Marketing Officer
Jere Thompson knows it might sound cliché, but he credits Ambit Energy's workforce for the company's global success. "We talk a lot about needing better systems, better products, and the ability to respond rapidly to market changes in our business, but all of those capabilities come from having the right personnel," Thompson says.
Dallas-based Ambit Energy, which has about 600 employees, provides electric and natural gas services in deregulated markets in the United States, Canada, and Japan. The company expanded to Canada and Japan in 2017. More than 400,000 independent consultants market Ambit Energy's utility services.
"As an increasingly international company, we have to find a way to navigate various cultural and regulatory environments," Thompson says. "That's why having good people who share common values of commitment to excellence, integrity, and hard work is so important." —John Egan
Blake Walker
ARCIS GOLF
Founder, Chairman, and CEO
In just a few years, SMU grad Blake Walker has turned Dallas-based Arcis Golf into the second-largest owner and operator of fee-simple private and public golf courses in the country. But truth to tell, the former ClubCorp investment officer says, Arcis is actually a "vertically integrated lifestyle company" that is "reinventing" the American golf-club experience.
Essentially, Arcis clubs are "adult playgrounds."

Blake Walker, Arcis Golf
Beyond the golf itself, Arcis facilities are centers for concerts, wine-barrel tastings, curated food and retail offerings, corporate events of all stripes, Jumbotron screens, and health and wellness options, including organized triathlons. Essentially, says Walker, Arcis clubs are "adult playgrounds."
The latest to be added to the Arcis portfolio of roughly 60 clubs was TPC Valencia in Valencia, California, giving the company two private clubs in the city just northwest of Los Angeles. —Glenn Hunter
Don Dykstra
BLOOMFIELD HOMES
Founder and Chairman
What started as a business run out of the garage of a model home in Mansfield has grown into one of the region's largest homebuilders putting up houses exclusively in Dallas-Fort Worth.
Don Dykstra founded Bloomfield Homes in 2004. While the company built 62 homes that first year, it will top 1,500 homes and $500 million in sales in 2018. Also this year, Southlake-based Bloomfield delivered the first phase of homes at Timberbrook in Justin, the company's first large-scale master-planned community.
Now the firm is actively growing, with new communities from Melissa to Waxahachie with average home prices hovering around $325,000. In 2013, as part of succession planning, Japan-based Sumitomo Forestry bought half of Bloomfield, though the day-to-day business has been relatively undisturbed by the sale. —Julia Bunch
Merrilee Kick
BUZZBALLZ/SOUTHERN CHAMPION
Founder and CEO
Merrilee Kick's BuzzBallz/Southern Champion, which mainly makes ready-to-drink alcoholic beverages, has had a busy year. Most notably, the company Kick founded in Carrollton eight years ago has begun attracting top-shelf talent from the beverage-distribution industry. One case in point: Blair Casey, her new sales and marketing VP, who came from Southern Glazer's Wine & Spirits.
Kick's also started providing energy drinks for a Colorado company that sells to GNC, adding a special enzyme that makes her plastic bottles more eco-friendly, and selling BuzzBallz aboard Spirit Airlines flights.
With close to 80 employees, the company now is offering its products domestically as well as in seven countries or territories. It's projecting 2018 revenue of $25 million to $30 million, up 30 to 40 percent over last year. —Glenn Hunter
David Ricker
BROADJUMP
Founder and CEO
Some companies really do get started at the kitchen table. That's what happened with Dallas-based BroadJump, which helps healthcare providers manage their supply chain costs via web-based data and analytics.
David Ricker thought if he could figure out a way to assemble healthcare purchasing data in an easy-to-use web interface, then healthcare companies could see what others were paying for medical equipment, supplies, and pharmaceuticals and be in a position to negotiate.
Ricker gathered a team around the table and together they launched BroadJump in 2013. Its technology delivers market share, volume, and exact price points.
"It's bringing down costs," Ricker says. "Our technology is directly aimed at fixing the complete lack of transparency between suppliers and hospitals." More than 760 hospitals use BroadJump. —Kerry Curry
Kyle Noonan and 
Joshua Sepkowitz
FREERANGE CONCEPTS
Co-founders and Co-CEOs
When they met at SMU, Kyle Noonan was an art major and Joshua Sepkowitz was in finance. Despite having little in common, they became fast friends. In 2012, they combined their complementary skill sets, and Dallas-based hospitality company FreeRange Concepts was born.
Noticing that retail and dining were becoming increasingly internet- and app-based, the two set out to create restaurants that offer memorable experiences. "You don't come to us for a matter of convenience, you come to us for sheer entertainment," Noonan says. "That entertainment component, mixed with great food and beverage service, is somewhat internet-proof."
FreeRange's brands include bowling alley Bowl & Barrel and dog-friendly restaurant Mutts Canine Cantina. In five years, FreeRange has grown into a near-$50 million company—and Noonan says "big growth plans" are in the works. —Tara Nieuwesteeg
Sheffield Clark and 
Bobby Sharp
COINSOURCE
Co-founder/CEO and Co-founder
rn

"The number of machines has increased by over 400 percent."

rnSheffield Clark, Coinsource
ATMs aren't just for greenbacks anymore. Entrepreneurs Sheffield Clark and Bobby Sharp are marrying the immediacy of ATMs with the untapped potential of the cryptocurrency bitcoin, allowing people to buy and sell bitcoins at automatic teller machines.
Clark, Sharp, and another co-founder established Fort Worth-based Coinsource in 2015, when bitcoin was still a relatively unknown digital currency.
The company, which installed its first ATM in Las Vegas, now has more than 200 machines in 21 states—the largest bitcoin ATM network in the world. It expects to have 300 ATMs by year's end.
Says Clark: "The number of Coinsource machines has increased by over 400 percent year over year since our inception, in line with increasing transaction volumes at our Bitcoin ATMs around the country." —Kerry Curry
Sam Darwish
SKINNY IT
CEO
After attending EY's 2017 Entrepreneur Of The Year Awards for the Southwest region, Skinny IT's Sam Darwish felt inspired. "You look at all the great things people accomplished, and you say … 'How do I do better?'" he says.
With that, Skinny IT made a "multimillion-dollar investment" to pivot from hardware and hardware-related services, which it was focusing on for the last seven years, to start offering software and support services. It also scooped up Kansas City-based Installation & Service Technologies Inc. to bolster its ability to provide on-site deployments.
Now companies can automate tech installation and service support with help from Skinny IT. The company employs about 300, including those at a call center in Mexico City for Spanish-speaking customers, and generates more than $100 million in revenue annually. —Danielle Abril
Joe Armes
CSW INDUSTRIALS INC.
Chairman, CEO, and President
At CSW Industrials, every employee shares in the company's success. The Dallas-based industrial manufacturer is a combination of six legacy businesses with six different strategies that now operate with a shared purpose, according to Joe Armes.
"Shape a corporate culture that everyone can be proud of."

Joe Armes, CSW Industrials Inc.
"We made it a priority to ensure everyone's interests were aligned and that we're incentivizing the right behaviors at every level of the organization," he says. "This is best demonstrated through our employee stock ownership plan: Every employee is a shareholder. So, when we succeed, we all succeed together."
What's Armes's prescription for achieving such success? "Shape a corporate culture that everyone can be proud of," he says. "Start by recruiting people that you respect and admire. Then, make sure you align your interests with those of every member of your organization."— John Egan
Cade Griffis
D-BAT SPORTS
Founder and CEO
Cade Griffis has baseball in his blood. He started playing at age 5, and was drafted after college by the Kansas City Royals. In 1998, he and his brother took an entrepreneurial approach to the game and opened the first D-BAT Sports. At the time, baseball academies were hot, low-lit, and "smelled like a locker room."
"We took it from being a sweatbox workout facility for softball and baseball players to more of a 'mother-friendly' atmosphere—and more of a business," Griffis says.
D-BAT is a Carrollton-based training facility chain that offers lessons, camps, and clinics. The company began franchising in 2009, and Griffis expects to close this year with more than 70 locations and $46 million in gross sales. Future plans involve expanding to other countries. —Tara Nieuwesteeg
David Iliff, 
Jamie Gibbs and 
Vince Sullivan
DURASERV
CEO, Chairman and President
DuraServ has opened the door to growth in a couple of ways.
The Farmers Branch-based company, a service provider in the loading dock, door, and equipment industry, has expanded organically by establishing new geographic territories, such as Miami and Charlotte, North Carolina. It also has grown via acquisition, snapping up Cookson Door Sales of Arizona earlier this year, for example.
David Iliff, who was promoted from CFO to CEO in 2017, says DuraServ aims to make two acquisitions per year. The company then beefs up trucks, facilities, and training at the newly acquired businesses, he says.
"We love to bring our culture … to these new acquisitions, and they really do thrive under our ownership," he says, adding, "It's about hiring and retaining great people." —John Egan
Carly Nance and Rachel Bentley
THE CITIZENRY
Co-Founders
The Citizenry was born out of co-founders Carly Nance and Rachel Bentley's frustration with the home décor market. The duo wanted to create an antithesis to "dime-a-dozen, mass-produced" goods. The result, founded in August 2014, is an online marketplace of about 300 fair-trade products created by makers all over the globe, such as patterned rugs handmade in Oaxaca, Mexico, and wood cheeseboards handmade in Wicklow, Ireland.
With initial backing of about $1 million from venture capitalists and angel investors, The Citizenry has taken off. Year-over-year sales are up 140 percent, and the brand's impact (defined by its number of artisans employed worldwide) is up 180 percent year-over-year. As for future growth, Nance says she and Bentley are determining how The Citizenry translates into brick-and-mortar retail. —Julia Bunch
Alex Doubet
DOOR
CEO
After witnessing his mother's unpleasant experience selling her home, Alex Doubet decided to found a company that would make buying and selling easier, more transparent, and less expensive. So, in 2015, he launched Door.
The startup, which now serves Dallas, San Antonio, Austin, and Houston, charges homeowners a flat rate of $5,000 for brokerage services. It also offers title and mortgage services. "Homeowners are tired of how much money they have to spend," Doubet says. "It doesn't have to be the same as it's always been."
In 2016, Door did $38 million in sales volume, generating $400,000 in revenue. It more than quadrupled the following year, with more than $2 million in revenue. Doubet expects to end 2018 having generated nearly $10 million in revenue. —Danielle Abril
Jim Brickman
GREEN BRICK PARTNERS INC.
CEO
When others were thinking about retirement, Jim Brickman was starting a brand-new venture. Brickman and David Einhorn of Greenlight Capital formed Plano-based Green Brick Partners' predecessor in 2008, when Brickman was 56.
Since then, their initial investment of $10 million has grown into a publicly traded homebuilder with a market cap of $550 million. Still, few outside the industry know the brand, because Green Brick Partners acquires builders who maintain their brand identity through retention of a minority stake.
The model allows Green Brick to provide diverse residential offerings while maintaining homebuilder reputations built over a lifetime. "We seek out builders who want the financial structure and security of a big company," Brickman says, "but also the entrepreneurial environment that made them successful to start with." —Kerry Curry
Mike Stacy
ID90 TRAVEL INC.
CEO
When Mike Stacy came to ID90 Travel in 2011, the company was in trouble. "We were burning through a lot of cash," Stacy says. "It was primarily because of the contracts we had with airlines. We were upside down on every transaction."
"More and more airlines are working with us."

Mike Stacy, ID90 Travel Inc.
He got to work. Stacy renegotiated the contracts, diversified the company's revenue stream, and set the business on the path to profit.
ID90 Travel, based in Southlake, offers technology-driven solutions that streamline airline employees' travel bookings. Today, 25 airlines have partnered with ID90 Travel and, since 2016, the company has enjoyed a compound annual EBITDA growth rate of 150 percent.
"We've become a one-stop solution," Stacy says. "More and more airlines are working with us, and more and more airline employees are using our system." —Tara Nieuwesteeg
Lance Crosby
STACKPATH
Chairman and CEO
After selling SoftLayer to IBM for $2 billion in 2013, Lance Crosby set out to explore another industry: cybersecurity. Three years later he launched StackPath, which offers a suite of cybersecurity services, with a $150 million investment and the acquisition of four companies.
Since then he's made another acquisition and merged with London-based Server Density. In between the M&A activity, he's grown StackPath organically by 40 percent, ending 2017 with a run rate of $250 million. "It's like changing the tires on a car during the NASCAR race and not pulling over in the pit stop," Crosby says.
StackPath—which employs 450 people (including 100 in Dallas), serves more than a million customers, and offers four services—is expected to offer 12 services by year's end. —Danielle Abril
Curtis Hite
IMPROVING
CEO
Curtis Hite and his partners started technology services firm Blue Ocean Group in 2006. The next year the young company acquired Improving Enterprises, and the name stuck. Today, Improving is an IT services and software development company offering training, consulting, and recruiting.
"With good intent, you usually have a lot to work with."

Curtis Hite, Improving
Part of Improving's core mission is to foster transparency and trust with its stakeholders and within its community. So far, that's gone a long way: the Plano-based company has been on the Inc. 500 or Inc. 5000 list nine times since 2009, and its annual revenue is approaching $70 million.
"Unfortunately, our field suffers from having a bad perception among CEOs," Hite says. "What I know for certain is that our intent is good. With good intent, you usually have a lot to work with." —Tara Nieuwesteeg
Rich Howe
INUVO INC.
Chairman and CEO
In 2009, Rich Howe received an offer to join a company that was $13 million in debt. The company, later named Inuvo, had problems—but it had potential, too.
"I saw some assets in the ashes," Howe says. "There were a few gems that a real successful business could be built on the back of."
Howe restructured, rebuilt, divested, and eventually paid back every penny of the debt. With the cleanup out of the way, he set about building the business.
Today, Inuvo utilizes artificial intelligence in targeted advertising, using technology to effectively connect advertisers with their intended consumers. The company is based in Little Rock, Arkansas, with a satellite office in California. With Howe at the helm, Inuvo is now an $80 million-a-year business. —Tara Nieuwesteeg
Eric Waller
MD AMERICA ENERGY LLC
CEO
For MD America Energy LLC, oil and gas equipment is vital to unearthing energy resources. But Eric Waller places even greater value on the Fort Worth company's human resources—its more than 40 employees.
"The secret to our success lies in the details of how one person's work connects to another person's work in respectful ways," says Waller.
At MD America Energy, every person's work relates to the company's core purpose: drilling and operating oil and natural gas wells in the Texas counties of Brazos, Grimes, Leon, and Madison. After wiping out $525 million in debt in 2015 and 2016, the company today is focused on making even more "remarkable things" happen by growing the company's share of the Texas and U.S. energy markets. —John Egan

Teresa Mackintosh
TRINTECH
CEO
When Teresa Mackintosh became CEO of Trintech two years ago, she was challenged to get a 29-year-old company up to speed. "I took a sleepy finance company that happened to do software and evolved it into a hip, cool software company that solves problems in finance," she says.
Trintech's software helps chief financial officers consolidate and streamline financials. Leveraging automatic system processes and analytics, the software aims to eliminate manual processes, allowing CFOs to focus on anomalies or greater issues that require human attention.
Since taking over, Mackintosh, a certified public accountant, brought in software developers to drive innovation and has doubled the company to generate more than $100 million in revenue and employ 500 people. She also tripled customers and now serves more than 275,000 clients. —Danielle Abril
Carl Wehmeyer
NIAGRA CONSERVATION CORP.
Executive Vice President
In 2000, then-18-year-old Carl Wehmeyer joined Niagara Conservation as a sales assistant, fielding calls and entering data. He moved into sales, then sales management. By his 21st birthday, he'd helped start wholesale and international sales departments.
"From a culture standpoint, we've always been very entrepreneurial."

Carl Wehmeyer, Niagara Conservation Corp.
"I don't think that, in a regular company, someone coming in that young would be given an opportunity," Wehmeyer says. "From a culture standpoint, we've always been very entrepreneurial."
Based in Flower Mound, Niagara is a conservation technology company that specializes in toilets, showerheads, and faucet aerators that reduce water usage without sacrificing performance. The company expects to log close to $182 million in sales this year.
"When it comes to stretching new limits and trying new things, we're constantly open," Wehmeyer says. "Everyone here is always on their toes." —Tara Nieuwesteeg
Stuart Archer
OCEANS HEALTHCARE
Chairman and CEO
While much of the U.S. mental healthcare system is focused on the needs of adolescents and adults in their prime, Oceans Healthcare focuses on older adults and seniors by helping them with Alzheimer's, depression, and other mental health issues.
Founded in 2004, the Plano company has 17 hospitals and 15 outpatient programs and is the largest provider of inpatient geriatric behavioral health treatment in Louisiana, and one of the largest in Texas. Expansion into more states is on tap.
Aging baby boomers, a reduced stigma surrounding mental health, and more citizens actively engaged in their health has translated into strong demand, Archer says: "There are very few communities that have adequate behavioral health systems. We are prioritizing our growth in areas where we feel we can make the biggest difference." —Kerry Curry
Kent McKeaigg
ORDERMYGEAR
Founder and CEO
After watching the pains his father experienced selling uniforms and gear to local teams and schools, Kent McKeaigg began working on a side project. It was 2008, and he had one thought in mind: streamline orders and payments.
McKeaigg initially bootstrapped the company, starting with just 15 customers willing to give his system a try. Today OrderMyGear serves more than 100,000 group stores and 2,000 team dealers, decorators, and athletic organizations. It employs 80 and generates annual revenue of $14 million. The company, which graduated from the VentureSpur accelerator program in 2013, recently raised $35 million from Susquehanna Growth Equity to add new products and services to its e-commerce platform.
McKeaigg's approach to business is, if customers don't win, the company can't grow. —Danielle Abril
Tony Ramji
VICTORY GROUP
President and CEO
Tony Ramji takes a high-touch approach to running Dallas-based Victory Group, a real estate company that has developed
1 million square feet of property in Dallas-Fort Worth. "We get into all aspects of our projects," he says. "We meet and greet all of our tenants. We know our subcontractors. We are hands-on."
Victory operates in seven verticals: retail, build-to-suit, urban, medical office, construction, entertainment, and restaurants, and brings its own equity to its deals. The company holds properties long-term, forming long-lasting tenant relationships. It's also vertically integrated with its own construction company.
"We take our time to hire people of really great character," says Ramji, who mentors aspiring entrepreneurs. "I think we owe it to people to give that time back and to share what we've learned." —Kerry Curry
Adam Teague and 
Tim Paslay
PLANK AND MILL LLC
Co-Founder/CEO and Co-Founder/Creative Director
After a few years making wooden bow ties, The Two Guys Bow Tie co-founders Adam Teague and Tim Paslay sought a new challenge. Paslay noticed the popularity of wood accent walls and began doing custom jobs. But he found that a business built around installations might be difficult.
"They were always a hassle and required a lot of time," he says.
Teague suggested minimizing the hassle: By adding adhesives to the backs of pieces of reclaimed wood, they could create a unique do-it-yourself experience that resulted in beautiful walls. In fall 2016, Tulsa-based Plank and Mill was born.
Turning a tough job into one that homeowners could complete themselves proved popular. In 2017, Plank and Mill generated $2.9 million in revenue. This year, Paslay expects the figure to hit $6.5 million. —Tara Nieuwesteeg
Richard Margolin
ROBOKIND
Chief Technology Officer
When RoboKind began in 2011, it aimed to use its facially expressive robots to equip autistic children with social skills. Since then, it has expanded into hundreds of schools across 28 states and several countries and launched new educational curriculum related to science, technology, engineering, and math.
"It's pretty early in terms of getting it out there," Margolin says. But "in the Dallas-Fort Worth area, we're expecting to surpass our autism programming sales within the 2018-2019 school year."
The Dallas-based company, which employs 25 people and generates more than $2 million in revenue, expects the new STEM programming to aid with the nationwide shortage in software developers. RoboKind is also venturing into curriculum to aid students' transitions from high school to college or the workforce, Margolin says. —Danielle Abril

Joey LaRocque
ROCKSOLID LLC
CEO
Former NFL player Joey LaRocque was helping a high school football team when two players were injured in a collision. California bans the use of contact equipment outside the regular season, so they weren't wearing protection.
"In football, you learn work ethic, attention to detail, how to become a team player."

Joey Larocque, Rocksolid LLC
In response, LaRocque created Rocksolid, a soft-shell helmet company. But he soon found another problem: Interest in football was declining. Kids played flag but often quit before progressing to tackle. LaRocque invented Flex Football as a bridge between the two. Now a platform experience company based in Frisco, Rocksolid helps kids grow their skills in limited-contact play.
"In football, you learn work ethic, attention to detail, how to become a team player," LaRocque says. "If we don't do something, that's going to go away."
Rocksolid isn't going away anytime soon. LaRocque projects his business will double this year. —Tara Nieuwesteeg
Scott Everett
S2 CAPITAL LLC
Founder and Managing Partner
Scott Everett doesn't think he has a "secret sauce" for his multifamily acquisition firm. But the fact that the 29-year-old has grown S2 Capital into a $1.7 billion portfolio that has renovated more than 18,000 apartment units across Texas and Florida since 2012 might say otherwise.
S2 looks for large, underperforming apartment complexes in metro areas, then buys and renovates the assets using about 70 percent debt and 30 percent equity, mostly in the form of private equity funds or wealth advisors. After spending its first few years focused exclusively on North Texas, S2 has expanded to Houston, Orlando, Jacksonville, and, soon, to Phoenix. Everett says he'd like to grow to 20,000 units in the next 12 months, but he's careful not to over-lever the company this late in the real estate cycle. —Julia Bunch
Alex Danza
VONLANE
Founder and CEO
Say this for Alex Danza, the savvy great-grandson of Ellis Island immigrants: He knows how to get things done. In 2017, for example, the founder of Dallas-based Vonlane—a first-class luxury bus service connecting five Texas cities—persuaded the state Legislature to allow alcohol to be sold aboard Vonlane's custom-designed buses. "That put us on an even footing with the airlines and the rail" companies, Danza says.
The company's fleet of 22-seat, 48-foot-long coaches should grow by 33 percent in 2018, he predicts, as routes increase to six and daily departures to 66 by year's end. With existing amenities aboard its buses like on-board attendants and meals, the 80-plus-employee company is in the midst of rolling out a new service for its business and leisure passengers: on-demand personal entertainment including games, movies, and TV shows. —Glenn Hunter
John Schmitz
SELECT ENERGY SERVICES INC.
Executive Chairman
You might say that 2017 was a gusher for Select Energy Services Inc. In April 2017, Gainesville-based Select, a provider of water-related services for oilfield operators, carried out a $122 million IPO. Seven months later, the company merged with Houston-based rival Rockwater Energy Solutions to form a company boasting combined annual revenue of $1.2 billion to $1.3 billion.
"Wake up excited, and go to bed satisfied with your company and your efforts."

John Schmitz, Select Energy Services Inc.
The corporate headquarters of the reconstituted company is now in Houston, but its operational headquarters remains in Gainesville. Schmitz, who founded the original Select in 2007, attributes the company's success to pinpointing and solving challenges faced by customers while also delivering "good returns for our equity owners."
It also helps that Schmitz embraces this approach: "Wake up excited, and go to bed satisfied with your company and your efforts." —John Egan

Frost Prioleau
SIMPLI.FI
Co-founder and CEO
Frost Prioleau recognized programmatic advertising—using software to purchase ads in real time—as a growing trend with potential, and launched Simpli.fi in 2010. At the time, the technology was mostly applied to national advertisers with large budgets. "Our focus was to see what solutions we can bring to the market that fit with smaller or localized advertisers," Prioleau says.
Simpli.fi, based in Fort Worth, utilizes its brand of programmatic advertising in two ways: One is with local businesses, like doctors or auto dealers. The second is with multilocation brands, like chain restaurants, that want to customize their ads to fit local needs.
Simpli.fi now has 80,000 live campaigns serving about 25,000 advertisers. The company expects to maintain a yearly growth rate of 50 percent. —Tara Nieuwesteeg
Josh Smith
SOLOVIS INC.
Co-founder and CEO
Founded four years ago, Solovis Inc. has tapped into what Josh Smith calls a "market within a market." Irving-based Solovis provides a cloud-based platform that helps the likes of pension funds, endowments, foundations, and family offices better manage their portfolios.
"If you are willing to step out of your comfort zone… magic can happen."

Josh Smith, Solovis Inc.
Smith says the offering was developed so that large-scale investors could rely on a technology platform tailored to their needs, rather than one that was merely a retrofitted "hand-me-down" from software vendors.
But it's not just Solovis's tailor-made product that his customers appreciate, Smith says:
"People don't want to be sold features or products. They buy understanding, partnership, relationship, and passion. If you have knowledge about your space, genuinely care, have made an effort, and are willing to step out of your comfort zone … magic can happen." —John Egan
Lance Taylor
STEWARD ENERGY II LLC
Founder, President, and CEO
In the topsy-turvy world of oil and gas, Lance Taylor puts a lot of stock in the ability to adapt.
In 2012 he founded Steward Energy LLC, which enjoyed success in exploring for oil and natural gas in West Texas's Delaware Basin. He sold the company two years later, before oil prices plunged.
Anticipating a longer-term drag on oil prices, Taylor bulked up his team and established Frisco-based Steward Energy II LLC. The company's second iteration employs modern techniques to drill beneath and beyond the boundaries of older oilfields in West Texas. "Most of our more well-known peers were racing to the deeper basins in West Texas," Taylor recalls. "Steward zigged when they zagged."
That pivot has generated "incredible economic results," he says, supercharging production to more than 15,000 barrels a day in just three years. —John Egan
Gene Scott
TRAVEL NURSE ACROSS AMERICA LLC
President and CEO
When GENE Scott took over as CEO in 2008, Travel Nurse Across America had 42 employees, 156 nurses on assignment, and revenue of $22 million. Then the recession hit. The bank called its note and line of credit despite no late payments, and the company had to lay off most of its employees. Revenue dipped below $8 million, and investors considered shutting it down.
Ultimately, though, a core group of investors infused capital into the agency. Today, TNAA has revenue of $200 million and a workforce of 225, two-thirds of whom work remotely. That's a strategy born of the recession that enabled TNAA to scoop up talent without requiring employees to move to its Little Rock headquarters. "It's been great in terms of diversity and life-changing for the people we hired," Scott says. —Kerry Curry
Get the D CEO Newsletter
Stay up to speed on DFW's fast-moving business community with weekly news reports, interviews, and insights.