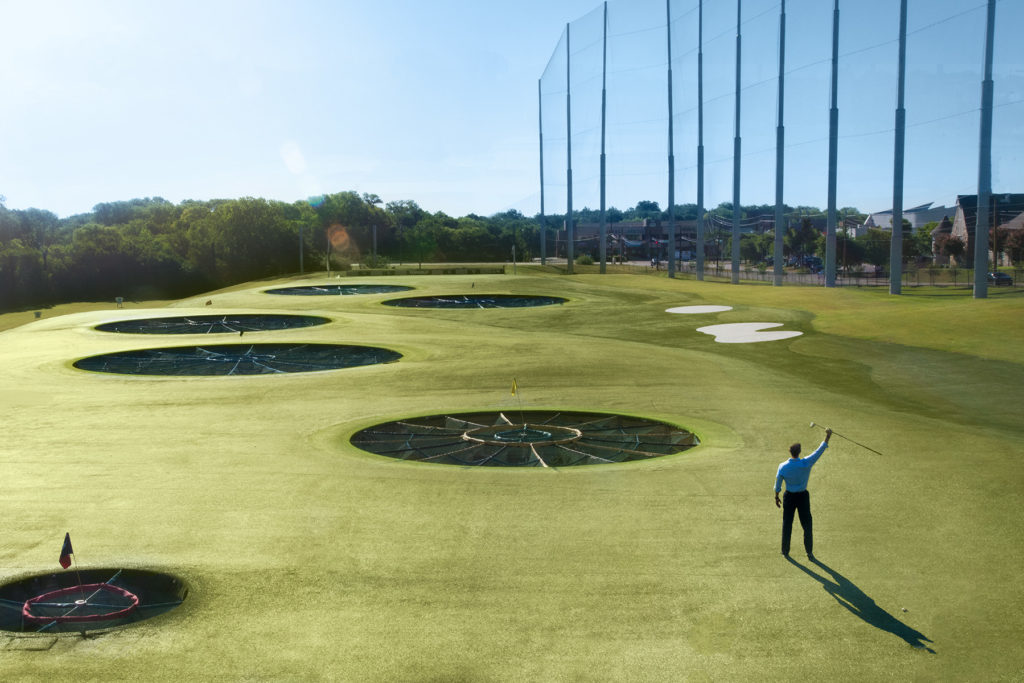 Topgolf Gives New Life to an Old Game
How Dallas-based Topgolf conquered suburban entertainment—and changed the ancient sport forever.
Behold the future. It's a platform two stories off the ground, with gaping views of an endless night sky, all accented by the glowing hues of bright purple LEDs. In the distance, faint spires line the horizon, each stretching nearly 200 feet into the air. The surface below is covered in a smooth, green field of artificial turf, and there are screens visible in every direction. Hundreds of glimmering flat screens, some as small as a tablet, some as wide as a living room wall. A few show live broadcasts of sports—tonight it's basketball, baseball, hockey, and mixed martial arts fighting—and a few show movies and TV shows. Other screens display graphic visualizations depicting the final locations of the micro-chipped golf balls people are hitting off the platform.
The latest pop music pulsates from crisp new speakers on the walls, thumping loud enough to inspire some dancing, but not so loud as to drown out conversation. Strangers, hundreds of them, are laughing and drinking and eating and playing a game that didn't exist a generation ago.
This futuristic driving range-cum-nightclub is also almost inconceivably massive. There are dozens of hitting bays on this floor, each with enough chairs and couches and tables to comfortably seat an extended family, and dozens more on the ground floor. And, every bay is occupied. There's a restaurant with a bar behind the bays, and every seat there is taken, too. Same goes for the other restaurant, downstairs. There are also groups gathered on couches around fire pits.
For brief moments, it feels like another planet. But this is a Friday night in suburban North Dallas. It's not just here, though. The same scene is playing out in Fort Worth, Allen, The Colony, and in affluent areas all across America.
Welcome to Topgolf.
If you've somehow never heard of Topgolf, it's the ridiculously fast-growing, family-friendly entertainment destination drawing the attention, time, and money of millions of American suburbanites. According to figures from the Dallas-based company, Topgolf locations  host an average of 35,000 people every day—more than 12 million a year. And, even as the popularity of traditional golf continues to decline, the number of people going to Topgolf keeps steadily climbing. Already there are more than 40 locations around the U.S. and the United Kingdom, and at least 20 more expected to open within the next two years, including sites in Mexico, Canada, Australia, and the United Arab Emirates.
"They really have reinvented golf and driving ranges. Whatever you're looking for, it's offered here."

Troy Aikman
The company's live events and promotional materials often feature famous athletes and A-list celebrities extolling the virtues of the Topgolf experience. Singer and actor Justin Timberlake has been photographed hanging out at the Las Vegas location, for example. Golfing legend Greg Norman has said the company is "a breath of fresh air for the game of golf." Former Dallas Cowboys quarterback Troy Aikman went further. "They really have reinvented golf and driving ranges," he said. "Whatever you're looking for, it's offered here."
Topgolf is a privately held business, so exact figures detailing its operations and finances are hard to come by. But in 2016, Financial Times reported that investors valued the company at about $2 billion, and put its 2015 revenue at roughly $300 million. At the Dallas location, watching group after group after group ordering meals and rounds of drinks and playing games for hours, it's impossible not to think about the enormous amount of money flowing through here every night.
There are young couples out on dates. There are groups of multiple couples out together. There are groups of work friends and groups celebrating birthdays.
Some of the men and women hitting balls toward the giant glowing targets in the artificial turf have clearly done this before. A few look like they could dent a toaster at 200 yards. But there are also plenty of people here who look like they can barely get out of the way of their own swings. For every golf ball sent soaring in a majestic arc through the night sky, there's at least one that barely dribbles out of the tee box. Especially as the alcohol kicks in, there are also people who rear back for a giant swipe and then whiff the ball.
Regardless of skill level, though, in bay after bay, from one end of this hulking edifice to the other, the patrons are smiling and joking and snapping photos. They're sharing moments, the company contends, making memories they'll carry long after they leave here tonight.
New Take On An Old Sport
For hundreds of years, humans have derived a deep satisfaction from the act of using a stick to hit a ball into a hole. Even before golf as we know it today took root in 1400s Scotland, cultures around the world had various games involving balls being whacked over terrain by different club-like objects. What's happening at Topgolf is just a uniquely 21st century take on the ancient sport.
Sprinkled across the synthetic green range at every Topgolf location is a series of oversize circular targets. Imagine dart boards, varying from 15- to 90-feet wide, flat on the ground. Microchips in the balls track how close they come to these targets. So some people, the most dedicated linksmen, come to hone their golf game. Most of the people in the hitting bays, though, are competing against their cohorts for accuracy and distance. Participants can accrue points by hitting the targets—the further and smaller the target, the more points you get. The game, essentially, is a digitized form of golf.
Since the financial crisis of 2008, around the same time Tiger Woods stopped winning big tournaments, participation in what Topgolf execs refer to as "green-grass golf" has dropped every year. That kind of golf, played on traditional courses, has long been associated with wealth and luxury. A large percentage of the most passionate players are older men. But the economic recovery of the last decade has been disproportionately unkind to younger people. So as older golfers have died, there have been fewer young players with the means to replace them. Enter Topgolf, which says 70 percent of its clientele is 34 years old or younger. (And about a third are women.)
Dolf Berle, the CEO since January of Topgolf USA and its holding company, Topgolf Entertainment Group, is lean and athletic. He lives in Dallas now, but he grew up in a farming community in western Massachusetts, where golf really didn't factor much in life. "I had an impression that golf was aristocratic and not for the masses," he says.
Berle goes out of his way not to, as he says, "offend traditional golf." About half of those 35,000 people visiting Topgolf every day don't play golf regularly—but the other half do. Plus, the company has a number of partnerships with other golf brands. So a positive relationship with the world of old-school golf is vital. The way Berle sees it, Topgolf has taken an otherwise expensive game—equipment costs and greens fees can easily reach thousands of dollars annually even for lukewarm duffers—and made that game available to a larger swath of the general public.
"People come to Topgolf to be together. We're passionate about that."

Erik Anderson
The company works to maintain aspects of luxury, too. It's not just the 200-plus flat screens in each venue. Every hitting bay also has ball-delivery technology that allows players to summon a new golf ball with a wave of the club. Every surface seems to have a sheen. Every drink comes in a glass—never a plastic cup.
Each location has a slightly different menu and chefs are encouraged to experiment, catering to local tastes. Think flatbreads, sliders, salads, and cream-filled donut holes. The food isn't necessarily the kind you'd recommend to a friend visiting from out of town, but it's on par with, or better than, most of the ubiquitous chain restaurants bunched at intersections next to the highway. It's not cheap, either. Two people ordering meals and a few stiff drinks can drop $100 before they hit a single ball.
Topgolf also has all manner of revenue-generating ancillary operations: ball-tracking technology licensed to other driving ranges, portable versions of the Topgolf experience the company can roll out at NFL stadiums and music festivals, an entire entertainment arm producing branded reality TV shows that stream online. There's also a Topgolf league, with an annual championship held at the gigantic flagship location on the Las Vegas Strip.
An 'Antidote to Loneliness'
The offices of the Topgolf corporate headquarters are at 8750 N. Central Expressway, across from NorthPark Center. The lobby is as polished and design focused as the venues. Floor-to-ceiling windows present a bird's-eye view of the dense sprawl that goes on for miles in every direction. The furniture is made of leather and glass, and a coffee table has all the latest issues of several golf magazines laid out in perfect symmetry. One wall has the Topgolf logo shaved into slick green artificial turf. A map on the opposite wall has light bulbs marking the company's sites across the world.
At the end of a long white hallway sits the man most responsible for driving Topgolf's growth. Erik Anderson has a wide smile and spiked silver hair. He's wearing black jeans, a blue shirt, and a simple black jacket. On the desk in front of him is half a tuna sandwich and an unopened bag of Doritos. He's the founder and CEO of WestRiver Group, the investment firm that controls a majority share of Topgolf, and the executive chairman of Topgolf Entertainment Group. He's the visionary.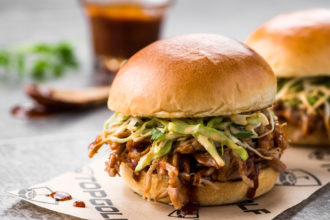 Anderson lives in Seattle but he's on the road more than 200 days a year. In the last 30 days alone, he explains, he's been to London, Geneva, Stockholm, New York, Las Vegas, Orlando, and San Francisco. He usually spends four or five days a month in the Dallas office, but he doesn't handle any of the day-to-day challenges the company has to face. He's busy thinking about the problems the company might face 10 years from now. He's focused on the ephemeral intersection of  the hypothetically feasible and the fundamentally necessary. A few months ago, Golf Inc. ranked him No. 8 on the list of "Most Powerful People in Golf." Anderson was seven spots behind the top name, President Donald Trump.
Asked about what's prompted the company's dramatic growth over the last few years, he picks up a red marker and approaches the white dry-erase board on the wall behind his desk. Soon it's covered with concepts and trends and ideas that have all been building and intertwining over the last 20 years.
As the story goes, the original incarnation of what would become Topgolf was the brainchild of twin brothers from a suburb of London. In the late 1990s, Steve and Dave Jolliffe wanted to sharpen their swings and improve the overall driving range experience—the same way movie theaters and bowling alleys were upping their games. The first location opened in Watford, not far from London, in 2000. Then came two more, also in the U.K. Within a few years, a friend of Anderson's told him about this unique investment opportunity.
At the time, Anderson wasn't thinking about how to reinvent the game of golf, how to make it accessible to people who'd otherwise never pick up a club. It was a purely mathematical decision. Soon Anderson's company made a deal with the brothers to bring Topgolf to the United States.
"I could see the numbers," he says.
These days, Anderson talks a lot about creating a culture of humility and enthusiasm, where Topgolf's 16,000 employees are all encouraged to "create moments" for their customers. It's soon clear, though, what he's really been thinking about for the last two decades: the future.
Anderson is chairman of Singularity University, the Silicon Valley think tank dedicated to educating leaders about the exponential nature of modern technological innovation. One of the Singularity concepts that comes up often at Topgolf is the idea that digitizing something—the way Topgolf did with golf—allows that thing to grow in exponential ways. He says he could see certain "macro trends" emerging: "It was aggregating community, making it authentic, extending it digitally, bringing people together, finding purpose."
He realized that as more people work remotely, and more people live more of their lives online, our society allows for fewer opportunities to come together. And he saw that Topgolf could help do that. "We're connecting people in meaningful ways," he says. "People come to Topgolf to be together. We're passionate about that."
Berle, the CEO, says the company is "the antidote to loneliness."
Another Singularity idea that comes up frequently here is the role of screens. How they allow people to consume multiple streams of entertainment simultaneously. How entire generations have grown up interacting intuitively with screens.
Anderson also makes it clear that he isn't afraid of traditional competition. At least not from the likes of the Dave & Buster's up the road, or the handful of new Topgolf knockoffs he's seen popping up recently. Each new Topgolf facility requires a reported investment of about $18 million, and he knows not many companies can operate on that scale.
No, the true competition comes in the form of something else Anderson has written here on the white board: the attention economy. The threats to Topgolf, he contends, are things like Netflix and Fortnite, a videogame his teenage son plays for hours on end.
At one point, he takes off his jacket and sits back down at the desk. He says Topgolf still has a lot of room to grow. The company's goals for the next decade include more than 100 new locations in the U.S. and more than 100 new international sites, too.
If they create enough moments, he believes Topgolf could become one of the biggest, most important brands in the world.
Crowded Scene
Back at the Topgolf location in Dallas, all of the concepts Anderson has talked about are on full display, beneath the thumping music. It's past 10 p.m., and the place is still packed. A young couple that was getting close as they stood over the golf balls has put down their clubs, and now they're posing for the perfect selfie in front of their half-eaten cheese fries to commemorate the occasion. A gathering of business types on the second floor has begun to mingle with the outliers of what looks like an extended family birthday party.
Two men who had been drinking at the bar are told that their hitting bay is finally open. A host, an enthusiastic young woman in a blue polo, leads them on a long journey across the second-floor platform. Their assigned bay is near one of the ends, so the walk takes several minutes. As they get closer, one of the men presses one of his palms to the other and rubs them together in anticipation of what's about to happen.
As the night ticks forward, each group is eventually done hitting balls. They finish the last of their drinks and their desserts and make for the door. But even as they head toward their vehicles and back home to their everyday lives, more cars are pulling into the parking lot. And those cars, Topgolf hopes, are full of people ready to create some new moments themselves.