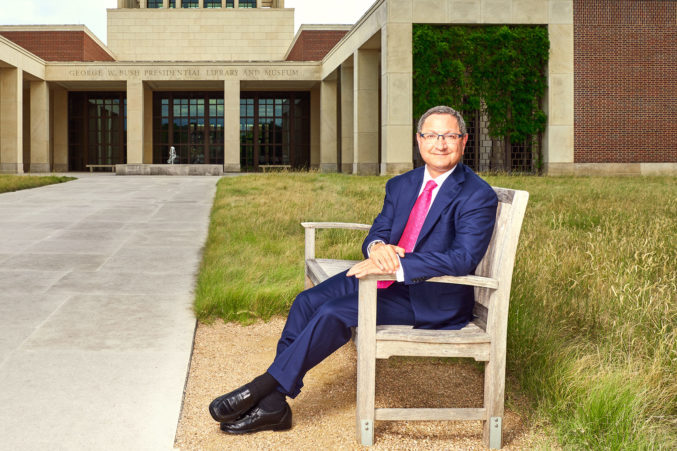 Backing George W. Bush
Ties to the former president have paid off for Kenneth Hersh, the leader of the George W. Bush Presidential Center.
When Kenneth Hersh first met George W. Bush in 1989, Bush was a mildly successful oilman from Midland, and Hersh was a fledgling entrepreneur who had just co-founded an energy investment fund called Natural Gas Partners. That year, Bush was working with legendary financier Richard Rainwater to buy the Texas Rangers, and Hersh was running NGP from an office owned by Rainwater, his fund's primary backer. Bush "would come around to the office, and we'd talk Midland oil deals and baseball," says Hersh, who grew up in Dallas and graduated from St. Mark's.
At the time, Hersh couldn't decipher a chromatogram or comprehend the other petrophysical measures that can pinpoint energy deposits underground. But he was still somehow placing good bets on energy firms that did understand all that highly technical stuff. He'd eventually help build NGP into an energy industry behemoth that has backed $17 billion worth of deals as of this year. And, of course, in time, the Rangers deal would catapult Bush into a political career that culminated in his two-term presidency.
Now, Hersh is devoting most of his personal energy to ensuring Bush's legacy will outlive the former president. Last March, when Margaret Spellings was named president of the University of North Carolina, Hersh took over for her as CEO of the George W. Bush Presidential Center in Dallas.
Hersh remains an advisory partner at NGP and a senior adviser for The Carlyle Group—a firm that has long been connected to both Bush and his father, George H.W. Bush. He's also a director of the Texas Rangers and is active with his personal fund, Hersh Family Investments. But even with all that work, Hersh is spending at least four days a week at the Bush Center on the Southern Methodist University campus.
There, he's finding that the for-profit and not-for-profit worlds have plenty in common. "We need to articulate and try to quantify the results of our work," he says. "And we need to build engagement because if people feel engaged, they make an investment. That is not that different from building an investor base."
What is different is the product—the Bush Center's work on a variety of causes, including an effort to help veterans more easily transition to civilian life. The oil paintings of service members Bush has created are a part of that. But the center's product is not Bush himself, Hersh says.
Don't get him wrong. Hersh is expecting to nurture his relationship with the 71-year-old Bush: "But the Bush Center still has to plan for the future, to take the momentum the President and Mrs. Bush have established, and continue it without relying on them leading the way."