Barclay Berdan, the CEO of Texas Health Resources—typically a genial type—has had to shed some of his mild manners in recent days. It's December and he's sitting in an executive conference room at the hospital system's Arlington headquarters. Days earlier, Blue Cross Blue Shield of Texas, the state's largest insurance plan, announced that the two had come to an impasse. THR's hundreds of hospitals, clinics, and surgery centers would no longer be in-network if the two couldn't come to an agreement by the month's end. This is not uncommon in health insurance negotiations, but this one seemed a bit more bitter, maybe even hopeless.
Blue Cross argued Texas Health had asked for a $57 million price increase, and the insurance plan refused. It amounted to, roughly, 5 percent of the entire contract. Blue Cross' chiefs dialed the media minutes after Berdan walked out of the meeting. "As the defender for low-cost care in Texas, Blue Cross Blue Shield of Texas did not feel it was wise to accept the demand," declared Paul Hain, the plan's North Texas president. Berdan issued a gloves-off statement, advising readers to take the claims "with a truckload of salt."
They mended their fences on Dec. 29. But the public snafu was the first time that outside concern over Texas Health's recent business strategies bubbled to the surface in a way that could affect patients. By market share, it's the largest provider in the region, and, in the past two years, no health system in Dallas-Fort Worth has expanded as aggressively as THR.
It has acquired new hospitals in Carrollton and west Fort Worth as well as more than two dozen First Choice freestanding emergency rooms from the publicly traded Adeptus Health. It has grown its behavioral health segment into what it says is the largest in the state, all concentrated in North Texas. Texas Health launched its own health plan alongside Aetna. And, perhaps most significantly, the system created an integrated delivery network with UT Southwestern Medical Center, which it has coined Southwestern Health Resources. It includes around 3,000 physicians, 31 hospitals, and hundreds of care sites. "We're not really helping communities achieve a lasting status of health; it's much more episodic," Berdan says. "We wanted to be much more engaged, and part of being engaged is reaching out both horizontally in the continuum and vertically in the continuum."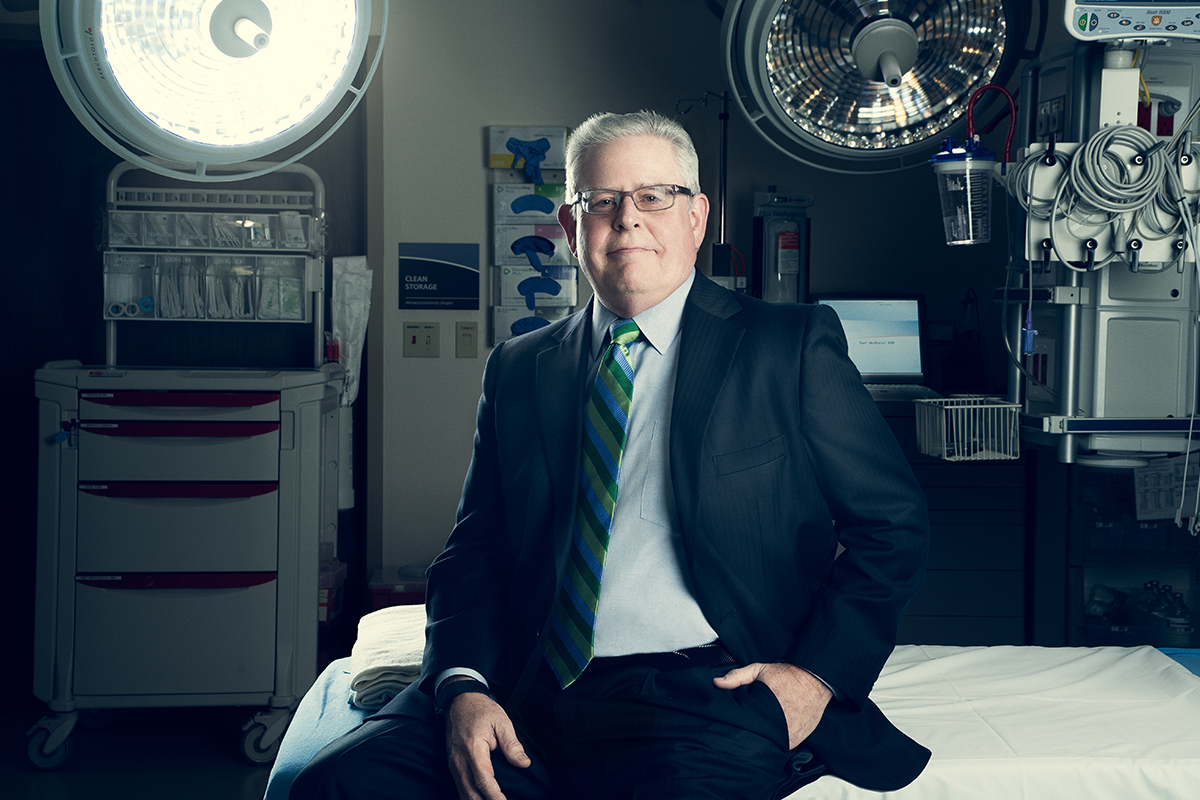 In other words, slow the hospital game and enter communities by other means. Berdan illustrated the challenge posed to health systems by strip mall imaging centers, urgent care facilities, and those freestanding emergency rooms—the overhead is lower and hospitals struggle to compete without boosting patient volumes. And so THR waded into those settings, pursuing in some cases acquisitions and in others joint ventures. "It's a way to manage the transition over a period of years and begin to get the price down," Berdan says.
And it has proven successful with public payers. Southwestern Health Resources generated $33 million in savings among the Medicare population for the government's Shared Savings program. It plans on entering more aggressive federal contracts that require the network to take on more risk. But Berdan says it's not finding the same opportunities commercially. It's developed a number of bundled plans for high-volume procedures like joint replacements and back pain. Texas Health posits a flat rate for the entire course of care, from diagnosis to rehabilitation, which incentivizes efficiency. But often the majority of commercial contracts reimburse for volume instead of outcomes.
The origin of forming its own health plan, Berdan says, was finding a lack of support for the bundles. Aetna, he says, has the infrastructure to pull such a thing off. And the pairing with UT Southwestern links Texas Health's sizable primary care base with UTSW specialists across the entire region. That there's some commercial resistance could be an effect from large-scale alignments being flagged by study after study citing higher costs. Another problem: The private payers have existing contracts with THR and UT separately. Among other concerns, Blue Cross didn't understand the value of contracting with Southwestern Health Resources. "The question is, can you in fact generate enough new business with this network or do the payers just say, well, what are you doing that's different?" says Minnesota-based analyst Allan Baumgarten, who has studied hospital profitability in North Texas for more than 20 years. "What value are you adding, and why is it worth it for me to contract that way?"
But to Berdan, that is precisely the value: "We take their physician network and our physician network and put them together in a clinically integrated structure so that the processes and systems support those types of activities driving toward better outcomes, lower waste."
And he knows he'll have to prove that.
Get the D CEO Healthcare Newsletter
Stay informed with a detailed weekly report on DFW's evolving healthcare industry.