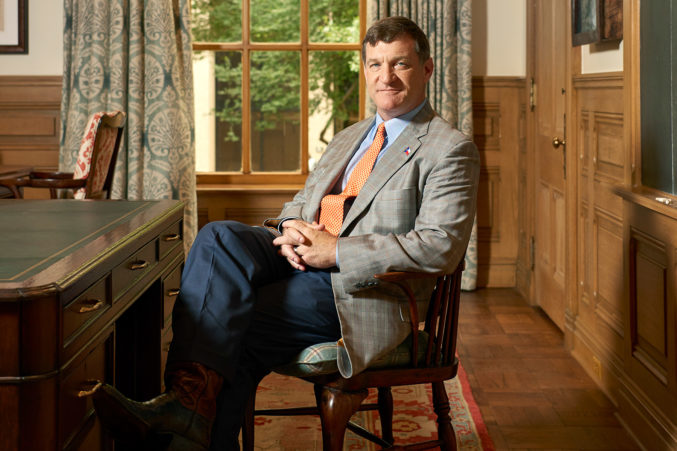 Why You Need to Know George Seay
The chairman of the Texas-Israel Chamber of Commerce on developing a stronger economic bond with Israel.
Why You Need to Know Him: Because he's just taken over as chairman of the Texas-Israel Chamber of Commerce, which is seeking to jump-start Texas' "highly underleveraged," nearly $2 billion trade relationship with Israel.
George Seay says his Annandale Capital, a global investment company that manages money for families, institutions, and high-net-worth individuals, just had its best year ever. That's one reason why Seay, 50, had to think long and hard when Toba Hellerstein, executive director of the Texas-Israel Chamber, lobbied him over a nearly four-month-long period to become the group's new chairman.
Finally, in June, "I agreed to do it," Seay says. "It's a juggling act, but the chamber is one of my big focuses now."
Seay says he's intent on expanding the board of the chamber, attracting more Texas members with significant business interests in Israel—like AT&T.
The Dallas-based organization, which traditionally has aimed to be the primary source for economic development between Texas and Israel, is thinking a little bigger these days. In a news release announcing Seay as the new chairman, the chamber said it is "now slated to be the most influential organization promoting win-win economic ties between Israel and the U.S." Seay himself added that the chamber would be seeking to make Texas industry the primary beneficiary of cutting-edge Israeli innovation—and to "closely align Texas-Israeli economic and strategic interests."
Seay (pronounced "see") may be the ideal person to pull it off. He's a super-connected seventh-generation Texan, the grandson of Bill Clements—the first Republican governor of the state since Reconstruction, who served from 1979-1983 and again from '87-'91. Seay maintains his foundation office in the historic Cumberland Hill School Building on Akard Street, which once was the headquarters of Clements' SEDCO company, the world's largest offshore drilling company at the time.
Seay grew up in Dallas and attended Highland Park High School, where he played football and was student council president. He earned a bachelor's degree and an MBA at The University of Texas at Austin and graduated with a J.D. degree from Southern Methodist University. After working as an attorney in the Dallas office of Locke Purnell Rain Harrell, he founded an investment firm called Seay Stewardship and Investment Co. in 1998 and then Annandale seven years later.
Seay's other grandfather was one of several prosecutors at the Nuremberg Trials, where the Allies prosecuted German leaders for crimes they'd committed during World War II. Seay describes himself as an "evangelical conservative" and an enthusiastic proponent of Israel, a nation of nearly 9 million people and the world's only Jewish state. "Israel has got to be one of the five most important bilateral relationships we have, along with Great Britain, Russia, China, and India," Seay says. "It's so important to the stability of the Middle East. I think I can make an impact in terms of common ground and the interests we have."
As an example of those common interests, Seay points to Houston-based Noble Energy, whose Leviathan Field off the Israeli coast is one of the largest offshore natural-gas fields in the Mediterranean Sea. Texas companies could have the opportunity to build a pipeline to Europe from the field, Seay says.
Another shared interest, he says, is in water technology, where Israel is a longtime global leader in the desalination process. Israel's experience in this area could benefit Texas, which is no stranger to droughts and water crises, Seay says, adding: "Israel has a vibrant technology industry, and the chance for U.S. companies to get a piece of the action is good."
The chamber has been active this year. In May, it joined with the Israeli Ministry of Economy and the Meadows Center for Water and the Environment for a conference on Israel-Texas water collaboration. In October, Seay was scheduled at presstime to address a Dallas meeting of the Israeli Family Office & Wealth Management Conference about investing in oil and gas. And the chamber is planning something called the Israel Cyber Security Technology Showcase, focusing on cybersecurity and the Israel-U.S. security relationship, for 2018. That event could attract hundreds of key cybersecurity leaders from industry and government.
Meantime, Seay says he's intent on expanding the board of the Texas-Israel chamber, attracting more Texas members with significant business interests in Israel—like Noble Energy, for example, or AT&T, which operates its only research-and-development Foundry facility outside the U.S. in Ra'anana, Israel. One new member on the board is Tom Luce, the prominent Dallas lawyer, who's known Seay for nearly 20 years. Says the chamber's new chairman: "Life's too short to do these civic/nonprofit endeavors unless you move the needle."