Why You Need to Know Her:
Because she leads the largest regional women's fund in the world—the influential and high-impact Dallas Women's Foundation. During its three-decade run, the organization has granted more than $30 million to help create opportunities and solve challenges for women and girls in North Texas.
Dawson Thompson comes from a long line of strong females. Her grandmother on her father's side, a minister's wife who advocated for gender equality, established the first all-female dormitory at Baylor University. Her other grandmother, who raised four children on her own, sold cosmetics to provide for her family after her husband abandoned them. That left Dawson Thompson's mother to care for her siblings while still a high school student. Her mother went on to become an active community volunteer, taking a special interest in groups that aimed to improve the lives of women.
Those efforts inspired Dawson Thompson to do the same. She joined the board of the Dallas Women's Foundation in 1988, just a few years after the organization was formed. As she built a career in marketing, Dawson Thompson also held leadership roles in numerous North Texas groups, including Girls Inc. of Metropolitan Dallas, Junior League of Dallas, and YWCA. In 2011, she decided to leave the marketing firm for which she was a name partner to work full time for the Dallas Women's Foundation as its president and CEO.
She hit the ground running, developing and executing a new strategic plan to increase the group's impact. Special emphasis was placed on supporting female-led households, with the goal of using multiyear grants to help 16,000 such North Texas families achieve economic security by 2021. So far, $4.1 million has been invested toward the initiative, a solid start to what the organization believes will be $15 million over a nine-year period. Beyond financial support, grantees across North Texas exchange ideas to help improve their programs and expand successful ones, Dawson Thompson says. The mission is to incite "truly meaningful change in North Texas and around the state," she says. "We're not only confident that the numbers are there, but the impact is also there."
Research shows that 30 percent of all households in Texas are women-led, yet they represent 53 percent of households living in poverty. That lack of economic security matters not only to those women, but to their children, too. "If we can do anything to address the security of women's households, we could make massive profound change," Dawson Thompson says.
In 2014, the Dallas Women's Foundation released a study that identified four building blocks of economic security for women: education, childcare, health insurance, and housing. The group presented case studies and statistics and also offered potential solutions to strengthen the four blocks throughout North Texas. A second edition of the study will be released in January. Along with updated statistics, it will address the launch of the childcare access fund. Through this initiative, $2.6 million is being invested over the next three years to improve access to affordable, quality childcare for employed women on a wait list for state subsidies. As of July 2016, this bridge program has helped 135 families, Dawson Thompson says. "For every dollar we've put into it, women [see a benefit value of] $4.39," she says. "The economic return of investment here is huge. Knowing the children are in a safe environment and in high-quality care is a true triple bottom line."
Another key initiative is gender equity in leadership. The organization's research suggests workplace inequality persists until women comprise about 30 percent of a company's leadership ranks. Once this milestone is reached, differences in pay start balancing out. The Dallas Women's Foundation provides advocacy and supports public policy in this realm. It also funds programs that promote female leadership at public and private companies.
Things are trending in the right direction. More companies are starting to put women in positions of power, and more opportunities exist to help women create their own wealth, Dawson Thompson says. "If women invest in businesses that benefit women and use the financial power that we control, we can make some changes."
Her organization's work is made possible by a generous and involved community, including the Dallas Women's Foundation's 19 founders  who have remained active since 1985. "It's very rare to be in a community that is so philanthropically focused as Dallas," Dawson Thompson says. "There's a history of keeping close those who have made this organization. Their sense of investment and belief in our mission is one of our greatest strengths."
DWF Grant-Making, 2015
Total amount granted: $4 million
Total grants awarded: 159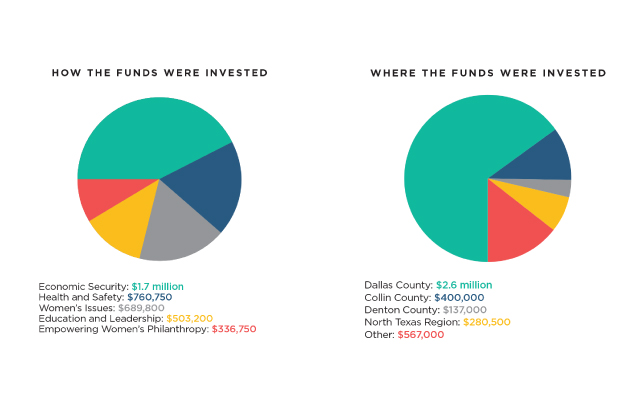 Get the D CEO Newsletter
Stay up to speed on DFW's fast-moving business community with weekly news reports, interviews, and insights.