At 10 a.m. sharp on a recent Friday morning, a dozen passengers are on board Vonlane's Prevost motor coach as we pull away from the DoubleTree Hotel on Mockingbird Lane, bound for a 1 p.m. arrival in Austin. The full-size, $750,000 bus is spacious and comfortable, with amenities including 16 premium black-leather seats, satellite TV screens on both sides of the aisle, free Wi-Fi and food and drinks, and a six-seat conference room in the rear.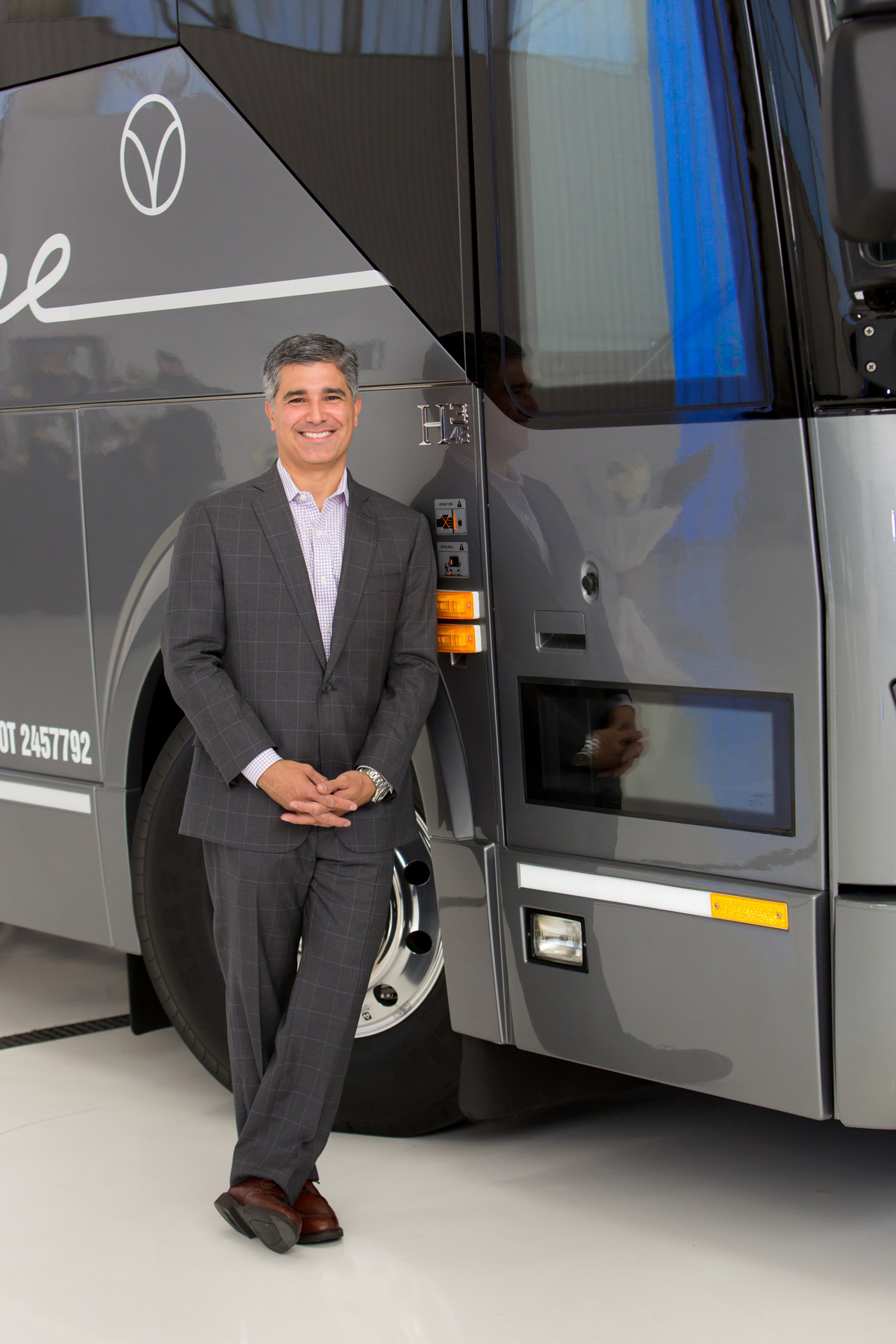 Vonlane's first-class bus service is aimed at businesspeople traveling between Dallas and other big Texas cities—especially the likes of attorneys, accountants, and lobbyists who bill their time. Among the passengers today is J. Coley Clark, a former CEO of Irving-based BancTec Ltd. who's headed to the University of Texas at Austin for a board meeting of the Longhorn Foundation. Just now Clark is relaxing in his reclining seat, casually perusing The Wall Street Journal. Nearby, another passenger's smartphone rings: "Hello, Mike?" he says, and then, "I think we need to be a little more clear in the analysis. Other than that, everything looks good." As we roll into heavy traffic on I-35E toward Waco, a woman asks onboard attendant Sarah Moore if she has any decaf coffee. Replies Moore: "I do."

There's not much they don't have on Vonlane, the latest transportation company to enter the market for passenger service between the state's major metros. Touting more convenient, stress-free alternatives to the commercial airlines, an aviation firm called Rise jumped into the regional Texas travel market this year with private-airplane service that uses a recurring revenue model. Talk also has ramped up about a bullet train between Dallas and Houston. "Texas weathered the Great Recession very well, and people are moving between these cities quite a bit," says Vonlane President and CEO Alex Danza, whose company started four daily weekday departures between Dallas and Austin last year and recently added two daily departures to Houston to its weekday service.  

Danza, a former top executive specializing in high-end ground-transportation service for private-jet companies, says he came to realize there was a dearth of reliable, upscale, short-haul transportation offerings for luxury customers. So he moved to fill the void. "We found that industry was underserved—under-capitalized, with old vehicles and poor customer service," he says. The result is Vonlane, which Danza owns with one other main investor—together they have 70 percent of the company—and a handful of "angels." The enterprise now operates three of the Canadian-made Prevost coaches, with three more on order. Vonlane buys the buses new, as shells, before retrofitting them with the luxury amenities at Amadas Coach, a conversion manufacturer in Virginia. Vonlane also makes the 16-passenger buses available to outfits like Dell, Baker Botts, and Studio Movie Grill for private charter use. 

Danza contends the Vonlane non-stop service between Dallas and Austin and Dallas and Houston, which costs $100 each way, is less expensive than Southwest Airlines—especially for last-minute business travelers. He also says it's about a push time-wise, once time is figured in for airport parking, security lines, pre-board wait times, deplaning, and entry into ground transportation. Passenger loads on the Dallas-Austin route have been averaging 55 percent, he adds, and the young company, which employs about 20, is on track to rake in at least $1 million annually.
"People are moving between these cities quite a bit."
Alex Danza, Vonlane CEO By 11:30 a.m. on this recent Friday we're nearing Waco, and Clark is heading for the back of the bus. There, he finds the conference room with a fold-down work table, three TV screens showing Fox News or ESPN, and multiple outlets for electronic devices. "This is the greatest way to travel, I think," says Clark, who's made several trips to Austin on Vonlane. "I've been telling everybody I know to use it." 
An hour and 45 minutes later we pull into the Hyatt Regency on Austin's Barton Springs Road, where Clark departs quickly in an Uber car for his afternoon meeting at UT. The bus parks at the hotel for a short while before loading up and beginning the return trip to Dallas at just past 2. This time, there are 11 passengers on board. Crawling north in heavy traffic along I-35, Moore comes on the intercom to announce, "We're going to be taking Highway 290 to the 130 tollroad and then back to I-35, because there's a wreck up ahead." She spotted the vehicle accident around Round Rock on her smartphone app, she explains, adding: "We are your GPS!" By 5:15 p.m., we're back in the heart of Dallas, threading our way in rush-hour traffic toward our starting spot at the DoubleTree. The bus pulls into the driveway there at 5:32. Asks Moore: "Do you need a taxi or anything?"
It's service like that, says William D. "Tex" Gross, chairman of Dallas-based Commerce Street Holdings LLC, that has made him a Vonlane fan. "I have offices in Austin, so I use them once every two weeks or so," Gross says. "The luxury and comfort of the bus is unmatched. I can work on my iPad or make calls during the ride, and the staff is perfect. It's really the only way to fly."   
Get the D CEO Newsletter
Stay up to speed on DFW's fast-moving business community with weekly news reports, interviews, and insights.