Randy Watson, chairman and CEO of Western bootmaker Justin Brands, didn't grow up in cowboy boots. In fact, his footwear of choice as a child, teenager, and college student was the tennis shoe. As an athlete who aspired to reach the pinnacle—Major League Baseball—he also spent a good deal of time in cleats. But all that would change beginning in the spring of 1980. Watson was wrapping up his senior at the University of Houston, where he played ball and studied business technology on an athletic scholarship. He needed a summer job to finance his travel to various professional baseball tryouts in pursuit of his MLB dreams.
He found a retail gig at Don's Western Wear in Houston, a 10- to 15-minute drive from the soon-to-be famous Gilley's honky-tonk. It was the summer that the movie Urban Cowboy, starring John Travolta as Bud and Debra Winger as Sissy, was released in theaters. The movie, with much of its drama centered around the mechanical bull at Gilley's, spawned the Urban Cowboy movement, which brought country music and Western wear to the metropolitan masses.
Watson, who says he has seen the movie more than once, picked a prime time to work at a Western store. "The boot business was at its peak," he recalls. "I was having a great time in the store."
Higher-ups noticed his enthusiasm, some of which stemmed from Watson's belief that the job was just a temporary engagement en route to the major leagues. Summer drew to a close, though, and the call to professional baseball never came. But an offer to enter the management ranks did, as the assistant store manager at Don's.
"I took it and fell in love with the Western industry and the lifestyle," says Watson, leaning back and stretching out his 6-foot, 3-inch frame at Justin Brands' Fort Worth headquarters. (The tennis shoes are long gone; now, he sports Justin boots, size 12B.)
He stayed at Don's nearly two years. Once during that time, he recalls, a man came into the store several times, asking a host of questions about boots. Watson learned the man was checking out his sales skills and merchandise knowledge before offering him a position as vice president of sales at Crown Boot Co., a cowboy boot manufacturer. Watson turned him down flat.
"I said, 'Hey I'm only one-and-a-half years into the Western industry and, while I appreciate that, I'm not qualified to be a vice president of sales," he remembers.
Instead, Watson recommended someone he knew who'd been in the industry much longer. The man he recommended, Joe Armstrong, got the job, and not long afterward recruited Watson to be his Texas salesman—a position that Watson accepted. His move from the retail side to the wholesale side of the cowboy boot industry was complete.

•••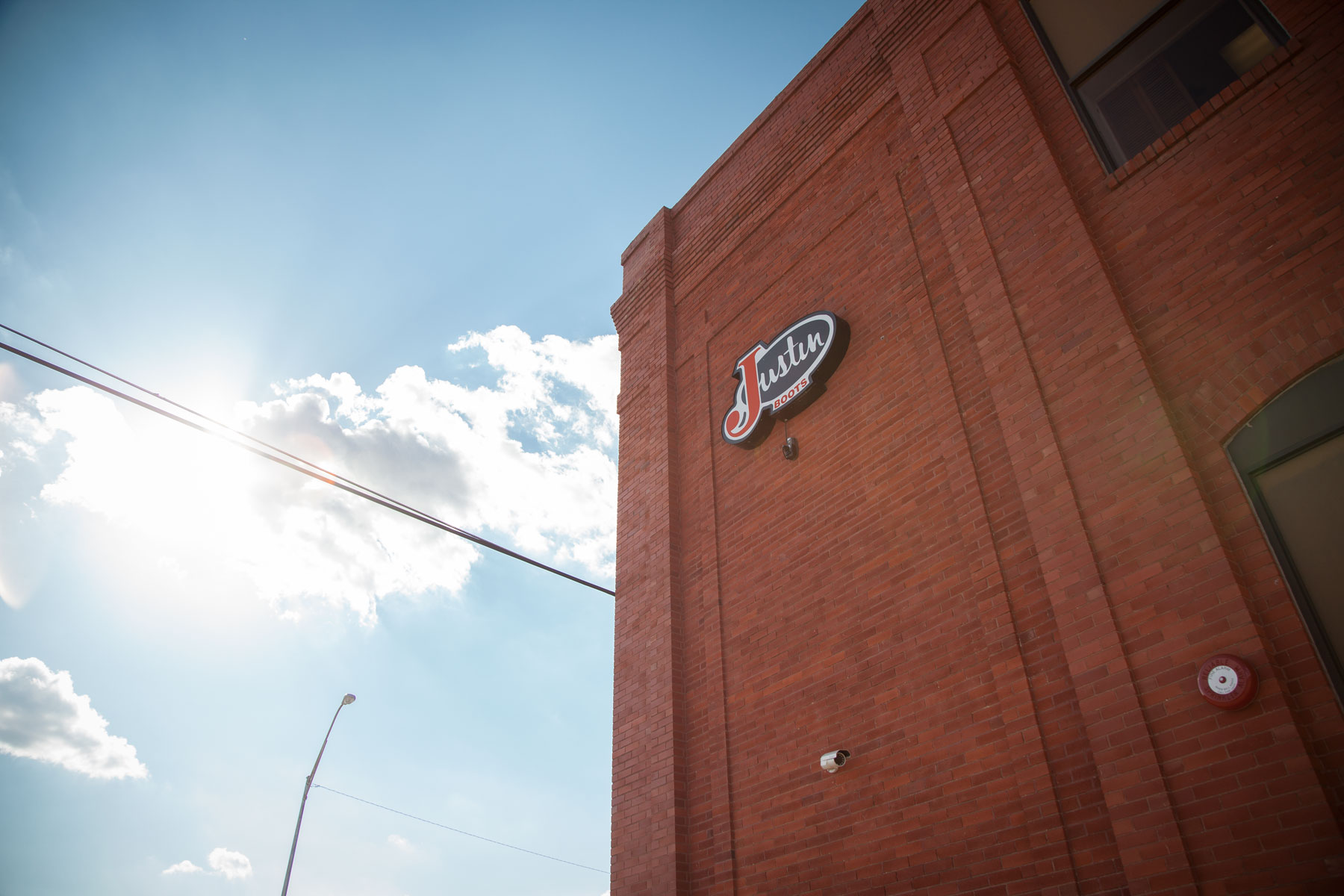 Being in the boot business may not have been a childhood dream for Watson, but it soon became his passion. And, of course, he didn't leave his love of sports behind. 
Watson's father played baseball at the University of Texas and later in the Texas-New Mexico professional league. He taught his son the game's fundamentals by coaching his Little League teams.
What Watson learned as a young man on the baseball diamond still influences him today in his leadership role at Justin Brands, he says. Sports, he believes, taught him how to be a fearless competitor in the business world.
"You have to work very hard, do the things you can do for yourself to get prepared to make a team, and then you have to get together as a team to compete for a common goal," he says. Once the team is assembled, it has to learn to compete effectively against other teams.
"All that competition has to be in unison," Watson adds. "There's an individual part, a team part, and a team against a team."
Just as he was in athletics, Watson was a fierce competitor in the boot industry from the get-go. He moved up the ranks, leaving the role under Armstrong to become a sales representative in West Texas for "Miss Enid" at Nocona Boots. Nocona had been founded in 1925 by Enid Justin, the daughter of Justin Boot founder H.J. Justin. 
After Watson had spent about two years at Nocona, his boss John Tillotson, the vice president of sales, got recruited to head up boot manufacturer Lucchese. Once again, Watson was recruited to be a vice president of sales and marketing. This time he accepted, following Tillotson from Nocona to Lucchese. He stayed at Lucchese until 1993, when he was recruited to go to Justin Boots as national sales manager.

•••


If anyone knows Randy Watson, it's Jamie Morgan, the president of Justin Brands. The two have been peas in a pod since they both were in their 20s. They met while Morgan was working a retail job at Wells Boot Center in Hurst. Watson was Crown's wholesale sales representative for the region, selling boots into the store where Morgan worked.
"We hit it off," Morgan recalls. "He was a sports guy. I'm a sports guy. It was a right place, right time. We had the same likes." In fact, the two played on some intramural softball teams together during those early days, back when they both still believed they had talent, Morgan says, smiling.
Morgan stayed in retail for a number of years before finally leaving to join Watson on the wholesale side. The two stayed in touch despite several job changes. When Watson found himself at Lucchese, he recruited Morgan to come work for him in sales. But then their paths veered once again.
Says Morgan: "One morning Randy called me and said 'Are you sitting down?' I said, 'No, I'm not, nor do I want to be. Why are you calling me this time of mornin'?' He said, 'I'm leaving. I have an opportunity to go work for Justin, and you need to get there as fast as you can.' " 
It was 1993. Morgan liked his job at Lucchese, though, so he remained there before leaving for Tony Lama Boots. But then, in 1997, another call came from Watson, this time offering up a regional sales manager position with Justin. Morgan jumped at the chance to work with his long-time pal once again.

•••


Morgan describes Watson as the quintessential Texan. "He is very humble, but by the same token he's larger than life," Morgan says. "He is very endearing. You can't meet him and forget him. Something about his persona sticks to you. He's infectious, would be one way to say it."

Watson sees himself as just a regular guy. Perhaps that's why nearly everyone—from factory floor workers to managers in the C-suite—feels at ease in his presence. Perhaps it's his Texas twang, which gives off a friendly vibe. Or it may be that he's perfectly fine admitting in front of others that he doesn't know everything there is to know about the boot business.

"If there's a segment of something he doesn't know, to him it's like water off a duck's back," Morgan says. "He'll say, 'Tell me again how that works?' I think that is why people like him. They are very comfortable around him."

As CEO, Watson says he tries to listen to his staff of experts and focuses on keeping the lines of communication open. But he can't resist a sports analogy in describing his methods. "Kind of like an offensive line in football, I want to lead interference and block and allow those quarterbacks and running backs to succeed," he says. "I look at myself as leading interference for people and making their jobs easier and enjoyable."

He says he creates a strategic plan with goals and objectives, and then asks his team what obstacles exist that might keep them from reaching the company's goals. Then he sets out to remove them.


•••



Watson tries to emulate billionaire investor Warren Buffett, CEO of Berkshire Hathaway, which bought Justin Industries in 2000 and separated its boot and brick divisions into two companies. The boot manufacturer became Justin Brands, and the building supplies company became Acme Building Brands. The days leading up to the purchase were stressful. 

Watson, who oversaw the boot division, and Harold Melton, who ran the building supplies division, each were told they'd have one hour with Buffett. Watson says he stayed up the night before, preparing for the meeting. "If you are going to be telling Mr. Buffett about your business for an hour, you make sure your i's are dotted and your t's are crossed," he says. 

But he needn't have lost sleep over the meeting. Just a few minutes into his presentation, Buffett interrupted. "He said, 'Wait, Randy. Do you mind if I tell you about Berkshire Hathaway?' " Watson says. "My hour was Mr. Buffett selling me on Berkshire Hathaway instead of me selling him on Justin Brands. He did all the talking."

Watson says he liked that Buffett asked whether there was anything he'd do differently if the slate were wiped clean. But he wasn't told how to do things to fit an acquiring firm's mold, he insists. Indeed, that's the Berkshire Hathaway way: investing in low-tech, well-run, and often iconic industries that it generally leaves alone for local management to run as they best see fit. That doesn't mean there aren't expectations from Berkshire Hathaway to perform financially, Watson says.


•••



The way Watson sees it, performance and growth are possible while still honoring Justin Brands' rich heritage. The company traces its history back to 1879, when H.J. Justin set up shop in Spanish Fort, Texas—northwest of Fort Worth—to make custom boots for trail hands near the end of the railway just off the Chisholm Trail, according to the Texas State Historical Association. 

In 1889, when the Missouri, Kansas and Texas Railroad extended past Spanish Fort to Nocona, in Montague County, Justin moved his business to Nocona. In 1925, with the need for larger facilities and more financing, Justin Boots, then run by H.J. Justin's three sons, moved from Nocona to Fort Worth. But sister Enid remained behind and incorporated Nocona Boots, which became a fierce competitor.

Business was good, even through the Great Depression. Post-World War II cowboy films and Western culture enthusiasm kept sales brisk through the 1940s. In fact, the industry has had few downturns, even performing well during the recent Great Recession.



•••



Today, Justin Brands continues to innovate and grow. "We've had double-digit growth for five years now. This will be our sixth year that we'll still experience double-digit growth in revenues and profits," Watson says. "It's been good."

It isn't just one thing driving the growth, which bodes well for the future, he says.

"The women's business is spectacular. If you go to a college football game, for example, you'll see a lot of men and women in cowboy boots. It's always been somewhat of a day-to-day functional product in the South, but there is this fashion element that has developed," he says, calling it the "Taylor Swift effect." 

Singer Taylor Swift popularized wearing cowboy boots with sundresses back in 2006 when she arrived on the Nashville music scene. Although she doesn't wear Justin boots and has changed her fashion style since then, Watson credits Swift for popularizing cowboy boots as an accessory to dresses. 

Other celebrities known to have sported Justin boots include country music star George Strait, actors Josh Brolin and Charlene Tilton, baseball great Nolan Ryan, and singer Lady Gaga, whose hand-made and hand-painted boots were crafted by Justin's Tony Lama brand.

Then there's Justin's work boot division, which Watson himself introduced in the late 1990s. Morgan says Watson recognized that other work boots on the market didn't hold up on the job, and he sensed opportunity.

"Randy championed that whole thing and made it happen," Morgan says. "That is our second largest division today and some day it will be our largest division." 

Justin also continues to introduce new products. About a year ago, it came out with golf shoes, some made from exotic leathers. Its new equestrian boot will hit retail stores next spring. "As long as it is a quality leather product, the consumer lets the brand translate to other activities," Watson says.

Walking into the Justin headquarters building just south of downtown Fort Worth feels like a trip back in time. Justin has occupied the 89-year-old building since 1939, and the entryway feels like it hasn't had a redo in many years. Justin prefers putting its bucks where it will get a bang: into factory upgrades, distribution centers, new technology, and social media.

"Being an old brand, sometimes it is a challenge to marry that culture and that heritage that you are so proud of with remaining relevant and effective," says Lisa Lankes, Justin Brands' chief marketing officer. "Randy is very much an advocate for embracing technology and change where it is needed to be relevant."

The company is taking a more focused approach to its international business, for example, and opened a distribution center in Canada in 2012, its first outside of the United States. Last year, it opened a distribution center in Belgium. 

Moving product in bulk via distribution centers lowers the company's shipping costs. It currently sells into about 40 countries, and has its distribution sights set next on Australia and South America. 

In its factories, Justin added new laser-guided leather cutters for added precision in the boot-making process. Five years ago, it tiptoed into the social media space and jumped into it headlong in 2010. It has built up 772,000 "likes" on its Facebook page and more than 29,000 followers on Twitter. Five employees plus outside agencies help with the effort, Lankes says.


•••


Bill Thornton, Fort Worth Chamber of Commerce president and CEO, has known Watson for more than 20 years. "The guy is a pretty remarkable character," Thornton says. "He is such a people person. He has never met a stranger. He's unflappable and so comfortable around anyone."

Despite staying busy as the chief executive of a major corporation, Watson is heavily involved in Fort Worth, including the chamber, FFA, 4H, and the Fort Worth Stock Show and Rodeo. His fingerprints are pretty much on everything wholesome and healthy in Fort Worth. That, Watson says, is the Justin family way.

Watson's personality and leadership style have been perfect for Justin Brands and for Fort Worth, which likes to tout itself as the city "Where the West began," Thornton says. "He's so authentic and respected. He just embodies the Justin brand values. It's that simple."

Lankes says Watson, who's been with the company for more than 20 years, is as much respected as he is approachable. "He garners respect from not only employees here but from people in the industry with his larger-than-life image," Lankes says. "He fills those Justin boots very well."  
Get the D CEO Newsletter
Stay up to speed on DFW's fast-moving business community with weekly news reports, interviews, and insights.