You have to hand it to Alberto Lombardi. The local restaurateur might not be on the forefront of culinary trends, but he certainly understands the value in a good neighborhood cafe. Penne Pomodoro in Snider Plaza. Toulouse, Taverna, and Sangria in Knox-Henderson. Cibus at NorthPark Center. Through food, service, and atmosphere, each restaurant serves its distinct audience well.
But Lombardi's latest—Bistro 31 in the oh-so tony Highland Park Village—may be his best creation yet. Here the restaurateur has targeted the well-coiffed and old-moneyed social players of the Park Cities, giving them what they crave: a charming cozy cafe with a dash of panache and the food to match.
Even amid the Murano chandeliers, white oak herringbone hardwoods, and Paul Smith upholstered settes, Lombardi's vision of creating a modern-day French Riviera salon transcends Bistro 31's designer trappings. The space is light and airy, the service gracious, and the food a comforting blend of French, Italian, and Spanish flavors. The restaurant feels special enough to impress guests but approachable enough to encourage repeat visits. If you live or work in the Park Cities, this could easily become your new favorite haunt.
Bistro 31's chef Eric Brandt starts things off with a crostini sampler: five delicious choices including fig/parmesan/balsamic, tomato/serrano/manchego,  chicken liver pate/red wine onions/pistachios, and more. Choose three for $7.50 or all five for $12. It's a great way to start a meal and easy for table sharing. I'm also partial to the roasted beet and burrata caprese salad topped with crispy serrano ham and the salt cod croquettes with piquillo aioli. Not so successful was a surprisingly bland seared foie gras with roasted figs and pistachios. The steak tartare was the complete opposite, the finely chopped raw beef dominated by too much dijon mustard and too many capers.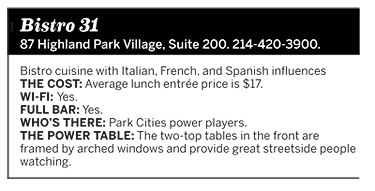 Fortunately, entrées were an overwhelming success.  Pasta highlights included torchio tossed with Dungeness crab, sweet peas, and lemon confit. It was brisk and bright, a perfect lunch pasta offering. For richer palates and heartier appetities, try the spaghetti chitarra tossed in a decadent lobster bolognese. The rich shellfish can also be found on a delicous lobster salad club sandwich with crisp bacon and tangy taragon aioli. The accompanying pomme frites were thin, crispy French fry heaven.
I'm picky about duck and, happily, chef Brandt gets it right: crispy skin and rich, succulent meat roasted with Valencia oranges and Picholine olives.  Brioche crusted lemon sole with petite ratatouille and the ham and Gruyere galette  with a sunny side up egg were steller as well. No matter what you order, however, make room for a side of roasted trumpet mushrooms bathed in a fragrant parsley and sherry cream sauce. Demand extra bread to sop up every drop. And, while you're at it, order a second glass of wine. Lombardi's Bistro 31 encourages lingering visits, even amid the bustle of its shopping-center environment. It might not be Paris' Left Bank. But Lombardi's latest is definitely the right spot.
Get the SideDish Newsletter
Dallas' hottest dining news, recipes, and reviews served up fresh to your inbox each week.