"It's just 'large' here, not venti," Sharon Anderson Wright says to me after ordering her large vanilla latte with organic milk. We're standing at the counter at Black Forest Coffee inside Half Price Books' flagship store on Northwest Highway in Dallas. The subtext of her comment is clear: This ain't Starbucks, and Half Price isn't a typical chain.
Despite being CEO of a company with 113 locations in 16 states, and annual revenue of about $230 million, Wright likes to think of Half Price as the same little upstart that her mother co-founded with a shop near the intersection of Inwood Road and Lovers Lane in 1972. It's just bigger now, that's all.
Wright arrives at the store each morning at about 8:30 a.m., but doesn't head straight to her office. She often spends an hour or so checking out store displays, browsing the shelves, and chatting with the staff. She started working for Half Price at age 13, and became the manager in Richardson when she graduated from high school, so she maintains an interest in observing day-to-day operations.
"You're still hands on in running the store?" I ask.
"Oh yeah, much to their chagrin," she says with a laugh.
I peruse the café's display case of baked goods, decide against one of the hot breakfast sandwiches, and ask for a slice of banana bread and an iced coffee. Wright, who doesn't typically have much more than coffee for the most important meal of the day, decides that I'm onto something and asks for a piece of the bread herself.
We occupy a table against the front window with a view of the parking lot, mostly empty at 9 a.m. on a Thursday. The location has been the company's headquarters—about 100 people work on the floor above the 50,000-square-foot bookstore—since moving from across the street in 1999.
Bibliophiles love Half Price, in part for the fun of exploring a shop where, with about 70 percent of its inventory consisting of used material that's bought from the public, you never know what you might find. It's a chaos that's not nearly as controlled as one might think, Wright explains after I've removed the plastic wrap from around the deliciously moist piece of banana bread.
"We get way too much stuff to ever deal with," she says. "We're drowning in books."
Until last year, Half Price stores had to rely on the memory banks of their employees for any sense of what material they have in stock at any given time. That has begun to change with the introduction of a new bar-coding system that tracks inventory electronically, in place now at a handful of stores.
Eventually all locations will use it, which will also allow the company to sell much more of its stock directly online, instead of through a third-party network as it does now. It could be an important development, considering that when mega-chain Borders recently declared bankruptcy and shuttered hundreds of its bookstores, some observers pointed to a failure to establish an online sales operation as among the contributing factors.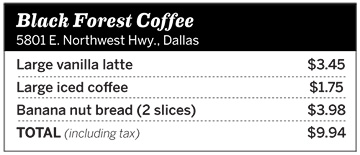 "I'm thinking we might be the last paper bookstore standing, because we're sustainable," Wright says. "Our inventory comes from our customers." In her view, Half Price will continue to have books to sell even as publishers cut back on the number of printed versions due to e-books' increasing share of the market.
"You know, when I was on an airplane the other day, I was reading a big-old hardback—I think Barbara Kingsolver—and this guy had this beautiful iPad sitting next to me, and they said 'It's time to power down all electronic devices;' he had to turn off his book, and I turned the page," she says. "We've got to use that in our marketing: 'I can read my book during takeoff and landing.'"
It's after 10 a.m. by the time we're finishing our "meal." (I use that term loosely, as Wright never touched her piece of banana bread.) We talk about the company's plans to continue growing slowly, with a few new stores each year. Although the Great Recession affected business, new store openings pushed Half Price Books' revenue up about 3 percent in the last year.
"I think we were already positioned to deal with this world," Wright says. "We've always done well in good times and bad times. When the economy is way down, people can afford to come and buy a bunch of books. The crazier things get, the calmness of a book is going to be even more appealing."

Get the D CEO Newsletter
Stay up to speed on DFW's fast-moving business community with weekly news reports, interviews, and insights.