North Texas Businesses Reduce CEO Salaries
Mid-sized Dallas-Fort Worth companies lead the pack in cutting back at the top. An exclusive new study explains why.
In North Texas and elsewhere, last year was an ugly one for executive compensation at the largest and most scrutinized U.S. companies. Following the government bailouts, public opinion about C-suite pay turned especially sour. Weekly headlines highlighted troubles at high-profile companies, especially in the financial-services industry, where, despite the bailouts, recovering banks paid bonuses for 2009 rivaling those of their top years.
In February, President Barack Obama branded Wall Street bankers "shameful" for giving themselves nearly $20 billion in bonuses. With millions of people losing their jobs, stock prices nose-diving, and isolated cases of executive malfeasance being uncovered, the public—and, increasingly, the government—came to believe that executive pay should decline.
For the last 20 years, media sources such as the Wall Street Journal have analyzed CEO compensation as reported in proxies among the largest companies, nationally or regionally. In its most recent analysis of the largest 200 public companies, the Journal reported a 0.9 percent decrease in 2009 versus 2008 CEO total direct compensation (defined as base salary plus annual cash and long-term incentives such as stock options and other equity-based awards). This is the first time in the history of the analysis that total compensation declined for a second straight year.
None of the analyses published to date, however, have focused on the "middle-market" sector of public companies, which is viewed by many as the "heartland" of American and Dallas-Fort Worth business, as well as the key to an economic turnaround. So, for the first time, D CEO and Paradox Compensation Advisors, a Dallas-based compensation consulting firm, have partnered exclusively to study executive compensation trends among midsize companies in the Dallas-Fort Worth area. The 49 companies in the "DFW Midsize Group" vary in size, from $50 million to $800 million in annual revenue. The accompanying chart shows total direct compensation for these companies, ranging from $12,733,500 for Comstock Resources' CEO M. Jay Allison at the top, down to $220,000 for Tandy Leather Factory's Jon Thompson.
Many factors explain the variations in pay across this ranking, including company size, maturity, financial results, compensation program features, and ownership history. There are also some significant differences in total direct compensation compared across various industries (see chart). Historically, certain industries have been higher-paying than others. The 2009 results by industry, however, are partly due to the varying impact that the economy has had on different sectors. For example, 2009 was a relatively weak year in oil and gas, though the industry has rebounded in 2010. The health-services sector was not impacted significantly by the recession.
How do results for the DFW Midsize Group differ from everything else we have come to understand about executive compensation? The conventional wisdom is that midsize companies, especially those operating in Texas and the Midwest, are more restrained in their compensation practices than firms in other geographies and size categories—especially large, East Coast-based firms. In reality, the distinctions vary by type of pay—that is, base salary, annual bonus, and other cash incentives, plus long-term incentive awards. 
Base salary for executive positions is generally linked to company size (typically by revenue), not by geography. The theory is that the larger the company, the more complex and impactful the position, thus driving a higher base salary for mega-company CEOs than their midsize organization counterparts. In 2009, the median base salary for CEOs in the DFW Midsize Group was $408,764, versus $714,292 for the 100 highest-paid CEOs in Dallas-Fort Worth (generally larger companies), and $1,007,100 for the 200 large companies reported by the Journal.
Many companies froze or even reduced base pay for executives in 2009. Marsha Cameron, a senior partner at Paradox Compensation Advisors who spearheaded the compensation study, notes that "midsize companies were the leaders of the pack in regard to freezing CEO base pay. One-third of the DFW Midsize Group CEOs who were in the job throughout both 2008 and 2009 received either no increase or reductions in base pay. For the remainder of this constant population group, the median base pay increase was 4 percent."
This trend in base pay begins to tell the broader story that emerges about 2009 CEO compensation in the DFW Midsize Group. That is, a substantial number of these companies were willing to forgo increases, eliminate incentive awards, or reduce compensation.  
Many observers of executive compensation trends over the last several years have opined that poor results in the final quarter of 2008 did not reflect the full year and thus, it was unsurprising that 2008 annual bonuses were not down significantly from 2007. Pundits predicted a greater impact in 2009. Instead, in 2009, a number of large companies chose to soften their annual bonus objectives, explaining that the unpredictability of the economy had made it too difficult to set hard and fast performance expectations. This practice generated higher bonuses on average for relatively weak performance, which may be hard for the average shareholder—or employee—to understand or accept.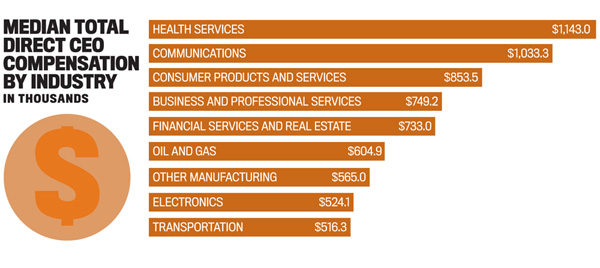 Our analysis shows that CEOs in the DFW Midsize Group were much more likely to receive less (or zero) annual bonus in response to performance than their peers in the largest firms. In these companies, median net income was 26 percent lower in 2009 than in 2008. In response, CEO bonuses in midsize companies in the Dallas-Fort Worth area were badly bruised over this same time frame: 41 percent of the group awarded no bonus to the CEO in 2009. By comparison, 19 percent of companies in the Wall Street Journal analysis awarded no bonus to the CEO for 2009 performance. Among the DFW midsize companies that did pay a bonus to its CEO in 2009, the median value was $250,000, versus $246,420 the year before.
The DFW Midsize Group companies paid a median $547,957 in total cash compensation (which includes salary plus annual bonus and other cash incentives) in 2009, which is 1 percent less than the $553,487 paid in 2008. By comparison, total cash compensation in the companies analyzed in the Journal study increased by 3.2 percent. 
Declining total direct compensation—base salary plus annual and long-term incentives—among the Wall Street Journal's large company group was generally attributable to a drop in long-term incentive values. Companies were less generous in allocating awards of stock options and other types of equity-based grants (e.g., restricted stock and stock units). Over the years, long-term incentives have become an increasing factor in the compensation of top executives as companies seek to create alignment with shareholder interests. Frankly, given declines in stock prices, granting the number of stock options and other equity awards in 2009 required to maintain 2008 and previous year award levels would have been a hard sell to board committees that approve such grants and to increasingly active shareholder groups. 
The DFW Midsize Group companies were far less likely to make long-term incentive awards to CEOs in 2009 than the companies analyzed by the Journal. Forty percent of the companies made no award in 2009. If an award was made, the median value was $305,144. Among those CEOs on the job throughout 2008 and 2009 who did receive an award, there was no increase in median value over the two-year period.
Cameron notes several possible explanations for these results. "In general, midsize companies have less complex long-term incentive programs than larger companies, and at the smaller end of the spectrum, some have no plan," she says. "They are also less likely to make grants every year and, in several cases, the CEO is a founder who already owns a substantial amount of company stock. We also sometimes see a very different philosophy about long-term incentives in midsize companies—that is, some of these companies tend to see long-term awards as a reward for past performance versus an incentive to enhance future shareholder value."
Total direct compensation in 2009 for the DFW Midsize Group CEOs was $714,101 at the median. Considering the CEOs where full year-to-year comparisons are possible for 2008 and 2009, there was no increase, on average, in the median value. However, the range in year-to-year comparisons of total direct compensation varied from minus 87 percent to plus 177 percent for the CEOs. Cameron notes that summary statistics can be especially misleading in this group because of less standardized approaches to executive compensation management in midsize companies versus larger firms. A review of some of the top and lowest-paid CEOs illustrates the discretion frequently deployed and less strict adherence to competitive trends.
For example, at Comstock Resources, the highest overall payer in the group, bonuses are not formulaic, though 2009 payments were based on an assessment of the company's performance in relation to its peers in the industry. In the company's view, the CEO's performance merited a $4 million bonus for 2009. Diodes, ranked No. 2, maintains an executive compensation philosophy to make equity awards a major component of the compensation package; accordingly, the CEO received an option grant in 2009 twice the size of his 2008 grant. These two companies were willing to make major awards in order to align executive compensation with strategic objectives and to reward their CEOs commensurately.
Among the lower-paying companies in the group, Tandy Leather Factory no longer has a stock option or other equity plan. At other midsize companies (Tufco Technologies, for example, ranked second lowest), options are not granted annually. Another lower-ranked company, U.S. Home Systems, notes in its proxy that awards under the restricted stock plan are triggered by meeting earnings per share goals. Thus, no awards were made in 2008 or 2009. 
The upshot of these findings is that, in harsh economic times, the DFW midsize companies are probably well-served by a philosophy of less entitlement and higher discretion. A less structured approach to compensation is feasible when there is a high level of interaction among a relatively small group of executive officers, and the performance culture can be personally communicated and monitored. As companies grow, however, more standardization is almost inevitable due to higher shareholder scrutiny, the need to communicate clear expectations to an expanding group of executives, and increasing competition for talent with a broader cadre of companies.