Breakfast with D CEO: Sheldon Stein
The president and CEO of Glazer's Distributors talks about the "lifestyle industry" over eggs and flapjacks.
Perhaps because of its proximity to the collection of corporate offices along the nearby Dallas North Tollway, Benedict's in Addison is a popular spot for early-morning business meetings.
When Sheldon Stein, the new president and CEO of Glazer's Distributors, arrives at the eatery just after 8 on this Friday morning, he barely breaks stride as he greets me, tells the host we'll need a table for two, and heads toward the back of the restaurant.
Before we've even had a chance to sit down, he's talking business. He mentions that he's just been in touch with Chuck Greenberg, the new owner of the Texas Rangers. The team's sale was approved through a bankruptcy auction days before. Stein spent two and a half years advising Tom Hicks on the transaction, during his tenure at Bank of America Merrill Lynch.
He says that everyone involved in the auction—Hicks, Greenberg, Nolan Ryan, and the competing group led by Dallas Mavericks owner Mark Cuban—are "good guys," but that the sale to the Ryan-Greenberg group, which had the support of the league, was "the right thing" to do.
"You didn't want to have a battle between the rights of Major League Baseball and bankruptcy laws," Stein says.
Stein wasn't involved with the sale's final act because he left investment banking in July, after a quarter-century in the industry, to take over at Glazer's. In accepting the challenge of running one of the country's largest distributors of alcoholic beverages, he decided it was time to work on business strategy from the inside, rather than merely advising from the outside. It adds a new burden—seeing that he does right by the company's employees—to each of his decisions.
Working as an advisor, "I could go to sleep every night," Stein says. "No matter what the problems were with my clients, I could tune it out and go to sleep. Now it doesn't work that way. I dream about it. I think about it. I wake up thinking about it. I get up in the middle of the night thinking about it because everything I do has an impact on 6,000 people. …When you're on the line, you have a much higher respect for the decisions that CEOs of companies have to make."
Stein orders an egg-white cheese omelet with a cup of fruit and wheat toast. What's delivered is a substantial meal, but Stein is used to eating well in the name of work. His new business, he says, is a "lifestyle industry."
He's spent the last several weeks traveling the country to introduce himself to suppliers, vendors, and managers of Glazer's operations, which stretch across 11 states. He's had no choice but to let his waistline suffer.
"When they have all their industry conventions, they're definitely at some nice places. So you end up eating and drinking more than you might," he says. "I've put on about 10 pounds in the last few weeks."
A more typical breakfast for Stein, age 57, is a bowl of Special K at his home near Ursuline Academy. Growing up in Brooklyn, he'd see episodes of Leave it to Beaver on television and dream of escaping to the suburbs, with a good-sized house and a green patch of lawn. He and his wife, Barbara, have lived on two acres in North Dallas for 21 years.
They came to North Texas when Stein, a Harvard Law graduate, joined the firm now known as Hughes and Luce in 1978. Later he signed on to the run the Dallas office of Bear Stearns, where he spent 22 years. His departure came a month before that investment banking giant collapsed.
"There's a lot of people that think I either knew something, which of course I didn't, or thought I was a genius," he says. "I'd rather they think I was a genius."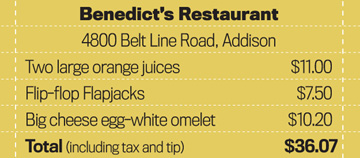 His next job was with Merrill Lynch, which suffered its own difficulties leading to the merger with Bank of America just months after Stein joined the firm.
I'm only half-joking when I ask Stein whether he made the move to Glazer's because alcohol seems a more stable industry than banking these days.
He answers, in all seriousness, that he'd gotten to know the Glazer family while serving as their financial advisor, and that they approached him about taking over as CEO. "I said, 'If I'm ever going to change, this is the time,'" Stein says.
Now, with a 10-year contract at Glazer's, he's looking for opportunities to grow the privately held, $3 billion business.
"I get a kick out of people who say 'They brought in an investment banker. They're going to sell it,'" he says. "That thinking is just so bizarre, because why would I come here to sell it? If I was going to sell it, I'd have just stayed at BofA Merrill and earned a big fee."