From D CEO June 2008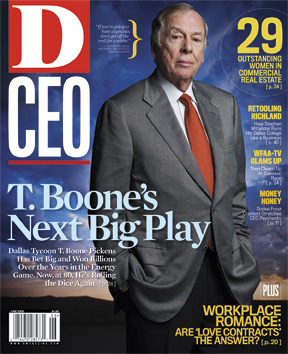 Subscribe
Part of it might be Merrie Spaeth's column, where she exhorts top businesspeople to speak out more vigorously for free enterprise. Part of it could be the T. Boone Pickens story, which reminds us of the key role energy plays in our Texas economy. And part of it, in the end, may just be personal. Many of my Panhandle uncles made their livings in the oil and gas industry and, growing up, we considered that honorable work—not something to be ashamed of.
For a variety of reasons, then, this issue of D CEO underscores for me the importance of publicly recognizing—and applauding—the energy companies that help keep our economy humming. These days, it's sort of a lonely endeavor.
With gasoline prices surging, politicians and hard-pressed consumers are casting about for scapegoats and demons. In doing so they've set their sights conspicuously on Irving-based ExxonMobil, which happens to be enjoying record revenue and profits.
The thing is, though, their anger is misplaced. Instead of blasting oil companies that do the hard work of exploring for oil and processing it, they ought to be directing their ire at those who conspire to constrict oil supplies.
"Everybody wants to clamp down on oil," the writer and actor Ben Stein said during a recent visit to Dallas. "But it's Wall Street that's been doing all the mischief lately, not the oil companies."
It certainly hasn't been ExxonMobil. Exxon just took the No. 2 spot on Fortune magazine's list of the biggest corporations—behind only Wal-Mart Inc.—for the second year in a row.
In 2007, the company earned $40.6 billion on revenue of $372.8 billion. That's a serious payday for the company's shareholders. But is it a reason to tar and feather Exxon's top execs?
According to experts, ExxonMobil's profit margin is 7.6 percent of revenue, compared to a profit margin of 5.8 percent for all U.S. manufacturers. Take the hard-hit auto industry out of the equation and the manufacturers' average margin rises to 9.2 percent.
And, it's not like ExxonMobil doesn't "give anything back" in taxes. Indeed, Professor Mark Perry of the University of Michigan School of Management says that over the last three years, ExxonMobil paid an average of $27 billion annually in taxes.
So what does that mean, for comparison's sake? It means that in 2004, for example, the Irving company paid as much in taxes as the entire bottom 50 percent of individual U.S. taxpayers ponied up that year.
Meantime, pols like Hillary Clinton and Barack Obama are talking about imposing a "windfall profits tax" on the oil companies—a prescription for economic disaster. Instead, they ought to be prescribing more drilling and more refineries, along with sensible conservation measures and alternative energy sources like wind power.
Spaeth's column quotes former Sen. Phil Gramm, who said: "While few Americans would think of taking away someone's right to exercise their political freedom, it's commonplace for politicians to call for taking away people's rights to economic freedoms and the fruits of their success."
How about it then, CEOs? Let's start beating the drum loudly for capitalism and capitalists like ExxonMobil—with no fear and no apologies.
Get our weekly recap
Brings new meaning to the phrase Sunday Funday. No spam, ever.