From Summer 2008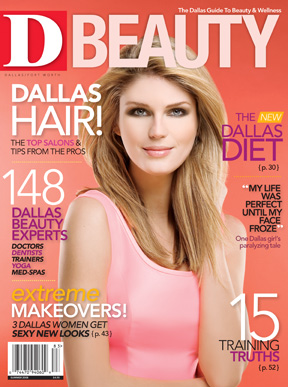 Michele Danches wasn't the only beneficiary of her recent 17-pound weight loss. After dropping three dress sizes, she donated to a homeless shelter the size 12 clothes that she'd become too thin for. "I have never worn a size 6 in my whole life," she says. After stints on Weight Watchers and Jenny Craig, Danches, 59, finally found a weight-loss program that worked for her—and she found it in the most unexpected place: her gynecologist's office.
Dr. Jeffrey Caruth, who has an OB/GYN and aesthetics practice in Plano, traveled with two members of his staff to Scottsdale, Arizona, last November to get trained in Dr. TED. (The acronym stands for thermogenic, endorphin-releasing diet.) Danches observed the program's effectiveness in the waistline of her doctor. Caruth dropped 20 pounds and four pant sizes in six weeks. His wife and staff members also lost significant amounts of weight, and by late December, about 70 of Caruth's regular patients were on the diet. After Caruth appeared in a couple of local television spots touting Dr. TED, the number of patients in the program more than tripled to upward of 300.
What dieters such as Danches have discovered is a triple-threat program incorporating calorie reduction, medical supplements, and exercise. Most patients choose the 10-week program, which costs $1,095 and includes a thorough medical screening. "It's very healthy," says Julie Carter, a registered nurse who heads up the Dr. TED program for Caruth. "The foods that you're eating are all whole foods. You're getting protein, you're getting vegetables, and you're getting carbs. So it's very well-balanced."
The catch is that patients are getting all of those things compressed into 680 to 700 calories a day. On average, dieters are allowed 4 ounces of specified proteins at meals, two servings of fruits chosen from a list of six selections, 8 ounces of skim milk, two servings of either melba toast or saltines, and unlimited quantities of 19 designated vegetables—as long as they are not mixed at one sitting. Soda sweetened with Splenda is okay, as are red wine and vodka in moderation. Patients are instructed to eat several times a day and avoid all sugars.
Lona Sandon, assistant professor of clinical nutrition at UT Southwestern Medical Center and a spokeswoman for the American Dietetic Association, says the program is basically a new version of the Atkins diet, an update of a low-carbohydrate and low-calorie plan. But she has reservations about its demands. "You better be ready for this," she says. "It is a pretty extreme approach."
She also doesn't recommend attempting the diet unsupervised. "I don't think this is something that you should do on your own," she says, adding that the doctor supervision is an advantage in monitoring patients' health during the process and preventing aggravation of existing conditions.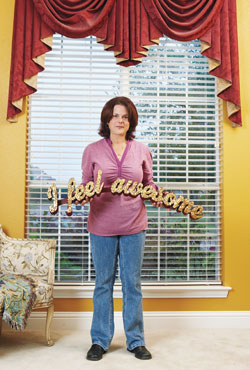 To offset the effects of the reduction in calorie intake, Dr. TED patients apply two topical creams once a day. Together, the creams trigger the body to release energy from stored fat, act as an appetite suppressant, and increase serotonin levels, all of which helps prevent the blah feeling associated with dieting. Patients also receive injections containing a mix of B vitamins at their weekly doctor visits. Carter says the ingredients in the shots help increase the metabolism. "Over and over and over again, every person that is on this diet will say, 'I feel awesome. This is the best I've felt in years,'" Carter says. Danches backs up this claim. "I was never hungry," she says. "I just found it to be easy."
Patients are also encouraged to use Caruth's K-1 Vibration Exerciser, which counts as a weight-bearing workout. While a vibrating machine might seem like an outdated mode of exercise, Sandon says the wiggling motion causes muscles to contract and release, working them out. Carter says the more muscle patients can build while they're on the diet, the higher their metabolism is going to be when they've completed the program.
The ability to work out was critical to Janice Gillespie, who as a first-time dieter had always relied on exercise to manage her weight. As her 50th birthday neared, Gillespie realized the effectiveness of her regimen was diminishing. "I had reached a weight that I wasn't comfortable at," she says. After learning about Caruth's program, Gillespie decided to give it a try. She kept up with her workouts and says the injections and creams neutralized hunger pangs and cravings and boosted her energy level. "It wasn't hard," she says. "I was just so happy to be losing the weight and feeling good." She's lost 24 pounds and is now on the maintenance program, which allows for more flexibility in food selections and bumps up the daily calorie count to about 1,200 for women. After seeing her success, Gillespie's husband and daughter got on the program and have also been losing weight.
Despite these early successes, Sandon has doubts about whether the results can last. "The biggest con is how long someone can really stay on this and how healthy it is in the long run," she says. Gillespie, on the other hand, feels she's made a permanent change in her lifestyle. "It'll work for life," she says.
Carter says demand for the diet continues to rise. It also helps that Caruth is the only physician in the area offering the plan and one of the few doctors in the nation. (The nearest clinics outside North Texas are in the Austin area.) But once the rest of the country discovers Dr. TED, Carter says, all that could change.
Just wait till Oprah hears about it.
Get our weekly recap
Brings new meaning to the phrase Sunday Funday. No spam, ever.