Tuesday's announcement that Mayor Mike Rawlings and Dallas County Judge Clay Jenkins were proposing a city-county partnership to oversee and coordinate the array of organizations that currently deal with the Dallas homeless situation yielded a measurable degree of confusion and outrage at Wednesday's City Council meeting. Dozens of citizens with an interest in the issue showed up either to speak at the morning open mic session or to applaud vague criticisms of the mayor, the city, and society at large. Still, several of the three-minute citizen speeches were really rather cogent, citing specific and evidence-based points on various aspects of the proposed reorganization that in several cases helped to inform the ensuing council discussion, which turned out to be impressively productive — with the exception of a strange and suspicious interjection from pretend-lawyer Councilwoman Tiffinni Young, which was gently shot down by newish City Manager T.C. Broadnax in some of his first extended remarks at a council meeting since taking his position late last month.
Among the chief complaints of those who spoke against Rawlings' proposal was that the week's scheduled agenda meeting had not been moved to the larger voting chamber so as to accommodate the estimated 75 people who, due to seating constraints in the smaller room used on alternate weeks for such meetings, had to watch the proceedings on the large viewscreen in the Flag Room, down the hall. More substantive objections were also raised, generally pertaining to the perceived difficulty of a "regional" organization overseeing the issues of a particular city to which it would presumably be largely unaccountable.
Others, such as District 2 business owner Johnathan Gaines, gave an account of the problems faced by neighborhoods from aggressive panhandlers. A woman who'd moved with her husband to Dallas from New Jersey against her will and who volunteered for several local groups noted that Rudy Giuliani had sent cops in to parks to arrest the homeless and put them in shelters and seemed to imply that this might be a good idea in Dallas. A bearded man from Old East Dallas recited a long poem about money. A local writer who said he would be homeless himself if the government wasn't paying half his rent spoke of "nonprofits using the homeless to make their living" and urged those present to "think of the homeless not as the homeless, but as refugees looking for a place to go."
The most productive address was given by Mark Pierce, a 20-year veteran of DISD's homeless education program who provided some data on the thousands of Dallas students who are technically homeless and asked that shelters begin to set aside beds for the large number of young people who will soon be among them.
City staff provided a briefing on the existing Dallas Commission on Homelessness, which was formed in 2016 after the rise to attention of the 300-man homeless encampment near downtown dubbed "Tent City" (and which I kind of wish I had seen before it was taken down). They confirmed Pierce's contention that the homeless population would increase this year and then provided a quick summary of the two basic options before the Council: pursue the issue via a continued Dallas-centric organization, or adopt Rawlings' proposed integration with the county.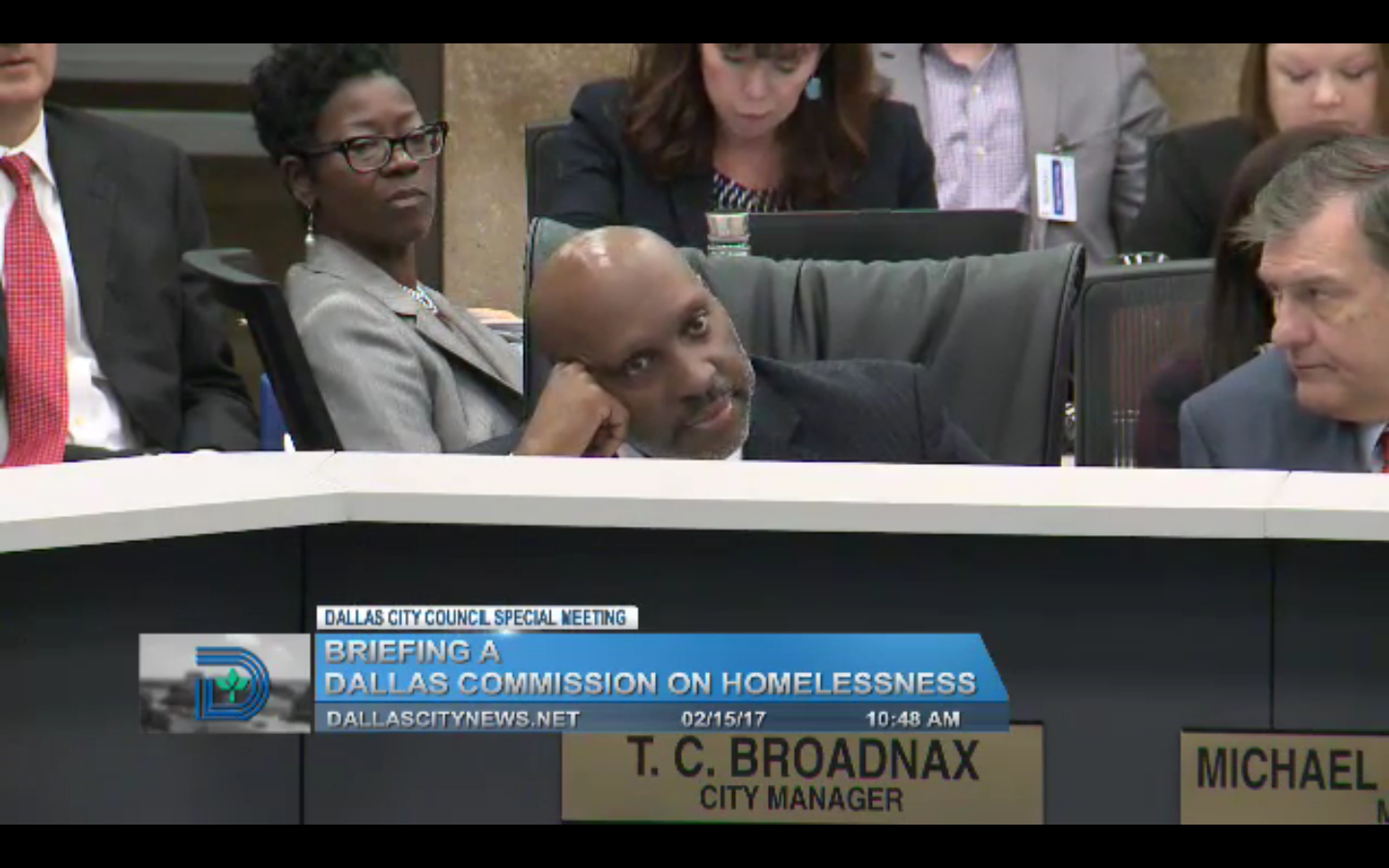 The staff briefing now concluded, Rawlings — who once ran The Bridge, one of the city's major homeless shelters — explained why he'd made the proposal to begin with, calling the homeless problem "multi-dimensional and complex" and asserting that the chief problem is "entities doing what they think is best" rather than working in accordance with a broader, "holistic" plan. "I'm very open to listening and making this better," he concluded, but "everyone needs to be in the boat."
The ensuing council discussion concerned both the specifics of the proposed reorganization and the merits of various approaches that most agreed would need to be tweaked in the coming years. Councilwoman Sandy Greyson proclaimed that "popping homeless people into apartments in the middle of neighborhoods is a recipe for disaster" unless they've been vetted and deemed ready. She was broadly opposed to Rawlings' plan as introduced. "I don't see any real role for citizens" in the proposed reorganization as it stood now, she said, and was "disappointed" that a "full-blown plan" had been composed before the Council had had a chance to discuss it.
Councilman Philip Kingston asserted that "regional structures do not serve the interests of the city of Dallas well," pointing to an incident last year in which "we gave DART very clear directions and they gave us the finger" and citing similar examples. He challenged the viability of the "both/and" ideas that had been brought up whereby a city organization worked closely with a regional one along the lines Rawlings had proposed. "I'd like to see what a city commission does for us," Kingston said.
Deputy Mayor Pro Tem Erik Wilson, one of several council members who's made visits to area homeless encampments, introduced a crucial point: that a sizable portion of homeless individuals don't want to go to shelters due to the "barriers we're creating" that make it difficult, for instance, for residents to hold jobs while complying with shelter curfews and other regulations. Separately, he cited the frequent conversations he's had with those living at encampments who say they could make a call and have a loved one come get them whenever they like, but prefer to live on their own.
Councilman Ricky Callahan, who I like more and more, concurred with Wilson and likewise spoke at length about what a distinct portion of the chronically homeless clearly want. "Let them have a nice encampment if that's what they want to do," he proclaimed, adding that basic shower facilities can be provided in certain areas, just as is done at national parks. At the same time, he called for the city to request additional funds from state and local government for mental health counseling for those who want it.
Councilwoman Tiffinni Young noted that she'd "heard a lot of things today," but appeared to be troubled. "I guess my question is, I don't see representation from the state. Is there a reason why?" Rawlings explained that the state was actually heavily represented via the state organizations that were involved, such as the North Texas Mental Health Authority, in addition to federal bodies.
"And is there an opportunity, just like we have a county judge nominee, is there an opportunity to have another nominee?" Young asked. "We know that there are other issues that we deal with, whether it's TxDOt, where there — there are other issues that we deal with when we're looking at this issue outside of mental health from a state perspective. That would be my request."
Rawlings said, "I'm sorry, I want to make sure I capture it right. Your request is that state —"
"— have a nominee. In terms — as we're looking at policy issues —"
"You mean like a legislative person?"
"I don't know. A nominee. You have a Dallas County nominee that is listed."
"I'm sorry, that's badly written. It should be a Dallas County commissioner and city of Dallas city councilperson."
"Yeah, if we have someone at those levels, I request that we have someone at the state level."
"Yeah, like you're saying a legislator?"
"Somebody."
"Okay," said Rawlings, visibly shrugging. Just another plot thread for the tangle; given that Young's last nominee to a city board has connections to the same people he's supposed to be overseeing and recently shouted, "Learn your role!" to board members who inquired about the use of city funds, one wonders which particular "somebody" she has in mind.
Councilwoman Carolyn King Arnold inevitably "had some concerns about inclusiveness" and stated that the churches need to be involved, which they certainly don't if she's referring to the sort of churches I think she is.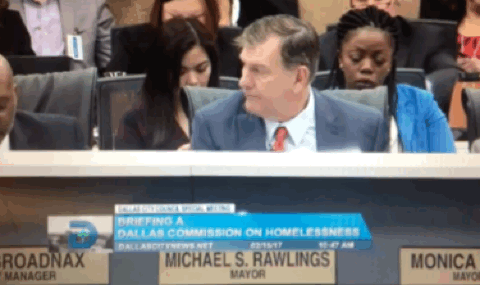 Rawlings now took pains to clarify that "regional" isn't the best term to describe his plan, which really only involves the county and not some far-away overlord; he termed it "cross-jurisdictional." He noted to Greyson that the bringing forward of this plan hadn't been intended to stave off deliberation, and that this very meeting was intended to be the initial forum for the Council to be briefed on their options and provide input. Then the mayor asked newly minted City Manager Broadnax for this thoughts. And if ever anyone said anything from any city hall in history that made plain that the swift and terrible sword of civic reform had been hoisted and would presently begin cutting, Broadnax said it that day.
It was "disturbing," he said, that a commission was needed to address the issue to begin with. "You don't need a commission to lay out those kinds of things. Those are the responsibilities of the city staff."
Then he explained to Young that there would be no state representative on the board. He spoke kindly, in terms of the "difficulty" in doing what she'd requested, but there are men in this world who slice through these threads before they have a chance to entangle us, and Dallas now has one of them.
Get the D Brief Newsletter
Dallas' most important news stories of the week, delivered to your inbox each Sunday.