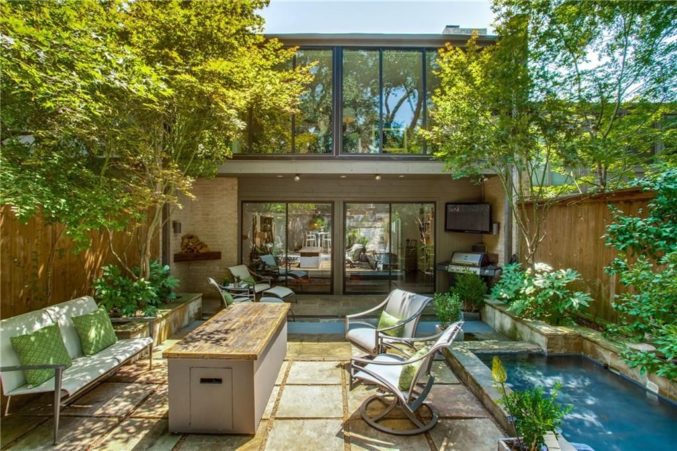 Hot Property: A Zen, Frank Welch-Designed Oasis in Knox District
Nestled on Travis Street, the home represents the late architect's unique brand of Texas modernism.
If you've ever walked the Katy Trail, or spent any time in the Knox District, you've definitely passed 4021 Travis Street. It may not have looked like much from the curb—just a mass of patinaed light-colored brick blending into a line of gray garages. But of course, that's on purpose. This home and its neighbors are the work of Frank Welch, whose designs engaged with their surroundings. His understated panache can typically be found beyond the front door.
Once inside 4021 Travis, you'll see Welch's meticulous attention to detail in the white-painted brick walls, built-ins, and an intimate but open layout that exudes tranquility. The neighborhood's towering trees and serene setting are thoughtfully incorporated throughout the space. Skylights and floor-to-ceiling windows are everywhere, and an outdoor koi pond—incorporated into the heart of the first floor—is easily viewable from the kitchen and open dining room. The focus on nature is fully realized in the backyard, where a waterfall-equipped dipping pool blends beautifully with light stone and potted plants.
Though Welch has designed some of the most glamorous homes in Dallas (the Dillon House off Turtle Creek is a stunning, local treasure), he clearly had a soft spot for more intimate spaces. His own personal Dallas home represented a similar elegant unpretentiousness to his Travis Street work.