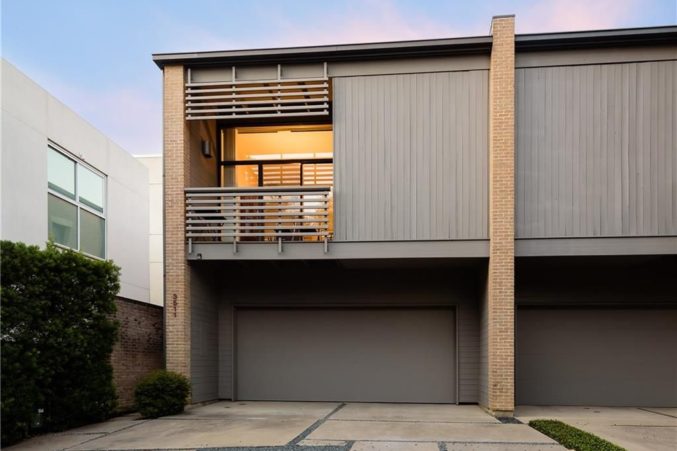 Hot Property: Iconic Architect Frank Welch's Personal Home Hits the Market
The Oak Lawn duplex is unpretentious and historic.
Last Tuesday, just by pure coincidence, we chose one of lauded late architect Frank Welch's final designs as the week's "Hot Property." This Monday, Frank Welch's personal home hit MLS, and though we like to avoid repetition in this particular blog series, of course we were going to feature it.
As D editor Peter Simek put it in last year's architecture issue, "Welch has done more to establish a vernacular of Texas modernism than probably any other architect." He nurtured a community in Dallas (young architects used to gather at the Quadrangle every Monday with Welch for martinis), and leaves a legendary resume throughout the Dallas-Fort Worth area. His works include The Lamplighter School, First United Methodist Church of Richardson, and some of the most considered, elegant modern homes in Highland Park, Lakewood, and Devonshire. His designs in Oak Lawn include  3511 Cragmont Avenue, the home Welch lived in until his death this summer.
Situated just outside of Highland Park, on a quiet street between Abbott Avenue and the Katy Trail (you've likely spotted it during a run), Welch's personal residence may feel modest in comparison to some of his more sprawling designs, but the defining characteristics are represented. The modern exterior is simple, concealing a more complex but low-key inner beauty defined by lofty spaces are flooded with natural light, including a skylight-lit stairwell.
Additional attractions include an elevator, a Ginko-tree surrounded pool, and a private, gated entrance to the Katy Trail, though the home's greatest asset will always be intangible.
By the Numbers
$1,179,000
2,932 Square Feet
1997 (Year Built)
3 Bedrooms
3 Bathrooms
2 Fireplaces
2-Car Garage
1 Pool