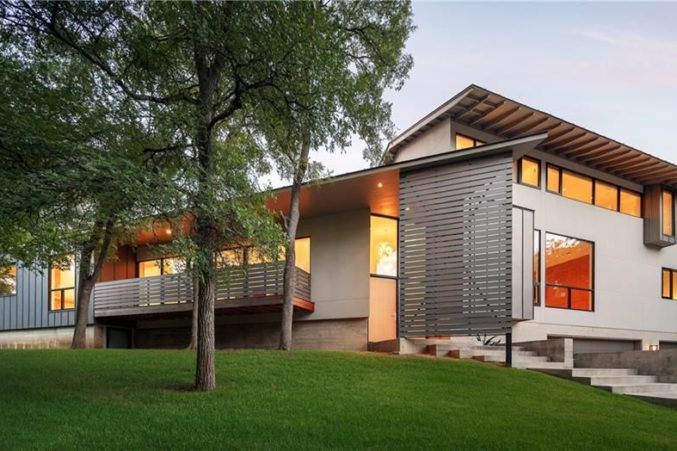 Hot Property: One of Frank Welch's Final Designs in Jan Mar
The new home features many of the legendary architect's hallmarks.
Just looking at photos of 7126 North Janmar Drive is enough to make you feel more peaceful. But of course, that was probably Frank Welch's point. The late, award-winning Texas architect believed in unpretentious, well-proportioned homes that blend sophistication and warmth, and offered a unique and lovely take on modern Texas homes.
Situated on a pie-shaped lot in Jan Mar, a neighborhood marked by mid-century homes, creeks, and rolling hills, the 2015 home is one of the last designs by the "Dean of Texas architecture," and offers a slew of enviable amenities in addition to its architectural worth. The master bath has a beautiful, branch-filled view and heated floors. There are electric shades and an elevator for ease. There's also a cork-floored basement that could be transformed into a movie theater, a game room, or a solid spot for someone to practice the drums.
We'd be remiss in not mentioning a glassy, clean-lined pool and a stunning Bulthaup kitchen, but we do have to draw description line somewhere, especially when there are Welch-filled slideshows to get to.
By the Numbers
$2,749,000
2015 (Year Built)
6,572 Square Feet
5 Bedrooms
5.1 Bathrooms
1 Fireplace
3 Covered Parking Spots
1 Pool