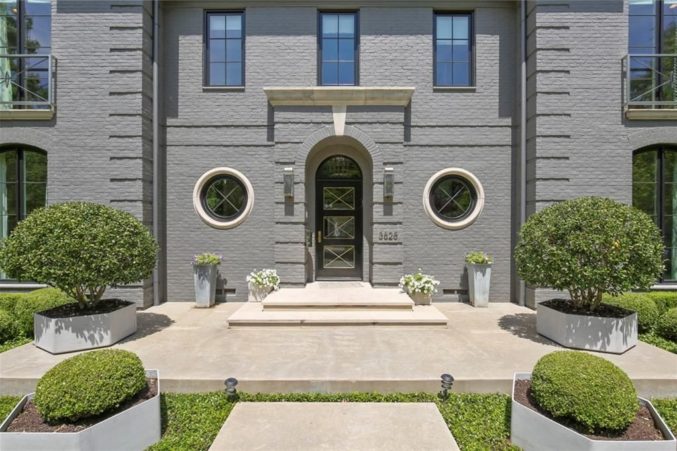 Hot Property: An Ode to Color in University Park
Don't let the monochromatic exterior fool you.
Loyal D Home readers may recognize this house. It's one of three homes we've featured that's undergone a renovation commissioned by Regan and Zach Carlile, a couple with an affinity for contrasting dark facades and vibrant interiors. Each home ended up in the hands of Chad Dorsey and MORE Design + Build. Each end result is more eclectic than the next. And each address features this antique Portuguese church artifact-turned-headboard Regan found at Round Top.
But this particular home, situated just a handful of blocks away from spots like Hillstone and Sprinkles Cupcakes, is new to the Dallas market, and really is something special. When the Carlile's first got their hands on the traditional circa-1980s property, which hadn't been touched since construction, it had an almost Dynasty-esque vibe. "The three-story atrium was suited for a brawl between Crystal and Alexis," said Chad in the 2014 feature.
The reimagining included bold Shumacher wallpaper, glossy black floors, and French macaron-inspired paint colors for a look that was grand yet intimate—the kind of home that doesn't take itself too seriously. A guest garage was painted a cheerful red to resemble a barn, because as Regan put it, "Who doesn't love a red barn? I love seeing it from the kitchen. It makes me smile."
And although some mirrored ceiling tiles and rock posters have been removed, the majority of the home's design choices have remained intact, from the pink living room to the cranberry-colored master bedroom with Lee Jofa malachite-patterned wallpaper on the ceiling, which even Regan was astounded they were able to pull off. "My bedroom is still kind of a stretch for me," she said in the 2014 feature. "I go in and think, 'Oh my gosh, I really have Tony Duquetted this thing up. But I enjoy it."