You've probably seen Patricio Rivera's natural, fashionable floral creations around town. Possibly at Forty Five Ten and Set & Co., or Gung Ho on Greenville, or maybe even at a wedding you've been to recently. If not, you can catch them soon in a Mother's Day installation at Aesop. "It's going to be super minimal," says Rivera. "I love them. They love super simple things, but it's beautifully thought out from beginning to end."
Rivera initially thought his career would be in fashion, but after spending some time in the hospitality industry, he realized flowers were his perfect medium, and opened Twelve Thirty Four just under two years ago. "I wanted to get into fashion because I wanted to make people feel something, but I ended up being able to do that with florals," says Rivera. "Right now, I'm focusing on creating something unique. I want you to think, or ask questions about where those flowers are from. I want it to be educational."
In between his many projects, pop-ups, and appointments, we caught up with the talented Dallas florist to find out what sets him apart, what inspires him, and where he thinks florals are heading.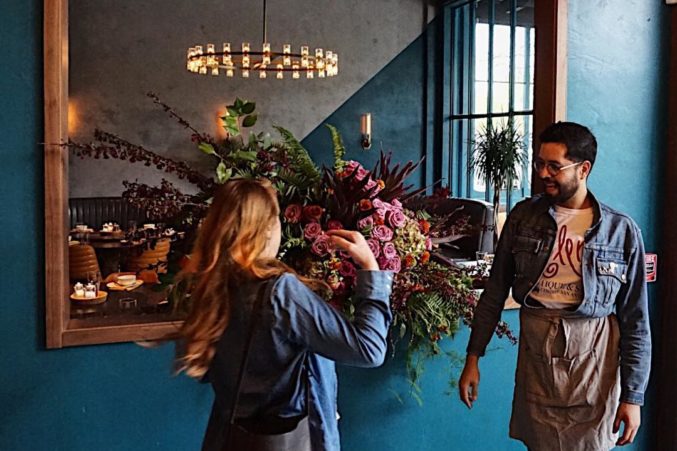 How would you describe your floral aesthetic?
I like to bring the beauty of nature indoors to set a vibrant energy with a combination of textures, lively colors, and an earthly feel. I can customize and personalize this for every single client.
What inspires you?
Nature. The current lack of connection between people and Mother Nature inspires me to create floral arrangements that bridge this gap. Aside from that, I am constantly inspired by my family, friends, and fashion.
What types of materials do you use in your arrangements?
My three favorite blooms are peonies, orchids, and delphiniums. I like using them in ceramic vessels from local clay artists such as Brooks Oliver. I'm open to using all kinds of materials — my only rule is respecting the integrity of the plant and the flower. I guess I consider myself a matchmaker for flowers and plants.
What sets you apart?
I like to create a relationship with the client in order to understand their vision. Getting to know them allows me to better understand the story they want to tell and how a floral arrangement can enhance the message. I don't just want a one-time customer, I want to create a trusting partnership with every single one of my clients. That matters to me! I feel like a lot of artist often feed their ego too much and forget about what really matters. My only goal is to make my audience feel something special.
Where do you see floral trends heading?
I see floral trends heading towards a more free and less contrived design aspect. In regards to my own floral design, I'm aiming to focus on set designs that relate to floral like runways and look books. I am doing a lot of that now with some of my mentors.
SaveSave
SaveSave
SaveSave
Get the AtHome Newsletter
Enjoy Dallas' best trends, hot properties, and tips from local designers to help you nest in style delivered weekly.