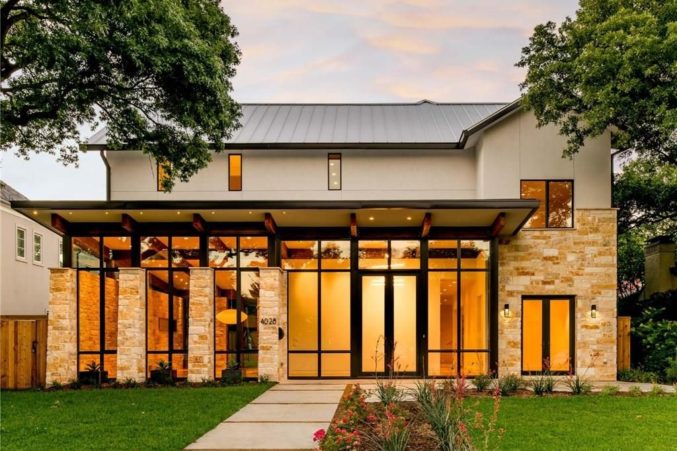 Hot Property: Warm, Welcoming New Build in University Park
This cool new construction off Preston Road will appeal to any aesthetic. 
For those who favor traditional Tudors or classic cottages, contemporary styles might seem cold and uninviting. But as skeptical as you may be of the concrete and cold lines associated with modern homes, dear readers, we think you'll be won over by 4028 Marquette Street.
At over 6,000 square feet, this brand new NEST-designed construction manages to blend modernity with cozy curb appeal. The exterior is flanked with warm-toned Austin stone, while amber lighting inside illuminates the open living spaces. Clean lines and simple white-and-wood styling are beautifully unfussy, while pops of asymmetry add visual interest: think an off-center fireplace or a handful of strategically placed sky-high windows.
But the true magic is in the details. This home boasts a handful of staples designed exceptionally well, like a stand-alone tub peeking out from behind sliding barn doors, a marble wet bar with dark wood accents, an iron-railed staircase, and a smattering of herringbone tile. Seriously, that tub will haunt you (in a good way) for days.