Dallas Holiday Spa Treatments to De-Stress with This Season
You deserve some peppermint aromatherapy.
By Kimber Westphall
Published in Home & Garden
December 11, 2017
10:48 am
December is in full swing and the holiday season is bustling. Don't get caught in a tizzy with holiday stress. Instead, take a moment and retreat to the spa and have a pampered reset. Add these holiday-themed treatments to your wish list before 2017 runs out.
Rudolph Red Light Hydrafacial
Vitalize Medical Spa wants to help your skin glow bright. The "Rudolph Red Light Hydrafacial" ($159) involves the spa's signature hydrafacial to hydrate the skin, followed by red light therapy. The red light therapy emits red, low-light wavelengths through the skin to stimulate cell rejuvenation and collagen. So you can check those youthful items off your Christmas wish list. The Vitalize team is also offering a "Merry Mistletoe Lip Special" for $495. Just in case you get caught under the mistletoe, you can be sure your lips are kiss-ready with hyaluronic acid fillers.
Champagne Moon Dip
Four Seasons Resort and Club Dallas at Las Colinas
The Four Seasons wants to take you to the moon and back this holiday season. Offering the Champagne Moon Dip massage, facial, manicure or pedicure in full celebration mode. All of these treatments are infused with the fizzy scent of crisp champagne and refreshing mint. The Champagne Moon Dip Facial includes a Green Tea Milk wash, a velvety smooth yogurt mask, and a botanical blend of three milks and age-easing peptide. ($165)
Holiday-Theme Spa Specials 
The Lower Greenville spa went all out for the holidays, offering a slew of festive facials and packages. Choose from "Have Yourself a Merry Little Spa Day," which includes a Swedish massage, a "Marshmallow Meltdown," and lunch from Toasted, or "Baby, It's Relaxing Inside," featuring a 60-minute "Glacial Facial." Treat yourself or select a package to gift.
Cinnamon Spice & All Things Nice
The "Cinnamon Spice & All Things Nice" spa package ($229) includes the "hot toddy massage" and "winter radiance facial." The signature massage ($100) embraces the aroma of cinnamon, clove and lemon paired with hot stones to melt away tension.  And the Winter Radiance Facial ($159) features an almond meal and honey mixture, followed by a decadent chocolate moisturizing mask filled with antioxidants.
Frosty Freeze
Katy Trail Cryo offers a "Frosty Freeze" ($99) special that includes a Cryofacial with peppermint aromatherapy, whole body cryotherapy session, and 30-minute NormaTec Compression Massage Therapy. In addition to the benefits of cryotherapy for your skin, it supposedly offers a major boost in metabolism, so you can splurge on some Christmas cookies right after the treatment. To make this polar plunge even chillier, the folks at Katy Trail Cryo will even throw in Polar Punch to sip during the NormaTec session, which mimics the cold air vapor using dry ice. They can also treat you to a Peppermint Hot Chocolate or White Russian.
Winter Refresher Facial
Pure Spa & Salon
Pure Spa & Salon has multiple winter offerings to spice up the holidays, but we're leaning towards the the Winter Refresher Facial ($90). The treatment rejuvenates skin with fruit enzymes and acids, offering a thorough exfoliation, an Epicuren mask, a secondary mask customized to your skin type, and a Vitamin C cream to give your skin that extra glow.
Merry Gentleman
This man-approved facial begins with a cleansing treatment followed by a nutrient rich mud mask. Simultaneously, tensions will be rolled away with a scalp and neck massage. Love Glow Studio's aestheticians will also address any skin issues by performing extractions and then treating the skin with appropriate serums and hydration for each individual skin type. ($120)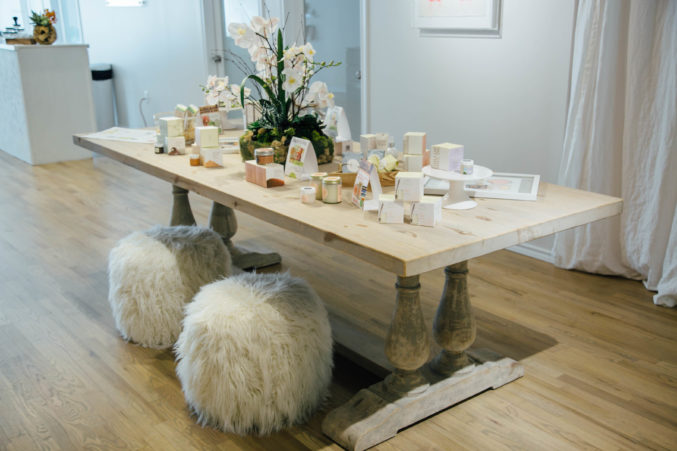 Peppermint Aromatherapy Massage
Ubiquitous peppermint has incredible calming effects. Elements Massage incorporates peppermint essential oil for a cooling sensation and a calming effect on the body. This can be instrumental in the relief of sore muscles when applied topically, and the aromatherapy benefits of the essential oil can help improve alertness. For your peppermint upgrade ($10 for an hour massage, $20 for 90-minute or 2 hours), you will be given a bottle of lotion, oil or gel infused with the peppermint aroma. Base prices for massages can be found here.
SaveSave
SaveSave
SaveSave