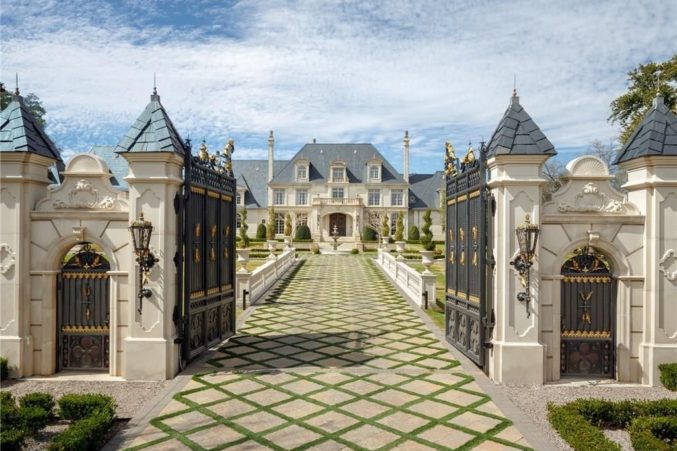 Hot Property: The Second Most Expensive Home in Dallas
It makes sense when you see it.
*The original headline for this post contained an error. The Crespi Estate, which went back on the market in January, is Dallas' most expensive home on the market now.
Full disclosure: I initially pegged this Stoneleigh residence (the very same Brant McFarlin-designed residence featured on the cover of our last issue) for this week's "Hot Property," but then I came across this magnificently bonkers Strait Lane estate and everything changed.
I'm not being dramatic. My life has quite literally been altered. Yours will be, too, when you witness the wonder that is 10711 Strait Lane. Designed in 2003 by architect Robbie Fusch (who wowed us last year with his contribution to SMU's sorority row) and built by Bob Thompson, the French-inspired main home is opulent—the kind of opulence warranted by gilded ceilings and a closet fit for Marie Antoinette. The estate is also vast, handedly fitting eight bedrooms, 17.5 bathrooms, a 10-car garage, and multiple pools within its two, full-sized homes (combined by Dr. Richard Malouf in 2008) and 4.3 acre-lot.
But what is by far and away the most interesting feature of 10711 Strait Lane is its water park. It's a real, honest-to-goodness, functioning water park, too, with slides, a swim-up bar, and a built-in trampoline. It's sort of like a classier, Tiki-filled version of Water Wizz from the 2013 movie The Way, Way Back, a charming movie with Steve Carrell that would look great playing in the in-home theater. There's an interesting history behind the building of the water park, which Dr. Malouf began construction in 2012 despite being accused of fraud, but we won't get into that here.
Here, we'll simply let your mind run wild with the events you could host at your indoor bowling alley, or basketball court, golf simulator, or that padded gymnastics room. The world would never be the same.
By the Numbers
$32,000,000
37,000 Square Feet
8 Bedrooms
5 Bathrooms
10 Living Areas
10-Car Garage
8 Fireplaces
2 Basketball Courts
1 Tennis Court
1 Water Park